Judge Patrick Oishi - Superior Court
How to contact a King County Superior Court judge and get ready for your trial or motion.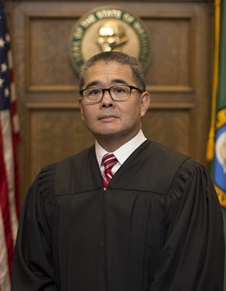 Courtroom Number: E-942
Bailiff: Phillip Hennings
Department: 24
Assignment: Presiding Judge
Biography
Aloha! Judge Patrick Oishi is the Presiding Judge of King County Superior Court. King County Superior Court is the largest general jurisdiction trial court in Washington state, serving the 12th most populous county in the United States. He has served in numerous other leadership positions on the Court including Assistant Presiding Judge, Chief Judge of the Maleng Regional Justice Center, Chief Criminal Judge, Assistant Chief Criminal Judge, and Lead Dependency Judge. Judge Oishi was appointed to the Court in 2011 by Governor Chris Gregoire. He earned his bachelor's degree in Education as well as his law degree from Seattle University. Prior to law school, Judge Oishi was a junior high school teacher and coach in the Federal Way School District. Judge Oishi began his legal career as a prosecuting attorney and tried over one hundred jury trials to verdict. He later practiced civil litigation covering a range of subject areas. Judge Oishi was born and raised on the island of Maui. He enjoys swimming, running with his dog, and traveling with his family.
Requests
Weddings
Judge Oishi would be honored to officiate your wedding and celebrate your special moment with you. Weddings are performed at the courthouse 7 days a week by appointment. Judge Oishi also performs offsite weddings and weddings via Zoom. Please email oishi.court@kingcounty.gov or call 206-477-1471 to schedule a wedding with Judge Oishi.