Judge Andrea Robertson - Superior Court
How to contact a King County Superior Court judge and get ready for your trial or motion.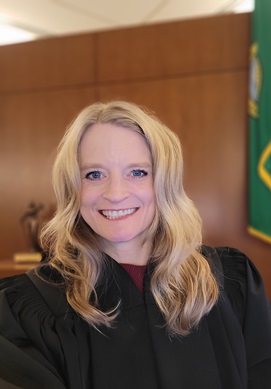 Courtroom Number: 4B
Bailiff: Stevie Craig
Department: 47
Assignment: Civil and Criminal
Biography
Judge Andrea Robertson was appointed to the bench by Governor Jay Inslee and was sworn in on December 31, 2020.
Raised in Spokane and educated in the public schools, Andrea graduated from high school with experience in policy debate, speech competitions, and theater.
Andrea received her undergraduate degree in Pre-Law from Eastern Washington University and graduated from the University of Washington School of Law in 1998 with awards for mock trial and appellate advocacy, and with clinical training in mediation. She also taught in the Street Law Program, a highly acclaimed project to teach young people about the law and legal careers.
Andrea began her practice as a trial attorney at the Snohomish County Public Defender Association and later transitioned to private criminal defense.
Andrea and her husband, Ryan Robertson, opened Robertson Law in 2010, where she handled a mix of largely criminal defense trial work, along with representing victims of domestic violence and harassment in obtaining protection orders. In over 22 years of practice, Andrea represented well over 1,500 clients, was sole counsel in over 50 jury trials and argued matters at all levels of the State courts, including the Washington Supreme Court. She was also plaintiff co-counsel in two complex civil class action lawsuits. Andrea is a graduate of the selective Gerry Spence Trial Lawyers College in Dubois, Wyoming.
Outside of the practice of law, Andrea was an ensemble member and performer in the renowned improvisational theater company of Unexpected Productions for over 15 years. She has lectured extensively to trial lawyers and students on the techniques of improvisation and active listening to better communicate with jurors, as well as using innovative techniques for jury selection and trial advocacy. In 2016, she began work as a part-time Trial Advocacy Instructor at the UW School of Law. She spent over 5 years coaching and mentoring Seattle public high school students in speech, debate and mock trial.
Judge Robertson and her husband live in Seattle with their two excellent kids. She is an L2 certified CrossFit coach and enjoys hiking and alpine climbing.
Judge Robertson considers herself extremely fortunate to have the opportunity to serve the people of King County as a Superior Court Judge. She currently serves on the Courts & Community, Public Health, Jury, and Interpreter Committees for the King County Superior Court, and the Criminal Laws & Rules Committee for the Washington State Superior Court Judges' Association.
Requests
Weddings
Judge Robertson performs weddings by appointment. Please email her bailiff for availability and fee information, using the phone or email listed above.