Judge Jim Rogers - Superior Court
How to contact a King County Superior Court judge and get ready for your trial or motion.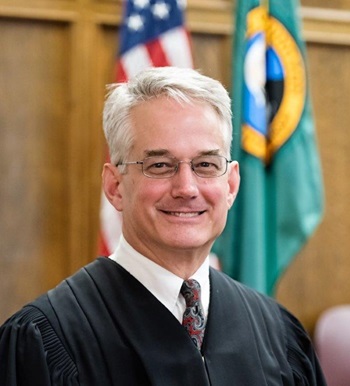 Courtroom Number: E-733
Bailiff: Monica Gillum
Department: 45
Assignment: Civil
Biography
Judge Rogers currently serves in the Court's Civil Department. He was elected in 2004 to Department 45, succeeding Judge Robert Alsdorf. Monica Gillum is the bailiff.
In addition to presiding over cases, Judge Rogers has served in administrative roles on the Court, as the Presiding Judge in 2019-2021; the Assistant Presiding Judge in 2017-2018; and the Chief Criminal Judge in 2014-15.
He earned his degrees from the University of Washington and Georgetown University Law Center. He served as a Peace Corps Volunteer in Sierra Leone; worked as law clerk for Federal Judge Robert J. Bryan (1988-9); the Riddell Williams law firm (now Fox Rothschild) (1989-94); the King County Prosecutor's Office (1994-2004). He is married with two adult children.
He has served as a representative for the Superior Court Judges Association on the Board for Judicial Administration, the Washington Pattern Instruction (WPI) Committee and the Washington State Sex Offender Policy Board. He also was a member of the SCJA's Education Committee.
Current Washington Courts committee membership
Washington State Board of Judicial Administration's Remote Proceedings Work Group (drafting rules and guidance for remote court proceedings) - SCJA Co-Chair with Judge Angelle Gerl, DMCJA Co-Chair
Awards
Vanguard Award 2023, Washington Women Lawyers, King County Chapter

Chief Justice Mary E. Fairhurst Award of Merit 2022, Washington State Bar Association APEX Awards
Outstanding Judge of the Year 2022, King County Bar Association
Judge of the Year, 2019, American Board of Trial Advocates (Washington Chapter)
Pro Bono Service Award 1991 (with Todd Maybrown), King County Bar Association
Reports
The Response of the King County Superior Court to the COVID-19 Pandemic: Lessons Learned and Recommendations, August 2022 co-authored with Dr. Brenda Wagenknecht-Ivey and Linda Ridge (funded by the State Justice Institute)
Articles
Justice delayed: COVID-19's staggering criminal-case backlog in The Seattle Times
Keep video jury selection a permanent option in WA in The Seattle Times (co-authored with Judges O'Donnell and Oishi)
Judge Robert Alsdorf (1990-2005)
Judge Robert Alsdorf was the first judge in Department 45. He was appointed on July 1, 1990, by Gov. Booth Gardner and served until 2005, resigning to run for the Supreme Court.
During his tenure, he consistently was rated as one of the top judges on the King County Superior Court bench and was named the Outstanding Judge of the Year from the King County Bar Association.
Judge Alsdorf graduated from Carleton College and Yale Law School, practiced with the civil rights division of the United States Justice Department, and later moved to Seattle where he was in private practice, at Armstrong Alsdorf Bradbury and Maier. After his judicial career, he was a partner at Davis Wright, in residence at Seattle University School of Law, and maintained a successful mediation and arbitration practice. He was a Peace Corps Volunteer in Sierra Leone and later a member of Ploughshares.
High-Profile Cases: Are They More Than a Wrinkle in the Daily Routine? (unl.edu)
Requests
What you need to know
Please observe the following practices when interacting with Judge Roger's court
Email the bailiff to schedule motions requiring oral argument. Include case name, number, and name of opposing counsel, and any deadlines that may be approaching that should be considered when scheduling. Such motions must be confirmed by the bailiff.
Do not confirm motions without oral argument. Set these in compliance with KCLR's notice requirements.
Please notify the bailiff to strike a motion or if the case has settled.
Copies of orders will not be mailed if pre-addressed envelopes to all parties are not provided.
No deliveries directly to the courtroom will be accepted, unless prior arrangements have been made with the bailiff. All deliveries should be made to the Judges' Mailroom, C-203.
Motions to continue that are designed to facilitate settlements involving payments over time or any other motions for continuance involving settlements must comply with Local Civil Rule 41 (e) which requires a Certificate of Settlement.
Our local rules have an additional requirement for the discovery conference that is a condition precedent to motions to compel under CR 37: counsel must meet. This court interprets this as a meeting in person between or among counsel.
Proposed orders or working papers may not be submitted via email unless permission is granted by the court. Copies of orders will not be mailed unless pre-addressed envelopes to all parties are provided to the court.
Trial
Exhibits
The parties' proposed exhibits start with Plaintiff's proposed, at "1" and move sequentially. The parties should choose a reasonable range of numbers to meet their needs. Defendant may decide to start at 50, or 100, or another number. The exhibits themselves should not be marked but tabbed in binders. The court clerk will physically mark them during the trial. Two sets of exhibits are needed - one for the court, and the other for the clerk. The clerk's set are the original exhibits that will go to the jury during their deliberations and will be referenced by witnesses during the course of the trial.
The Joint Statement of Evidence
The trial will not begin without a Joint Statement signed by all parties. Local Civil Rule 4(k). Exhibits without objections may be admitted on the first day, to be considered with any other exhibits the parties move to admit on the first day or during trial. Keep in mind that under the rules, parties who raise objections to authenticity without a basis may be subject to attorneys' fees. Evidence Rule 904 (c)(1). While the rule applies to all objections, this Court's experience is that authenticity objections tend to be made reflexively so please consider your basis before you make the objection.
Set Up
if you need to view the courtroom or set up, contact the bailiff to arrange a time.
Depositions
Originals should be sealed and published in open court in front of the jury, and when they are used for impeachment of testimony (the clerk opening the original that is sealed), the original deposition will be filed in the case file and not treated as an exhibit. Depositions that are not used (a.k.a. "published") are not filed and returned to counsel.
Weddings
Judge Rogers would find it an honor to officiate your wedding. He is available Monday-Friday by appointment. Please contact his bailiff, Monica Gillum at monica.gillum@kingcounty.gov for availability and fees.