Judge Ketu Shah - Superior Court
How to contact a King County Superior Court judge and get ready for your trial or motion.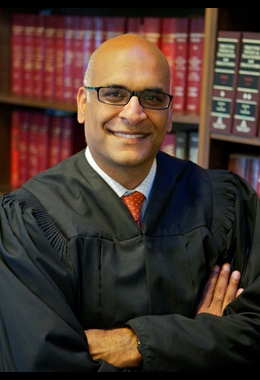 Courtroom Number: 1201
Bailiff: Rebecca Hibbs
Department: 50
Assignment: Chief Criminal and Assistant Presiding
Biography
Judge Ketu Shah was appointed to the King County Superior Court and took the bench on May 10, 2019. Previously, Judge Shah served on the King County District Court from 2013 to 2019. While in District Court, Judge Shah presided over the Regional Mental Health Court and the Regional Veterans Court. In addition, he was the East Division presiding judge and sat on the District Court's Executive Committee, Probation Committee, Budget Committee. He also was active in the District and Municipal Court's Judges Association and was an Assistant Dean for the 2019 Judicial College. He has presented on ethical issues for pro tempore judges for the WSBA, and immigration and competency issues at judicial conferences.
Judge Shah is a graduate of Whitman College and the University of Minnesota Law School where he was a Managing Editor for the Journal of Law and Inequality. Judge Shah clerked for Judge Carol Schapira of King County Superior Court and was a public defender intern. He also prosecuted domestic violence cases, helping implement a domestic violence court in the City of Vancouver and assisted in forming a domestic violence unit for the City of Bellevue. Judge Shah also had his own private practice focusing on immigration law, and as part of his work, volunteered extensively representing pro bono clients through API Chaya, ReWA, Immigrant Family Advocacy Project, and Eastside Legal Assistance Program (ELAP).
Judge Shah was on the board for several years with the South Asian Bar Association of Washington and served on the Judicial Evaluation Committee for the Asian Bar Association. He took on Chaya's first pro bono case in 2001 and then later served as Board Chair for over 6 years. He was awarded the 2008 Community Service Award by the South Asian Bar Association and 1998 Community Award by the City of Vancouver. He has tutored math at his daughter's schools, coached select soccer for over 15 years for girls and boys, and is on the board of his local youth soccer club.
Requests
Non-dispositive motions
Parties must comply with all the requirements of KCLR 7 when setting motions without oral argument. All non-dispositive motions will be considered by the Court without oral argument unless a party requests oral argument and the Court deems oral argument to be necessary. If you wish to request oral argument, please so indicate on the front page of your motion or opposition. Judge Shah will consider the request when he reviews the motion on the date noted for hearing without oral argument. If at that time the Court decides to hear oral argument, the bailiff will contact the parties regarding scheduling. If the Court does not grant oral argument, you will receive a courtesy copy of the Court's order on the non-dispositive motion once the Court enters a ruling.
Dispositive motions and hearing requests
Dispositive motions are typically heard on Fridays. You may request a hearing by emailing or telephoning the bailiff.
Any email request for a dispositive motion hearing must include
Case name and cause number
Names and email addresses of all parties
Type of hearing and dates requested
Judge Shah typically allots 1 hour for dispositive motions. Additional time may be provided on hearings involving multiple parties or multiple related motions. Please advise the bailiff of your request for additional time when scheduling.
Proposed orders and working papers
Department 50 is a paperless court and prefers all working copies submitted via e-working copies.
Judge Shah requires a Word version of all proposed orders. You may submit your proposed order via the e-filing portal by using the e-working copies application, or by email to shah.court@kingcounty.gov. Working copies of motions and declarations must be submitted via the e-filing portal, or if you cannot e-file, then by delivery to the Judges' Mail Room (C-203) of the King County Courthouse. The Court cannot accept delivery of working papers by email or by delivery to the courtroom. Please notify the Court immediately if your case settles or you need to strike a motion.