Judge Sandra Widlan - Superior Court
How to contact a King County Superior Court judge and get ready for your trial or motion.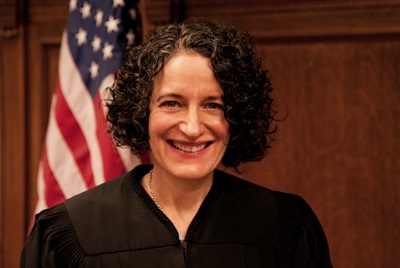 Courtroom Number: W-711
Bailiff: Kathryn Evans
Department: 53
Assignment: Civil
Biography
Judge Widlan was appointed to the King County Superior Court bench on April 2, 2018 by Governor Jay Inslee. She assumed the position previously occupied by Hon. Mariane Spearman, who retired from the bench in March of that year.
Judge Widlan began her legal career as a law clerk to Chief Justice Barbara Durham of the Washington Supreme Court. She subsequently worked as a public defender for The Defender Association in Seattle. For the last 17 years of her practice, Judge Widlan worked at the law firm of Schroeter Goldmark & Bender, where she represented clients in civil litigation. She became a partner at Schroeter Goldmark & Bender in 2004.
Judge Widlan earned her Bachelor of Arts degree with Honors from Northwestern University and her law degree from New York University, where she was the recipient of the Arthur Garfield Hays Civil Liberties Fellowship. While in private practice, Judge Widlan was active in the community by volunteering at the free legal clinic at El Centro de la Raza, serving on the board of directors for non-profit organizations that help individuals living with disabilities, and working on bar committees including serving as co-chair of the Civil Rights Section at the Washington State Bar Association. Judge Widlan received the 2018 Outstanding Lawyer Award from the Latina/o Bar Association of Washington.
Services
Requests for oral argument on Non-Dispositive Motions
If you wish to have oral argument on a non-dispositive motion, please note the motion without oral argument and note "ORAL ARGUMENT REQUESTED" on the first page of your motion or opposition. Judge Widlan will consider the request when she reviews the motion on the date noted for hearing without oral argument. If the Court decides to allow oral argument, the bailiff will contact all parties to schedule a date and time for oral argument on the motion. If the Court declines to set oral argument, you will receive a courtesy copy of any order that is entered. Digitally Recorded Courtroom Judge Widlan operates in an FTR courtroom, where proceedings are digitally recorded. There is no court reporter. You may obtain a copy of a CD of your hearing from the Clerk's Office copy center. You will need to submit a completed CD Request Form.
Judicial externships
Judge Widlan provides judicial externship opportunities to law students throughout the year. Applicants must be able to receive academic credit for the experience. If you would like to apply, please send your application materials directly to the judge's mailing address. These should include: cover letter (indicating which semester you are interested in applying for), resume, transcript, writing sample, and list of references.
Electronic working copies
Judge Widlan prefers to receive electronic working copies submitted to the Clerk using the Clerk's eFiling Application pursuant to LGR 30(b)(4)(A)(iii). If a party's submission exceeds the 500 page limit, it may request prior permission from Judge Widlan's bailiff to deliver the working copies in PDF format, either on disk or thumb drive (and delivered to the Judge's Mailroom). Prior permission should be requested by sending an email to widlan.court@kingcounty.gov. Please do not email any working copies directly to the Court or to her law clerk/bailiff without prior permission. Working copies should have the judge's name and the date and time of the hearing in the upper right hand corner of the first page of the motion. Please provide only copies of the cases that you are substantially relying on.
Weddings
Judge Widlan performs weddings 7 days a week by appointment. Please email the bailiff for availability and fee information.