Countyline Levee Setback Project
Project overview
King County, as service provider to the King County Flood Control District, completed the Countyline Levee Setback project in fall 2017. The project name reflects its location on the boundary of King and Pierce counties. This project provided flood risk reduction benefits for more than 200 residences near the White River. It has also restored floodplain habitat for fish and wildlife.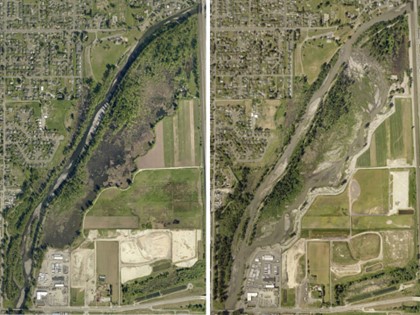 The White River flows from a steep canyon upstream of Auburn to the flat Sumner valley. Because of this transition, sediment collects in the riverbed near Pacific. In this area, the Lower White River has been losing flood carrying capacity, or room for water, over time.
Flooding in January 2009 affected more than 100 residences and many businesses in the city of Pacific. This flooding was due in part to the ongoing sedimentation in the White River.
The Countyline Levee Setback project removed approximately 4,500 feet of an old levee. Removing the levee reconnected the White River to with 121 acres of historical floodplain. This provided more space to store flood water and sediment as well as created off-channel aquatic habitat.
A new setback levee, 6,000 feet in length, was constructed as part of the project. The new levee is protected by a 5,780-foot wood structure called a bio-revetment and several engineered log jams. King County is monitoring the project to learn how flood risk has changed, the project is benefiting fish and wildlife, and how the river is responding.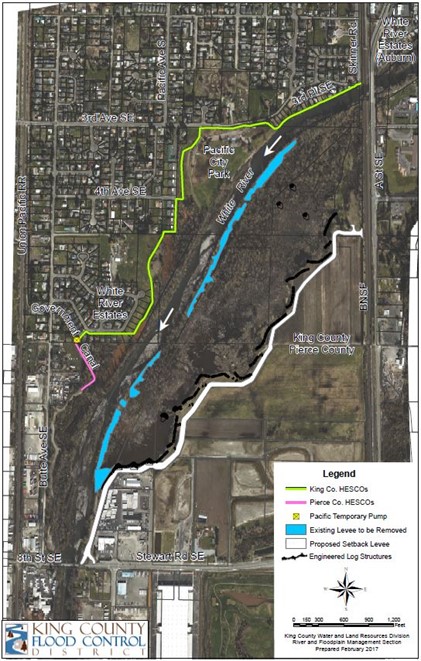 The Countyline Levee Setback project is one of two flood risk reduction projects along the Lower White River. When completed, the Pacific Right Bank Flood Protection project will complement the Countyline Levee Setback Project to reduce flood risk along both banks of the Lower White River.
How is the river responding?
After removal of the old levee, a side channel formed in the floodplain. This provides year-round habitat for spring-run Chinook salmon, steelhead, and bull trout. Native plants are growing throughout the floodplain and along the levee where there are close to 60,000 new plantings! Beaver, deer, waterfowl, songbirds, birds of prey, and other wildlife are using the improved habitat along the river. The project also provides a place to store river sediments and flood water, reducing flood risk. See the monitoring reports for more details about what we are learning from the project.

Project goals
Reduce flood risk in the City of Pacific.
Restore river processes and functions to improve habitat for Environmental Species Act-listed fish.
Use cost-effective means to meet flood risk reduction and habitat objectives.
Project schedule
| Activity | Date |
| --- | --- |
| Construction | June 2016 to fall 2017 |
| Project completion | December 2017 |
| Detailed effectiveness monitoring | 2017 to 2027 |
| Maintenance and monitoring | 2028 and beyond |