Jan Road Levee Setback
Overview of the Jan Road Levee Setback project on the Cedar River that was completed in 2022.
Project overview
The Jan Road Levee Setback project area is located on the left and right banks of the Cedar River in unincorporated King County, about one mile northwest of the State Route 18 and State Route 169 interchange.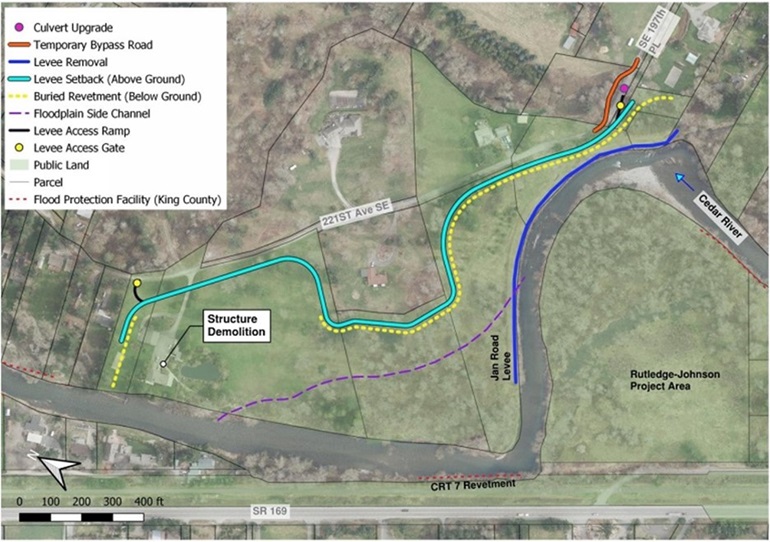 The Jan Road Levee Setback Project reduces flood and erosion risks to the people, property, and infrastructure in the area. The project was in a neighborhood served by a sole access roadway composed of S.E. 197th Place, 221st Avenue S.E., and 218th Avenue S.E. in Maple Valley. This roadway has also been known as "Jan Road." It is adjacent to the Rutledge-Johnson Levee Partial Levee Removal (Rutledge-Johnson), a county project focused both on flood risk reduction and habitat restoration. Due to their proximity, the analysis of the Jan Road Levee Setback project considered the Rutledge-Johnson Project to ensure the two projects complement one another.
Flooding of the Jan Road neighborhood occurred during moderate and higher flood events, and as recently as February 2020 and January 2009. Overflows from Taylor Creek caused flooding and cut-off neighborhood access via the private sole access roadway, resulting in hazardous conditions for people and damage to property. A 100-year flood event (a flood that has a 1 percent chance of happening in any given year) would remove road access for up to 15 single-family homes.
Additionally, the Jan Road Levee directed flows toward the Cedar River Trail Site 7 (CRT7) Revetment, which protects the Cedar River Trail (Trail) and State Route (SR) 169. Erosion of the CRT7 Revetment could lead to damage of the Trail and SR 169, resulting in costly repairs. The old levee also disconnected the river from its floodplain eliminating access to potential flood storage and rearing habitat necessary to raise healthy salmon.
Project goals
Reduce overall flood-related risks to people, property, and infrastructure, including the Jan Road Levee, the Cedar River Trail, and SR-169,
Ensure new flood protection infrastructure (levee and revetment) meets current engineering standards to minimize long-term site management costs.
Provide all required mitigation for the 2017 Cedar River wood relocation efforts.
Improve natural riverine and riparian processes, functions, and habitat.
Project schedule
| Activity | Dates |
| --- | --- |
| Planning and alternative | Summer to fall 2020 |
| Design and permits | Fall 2020 to spring 2022 |
| Early construction | Fall 2021 |
| Construction | Summer to fall 2022 |