Tolt River Road Northeast Elevation at San Souci
Project update
May 2023 - Due to changed flood conditions, the King County Flood Control District has determined that no action is needed to elevate or move the road. King County will continue to monitor the area for public safety. In the event of an emergency, Eastside Fire and Rescue has the training and capacity to traverse flooded roads.
Project Overview
King County, as the primary service provider to the King County Flood Control District, explored options to manage flooding at one location on Tolt River Road Northeast. This part of the road, three miles east of Highway 203, has flooded in the past. There was concern that future flood events could cause water to temporarily cover the road and create a safety hazard. Over the course of the project, King County observed that flood conditions in the area have changed. Tolt River Road NE floods less often and for shorter durations.

Flood conditions in the area changed for two main reasons:
The City of Seattle and King County acquired parcels in the San Souci neighborhood east of Tolt River Road from 2002-2018. Then in 2019, King County removed infrastructure that was constricting floodplain flow. These changes have allowed water channels to form through the area, which reduces flow previously directed towards Tolt River Road NE.
In February 2020, an avulsion, when a river jumps its course, moved the Tolt River eastward. This shifted the river away from side channels that contributed to flooding on Tolt River Road NE. The river is unlikely to return to its previous location. Several feet of new sediment has cut off the connection to the old channels.
Community engagement
Those living near the project area were invited to share their experiences with flooding on Tolt River Road. Community input was collected in person in November 2022 and through an online survey that closed in January 2023.
Flooding at the project site
Flood conditions on the Tolt River are always evolving. King County will continue to take steps to understand how changing river conditions impact roads and other infrastructure.

Tolt River Road most recently flooded in January 2015 during a severe (phase 4) flood event. King County has not seen water over the road at the project site during more recent flood events. To stay informed on flood conditions, we encourage residents to sign up for Tolt River Flood Alerts at green2.kingcounty.gov/floodalertsystem/.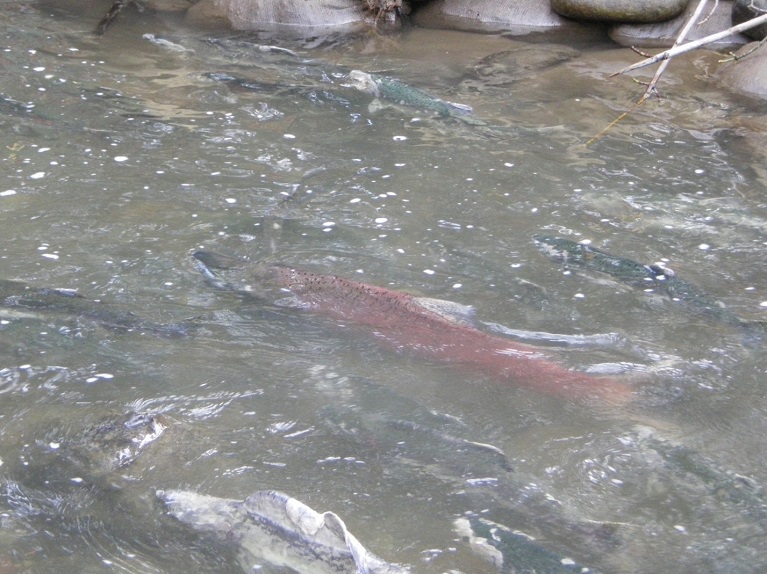 Fish Habitat
King County is working to protect and restore fish habitat in the Tolt River. As part of the decision-making process for this project, King County considered potential impacts to fish and their habitat. By not elevating Tolt River Road NE, the County will not disturb the critical river ecosystem that provides essential habitat for fish, including salmon. These fish are a critical part of our communities and our river ecosystems. Salmon are also culturally and economically significant to the Snoqualmie Indian Tribe, Tulalip Tribes of Washington, and other tribes in the region.
Habitat loss has contributed to the decline of most salmon populations, including Tolt River Chinook salmon and steelhead trout, which are now protected by the Endangered Species Act. In addition to these protected species, pink, chum, and coho salmon also use habitat in the Tolt River.
Project Schedule
King County explored several project alternatives to manage flood risks at the project site.
| Process | Year | Purpose |
| --- | --- | --- |
| Project planning | 2022 | Documented site history and permitting requirements. |
| Public input | 2022 | Documented flood impacts and community needs. |
| Alternatives development | 2022 to 2023 | Identified project alternatives for flood management. |
| Public input | 2023 | Gathered community feedback on project alternatives. |
| Alternatives development | 2023 | King County provided all project alternatives with the recommendation to not elevate Tolt River Road NE to the King County Flood Control District for review. |
| Alternative selection | 2023 | King County Flood Control District selected project alternative to not elevate Tolt River Road NE. |
| Alternative notification | 2023 | Notified community of decision to not elevate Tolt River Road NE. |