Benthic macroinvertebrate monitoring program
King County tracks stream health by examining "stream bugs", known by scientists as benthic macroinvertebrates. Learn about our sampling program, how we collect these bugs, and how we use the data.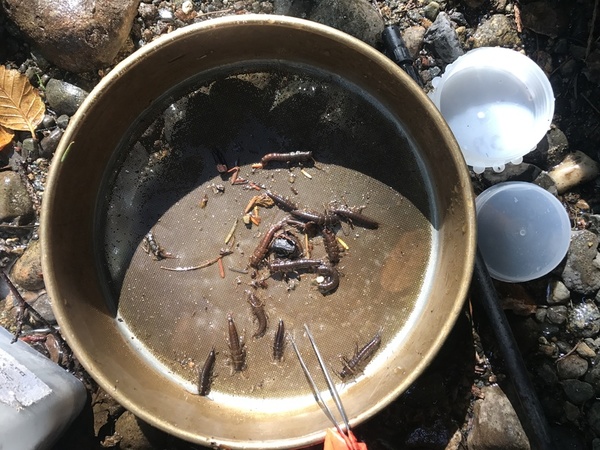 King County uses a variety of tools to track stream health throughout the county. As part of monitoring programs, these tools track trends in water and habitat quality. The information we collect informs decisions about natural resources in our region.
One of the best ways to track stream health is by examining "stream bugs". The scientific term for "stream bugs" is benthic macroinvertebrates. These are the small spineless animals, such as insects and worms, that live on streams bottoms. We track these because they are good indicators of stream health. Stream bugs respond to changes in both water quality and habitat conditions.
Field scientists collect samples of stream bugs from streams across the county. Other scientists in a lab then count and identify the different types (taxa) of stream bugs. Scientists at King County use this information to characterize stream health. Using formulas, the number and type of bugs found in each stream determine a single score. This score is the Puget Lowlands Benthic Index of Biotic Integrity (B-IBI).
B-IBI scores classify stream sites into five groups: Excellent, Good, Fair, Poor, or Very Poor. Excellent scoring streams have many different types of bugs. These streams also have bug types that need high quality water and habitat to survive. Streams that score very poor have fewer different types of bugs. The types of bugs found in these streams can survive in degraded conditions.
King County's Benthic Macroinvertebrate Ambient Monitoring Program has been collecting samples since 1994. Currently, we collect samples from over 170 sites each year. All King County B-IBI data are available on the Puget Sound Stream Benthos website. Over 20 agencies and jurisdictions also store and share regional B-IBI data on this site.
Benthic macroinvertebrate monitoring sub-topics