2021 Green Globe Award winners
Thirteen individuals and organizations from across King County were honored by Executive Dow Constantine on April 21 – Earth Day – with the 2021 Green Globe Awards for outstanding work to protect and restore the environment, including ensuring environmental justice for all.
In response to ongoing health and social distancing considerations because of the COVID-19 pandemic, the 2021 Green Globe Awards were announced in a special video production, rather than the traditional in-person ceremony. The presentation was produced by King County TV, and, this year's awards were made by King County Parks employees who used an in-house laser router to create a unique design on lumber that was milled from storm-damaged and hazardous trees that had to be removed from parks and trails.
Environmental Catalyst Award:
Climate Equity Community Task Force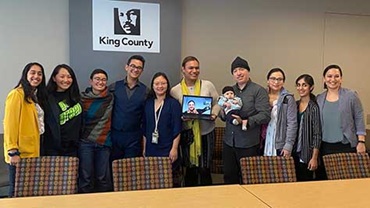 Convened in the spring of 2019, the Climate Equity Community Task Force is a group of leaders who represent frontline communities and organizations across King County, bringing multi-ethnic and multi-racial cross-sector experiences to climate-related community building.

The Task Force is the primary body for identifying community-driven climate actions for the County's 2020 Strategic Climate Action Plan and the Sustainable and Resilient Frontline Communities section.

The Task Force includes 22 community leaders representing many different frontline communities, including Black, Indigenous, and people of color communities; immigrants and refugees; people living with low incomes; communities experiencing disproportionate pollution exposure and other climate-vulnerable groups; women and gender non-conforming; LGTBQ; those with existing health issues like asthma and heart disease; people with limited English skills; and those experiencing pregnancy.

The Task Force is developing recommendations on climate actions and priorities across the SCAP, with a focus on climate equity that recognizes agency for frontline communities, mitigates environmental injustices, ensures equitable distribution of environmental benefits, and recognizes intersections with other social issues – such as affordable housing, green jobs and pathways, and food security.
Environmental Legacy Award:
Ron Sims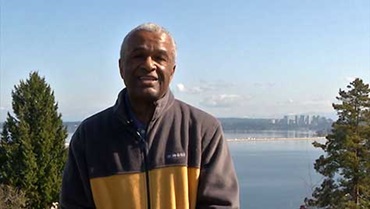 As a County Councilmember for more than a decade, and County Executive for more than a dozen years, Ron Sims's public service career has been filled with forward-looking environmental stewardship accomplishments that strengthened our ability to preserve, restore, and enhance what we love most about this place we call home.

Ron's commitment to implementing Critical Areas Ordinance laws protecting wetlands, steep slopes, and other sensitive lands was matched by his advocacy for siting and building the Brightwater Treatment Plant – the county's largest clean-water project in decades.

Ron thoughtfully expanded the county's parks and trails systems, including acquiring former railroad corridors that are now the East Lake Sammamish Trail and Eastrail – transformational additions to the regional trail system. His vision for an integrated regional trail network perfectly aligns with other environmentally friendly transportation ideas, including using biodiesel fuel for buses, transit-oriented development, rapid transit bus routes, and more.

The Transfer of Development Rights program Ron enacted created a financial incentive for rural landowners to permanently keep their land undeveloped and offered housing developers in urban areas the ability to pay for increased project density. The program preserved rural properties ranging in size from a few acres of rich river bottom farmland to the 90,000-acre Snoqualmie Tree Farm across the western ramparts of the Cascade Range.
Leader in Environmental Excellence:
Greg Wingard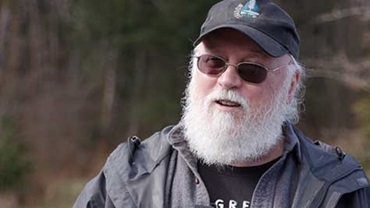 Greg Wingard has been an active conservationist and environmentalist since his early teens. He has co-founded eight separate grassroots environmental organizations, including the Green River Coalition and Duwamish River Cleanup Coalition; served as a board member or executive director for a wide array of prominent conservation organizations; and has contributed to numerous state and local government advisory committees.

Greg was a primary author of the City of Kent's draft wetland ordinance – one of the first in the county – and he co-authored City of Covington's tree ordinance. Additionally, Greg has worked on the closure and cleanup of numerous toxic sites in the Green Duwamish Watershed, and he has advocated for funding to achieve a multitude of projects, including clean-up work, acquisitions, and more.

Greg helped to develop and fund an intern program at Green River College's Natural Resources program which now hosts 10 to 12 interns with the Green River Coalition, which has worked on more than 20 watershed restoration projects.
Leader in Salmon Recovery:
VanWieringen Organic Dairy Farm
Enumclaw Plateau resident John VanWieringen converted the family dairy farm from conventional to organic farming about 20 years ago, and in the process he became an active supporter of efforts to restore an important stretch of Boise Creek – a tributary of the White River, and the only stream in King County with a spawning population of spring Chinook salmon, which have vanished elsewhere because of habitat loss and overfishing.

John provided land through donation and conservation easements for six habitat restoration projects over the course of 10 years, restoring the creek's riparian buffer with more than 6,500 native trees, shrubs, and plants, and preserving more than 3,200 feet of stream habitat in perpetuity along Boise Creek.

The result has been a dramatic increase of high-quality habitat benefiting not only spring Chinook salmon, but for fall Chinook, steelhead, chum, pink, and coho salmon, too, as well as bull trout.
Leader in Climate Equity Awareness:
U.T.O.P.I.A. (United Territories of Pacific Islanders Alliance) Seattle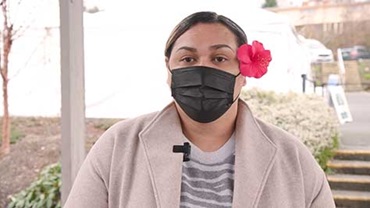 U.T.O.P.I.A. Seattle was born out of the struggles, challenges, strengths and resiliency among the Pacific Islander LGBTQI community. They have worked to create a safe, welcoming and supportive space for community members to address basic needs, build pathways toward new expanded career and life opportunities, foster a sense of common purpose, and advocate for social justice, education and overall wellness.

U.T.O.P.I.A. Seattle has expanded their focus to include environmental and climate justice. The group started the Talanoa Series in 2020 to create space for community member storytelling, including how community members have experienced climate impacts.

U.T.O.P.I.A. Seattle partnered with the King County Climate Action Team on a transcreation project to produce climate infographics in Samoan to help Samoan-speaking community members relate and connect with the impacts of climate change. The group is an active member on King County's Climate Equity Community Task Force and has been integral to developing the Sustainable and Resilient Frontline Communities section of the 2020 Strategic Climate Action Plan.
Leader in Forest Stewardship:
Northwest Natural Resource Group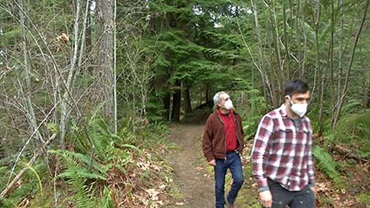 In addition to holding King County Parks' Forest Stewardship Council certification, the Northwest Natural Resource Group has long partnered with Parks and the Water and Land Resources Division on forestry-related work.

For example, the Northwest Natural Resource Group serves as a forestry consultant and provides third-party validation of Parks' forest management practices to ensure that we are protecting this valuable public investment.

The Northwest Natural Resource Group prepared a systemwide forest assessment to help Parks prioritize forest stewardship needs related to ecological health, carbon sequestration, and climate resilience. This work means King County can more strategically achieve forestry-related commitments laid out in the 2020 Strategic Climate Action Plan.

The Northwest Natural Resource Group recently secured grant funding to test climate adaptation in forest management at Taylor Mountain. Over the next two years, NNRG will work with King County to thin the forest, create gaps to mimic natural conditions, and test forest management approaches for a changing climate. They will host workshops for other landowners and interested parties to share findings and best practices.
Leader in Waste Reduction:
South King Tool Library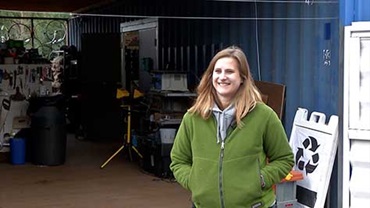 The South King Tool Library provides access to tools and training in order to help maintain neighborhoods, build community and reduce unnecessary consumption with households of all forms – including low-income residents and under-served populations.

The organization also conducts popular "fix-it" events where experts can repair a wide variety of items – from electronics to clothing. Executive Director Amanda Miller serves on King County Solid Waste Division's Zero Waste of Resources Task Force.

In 2020, the South King Tool Library completed more than 500 tool checkouts to their 600-plus registered users, while maintaining an inventory of more than 700 tools.

With COVID-19 safety protocols in place, in 2020 the group co-hosted virtual repair classes – including several in Spanish – with several hundred participants. Drive-thru and socially distanced events diverted an estimated 10,000 pounds and $45,000 worth of usable goods from the landfill, including clothing, cell phones, lamps, fans, computers and more.
Leader in Green Building:
Gladys Ly-Au Young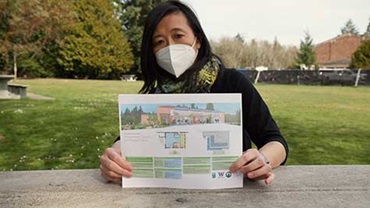 SKL Architects partner Gladys Ly-Au Young is a long-time advocate and leader in green building, affordable housing and community development. She has provided her expertise to numerous important projects, including as lead architect to Zero Energy, CORE, Living Building Challenge projects in King County.

She was also instrumental in efforts to advance the White Center Hub, St. Edward Environmental Education Center, and Othello Affordable Home Ownership Development efforts, including work to provide low income, workforce, and frontline communities with access to high performance carbon neutral, green building housing and commercial spaces, and ensuring healthy and sustainably sourced materials are included in affordable housing and community developments.

Gladys Ly-Au Young combines a deep understanding of sustainable design with sensitivity to context and place. Committed to design excellence, Gladys works closely with clients and stakeholders to help guide them through the design process, ensuring ideas are translated gracefully to drawing documents. She thrives on challenges: from the intimate complexities of a residence to more expansive ideas of adaptive reuse and urban design, all the while creating work that is environmentally sensitive, elegant, and functional.
Leader in Affordable Green Housing:
Zero Energy White Center Hub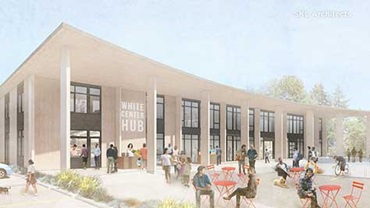 This community led and driven project is pursuing carbon neutral development for affordable housing and a community center in White Center – the White Center Community HUB – that aligns with King County Strategic Climate Action Plan goals.

The project team includes the White Center Community Development Association, Southwest Family and Youth Services, HealthPoint, Community Roots Housing, YES Foundation of White Center, and FEEST Seattle.

The project is bringing together a wide variety of county organizations and groups, including the departments of Community and Human Services, Public Health – Seattle & King County, Local Services, and Parks.

The White Center Community HUB will create a place of "Hope, Unity, and Belonging," where working families can find affordable housing along with essential services that nurture their stability and create greater opportunity through community development goals that include:
Developing the site in partnership with White Center residents and ensuring it reflects community priorities.
Building 86 quality homes affordable to individuals and working families earning between 30-60% of the area median income.
Creating a hub for education and life-long learning, including work force training, small business incubation, satellite college classes, youth tutoring, computer labs, childcare, and more.
Providing space for behavioral and physical health services.
Leader in Food System Resiliency:
Harvest Against Hunger and King County Farmers Share VISTA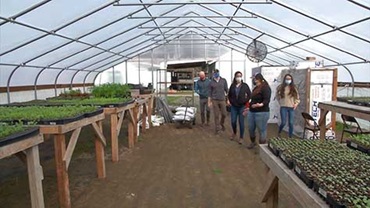 Harvest Against Hunger is a non-profit organization working at the intersection of the farm sector and the emergency food system by connecting farmers, truckers, volunteers and food banks to reduce hunger and food waste.

In 2019, Harvest Against Hunger created the King County Farmers Share Program that allows hunger relief agencies to apply for funding to purchase produce directly from King County farmers and increase the amount, variety, quality, and consistency of local produce available to food-insecure King County residents, while supporting farmers.

In response to the impacts of COVID-19, Harvest Against Hunger used a portion of King County's CARES Act funding to expand local emergency food system's purchasing from King County farms through the end of 2020. Harvest Against Hunger was a critical partner in DNRP's COVID-19 response and has been a leader in supporting the hunger relief community and the farm community here.

Harvest Against Hunger partners with the Neighborhood Farmers Market Alliance and PCC Markets to purchase local produce from farms for use by area food banks and food pantries.
Leader in Green Job Pathways:
Dirt Corps, LLC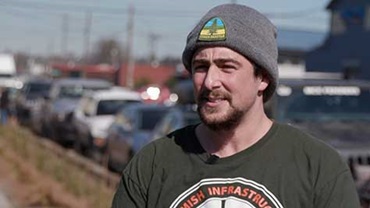 Dirt Corps is a design-construction company that provides on-the-job training for adult workers, specifically encouraging women, people of color, LGBT, and other non-traditional workers to enroll.

Dirt Corps brings a well-trained partnership of tradespeople, mentors and teachers. Through hands-on training with a focus on rain garden and cistern design and build, operations and maintenance, vegetation management, and ecological restoration, Dirt Corps embodies vertical mentorship in the strategies to bring others into a growing field of green jobs.

King County enjoys a beneficial relationship with Dirt Corps:
The Wastewater Treatment Division provided grants to fund training cohorts in Green Stormwater Infrastructure workforce development, including advanced skill-building and maintenance of some Green Stormwater Infrastructure projects.
Dirt Corps was hired to provide mentoring to contractors associated with the RainWise Program's new RainWise Academy.
Dirt Corps is building two Green Stormwater Infrastructure demonstration facilities for the Water and Land Resources Division's Green Stormwater Infrastructure Incentive Program on Vashon Island and in Maple Valley.
They are doing critical area and restoration work as part of a workforce development and equity effort for the Solid Waste Division's new South County Recycling and Transfer Station.
In 2021, Dirt Corps is supporting the launch of the King County stormwater program's private property incentive program.
Leader in Community Resiliency:
United Indians of All Tribes – Labateyah Bridge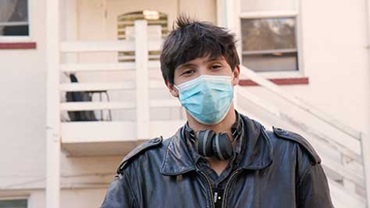 United Indians of All Tribes provides educational, cultural, and social services that reconnect indigenous people in the Puget Sound region to their heritage by strengthening their sense of belonging and significance as native people. The Labateyah Youth Home provides a safe and nurturing environment for homeless youth, combining Native American wisdom and ceremony with modern health and social services.

United Indians of All Tribes at Labateyah House recently completed a successful project funded by WaterWorks: Labateyah Native Water Stewards. Through this project they installed a large demonstration rain garden on site; residents engaged in water stewardship education; and resident interns created an on-site food garden that supplies food for the kitchen. Through this project, interns and residents learned new work skills and sustainable practices.

The work was completed through a partnership with the local green job construction company Dirt Corps, which helped United Indians of All Tribes plan and install the on-site rain garden, and provide skills training.

United Indians of All Tribes was able to complete this project despite obstacles to gathering and planning related to Covid-19.
Leader in Industrial Strength Stormwater Solutions:
Equinox Studios and ECOSS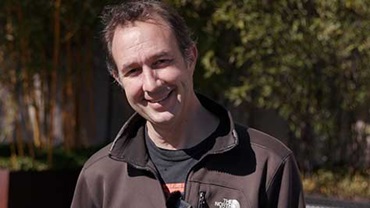 Shared artist space Equinox Studios, located in the heart of the industrial Georgetown neighborhood in Seattle, partnered with the nonprofit ECOSS to develop a large-scale Green Stormwater Infrastructure demonstration site featuring multiple solutions to stormwater runoff.

Equinox collects the rain that falls on more than 62,000 square feet of roof and keeps it from becoming polluted runoff, filtering an estimated 1.3 million gallons of stormwater annually through a number of combined green stormwater installations, including:
Multiple rain garden boxes.
Three kinds of permeable paving products – concrete, asphalt and pavers.
A living wall, also known as a green wall.
Oyster shell barrels attached to downspout filters that target removal of zinc and other contaminants.
Stormwater cisterns.
A self-guided tour featuring signage created by King County graphics helps describe the demonstration project, which is a successful partnership thanks to funding from a variety of sources: Grants from the Boeing Company, King County Flood Control District, the