Protecting public lands for public use
As steward of 205 parks, 175 miles of regional trails, and 32,000 acres of open space, King County Parks is responsible for protecting public lands for the benefit and use of King County's residents. As part of this duty, we are responsible for preventing, eliminating, or in certain limited circumstances, permitting private uses of our public lands.

Our Land Management team works with adjacent landowners to:
Promote the proper use of public parkland
Clarify boundaries
Permit private, non-park uses of Parks-owned property via a Special Use Permit (in limited circumstances)
Read more about how we manage private, non-park uses of our public lands in our Frequently Asked Questions.
How does it work?
When a landowner adjacent to one of King County's regional trails or parks proposes to use public land for their own private, non-park purposes, Parks reviews their request. If the proposed use aligns with the Land Use Guidelines and the landowner agrees to the conditions and pays the associated fees, we coordinate with King County Real Estate Services to issue a Special Use Permit to the landowner, which is usually in effect for five years. A Special Use Permit is required by King County Code 14.30 for private use of Parks' property.
How do I get started?
Parks may consider issuing a Special Use Permit for these private, non-park uses:
Accessing private property across Parks' property
Utilities and communication facilities
Public health and safety, education, research, and ecological improvements
Other uses King County determines is in the public interest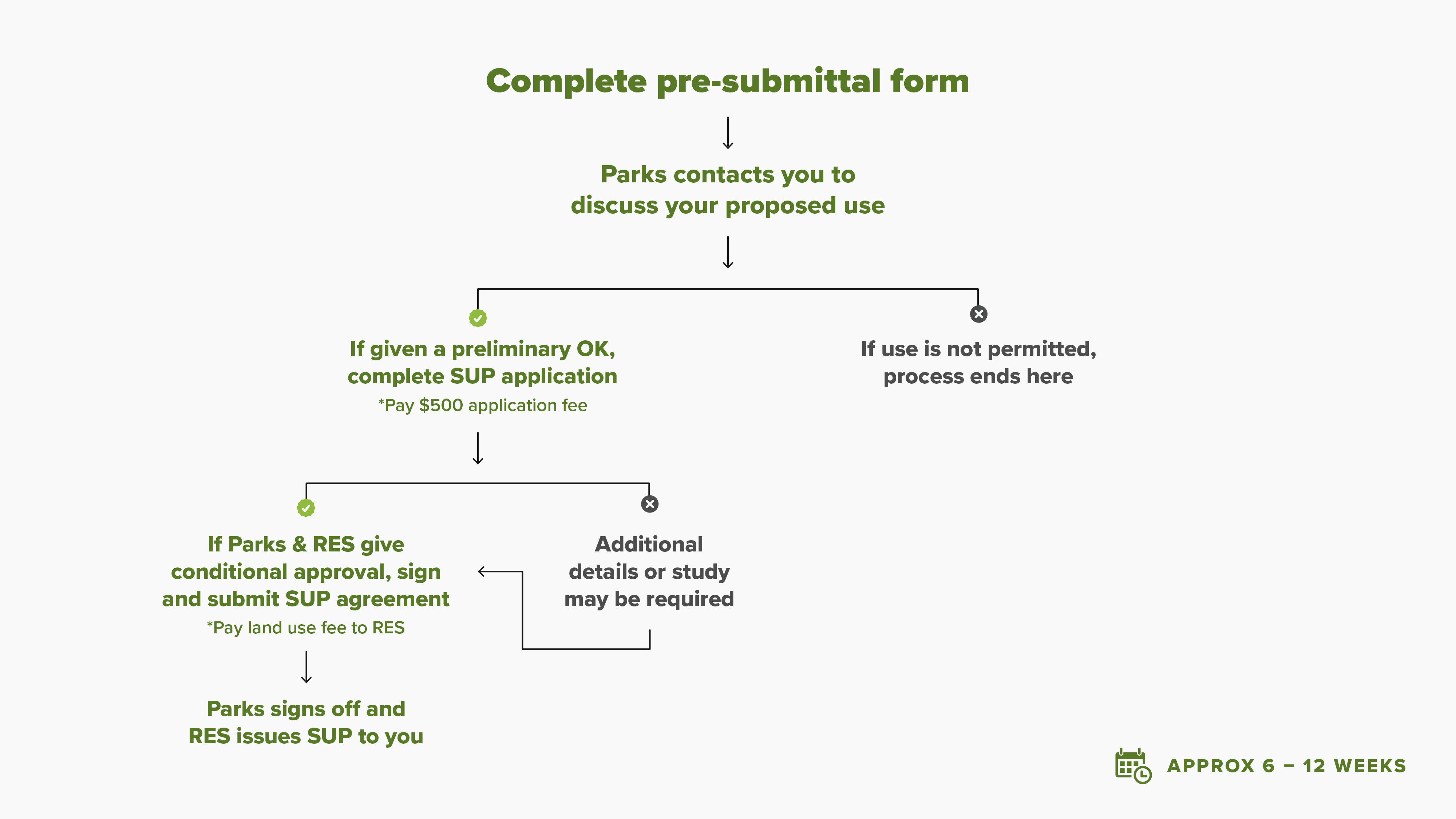 Information Sessions
In November 2020, we hosted info sessions about the Land Use Guidelines and Special Use Permits at three virtual meetings, presenting identical information at each session, with a focus on circumstances specific to the Eastrail and East Lake Sammamish Trail during those meetings.
Watch the videos!
Other Resources
If you are interested in booking a park, trail, or facility for your event, go here.
Make our 5 million visitors your next customers. Learn how to partner with us.