CitySoil Farm
CitySoil Farm is a 1.5-acre demonstration farm located at South Treatment Plant in Renton.
CitySoil Farm is a teaching farm and native tree nursery that showcases sustainable farming and accessible, local food. CitySoil is managed through a 4-way partnership with the King County Wastewater Treatment Division, King Conservation District, DIRTCorps, and White Center Food Bank.
Recycled resources
Located on a previously unused 1.5-acre plot, CitySoil has transformed the vacant space into urban agriculture that is dedicated to environmental education and sustainable farming. Through this teaching farm, King County and its nonprofit partners hope to see a future where environmental education can lead to an increase in community participation and sustainable food systems. At CitySoil, we can take advantage of resources recycled from our waste system with recycled water and compost made from Loop® biosolids.
Learn more about recycled water and Loop Biosolids.
Environmental education
We provide venues for environmental education and demonstration, increasing public awareness of garden and agricultural uses of recycled water and biosolids. We also support university curriculum and student internships, and are developing relationships with high school and technical programs in South Seattle, Tukwila, Skyway, and Renton.
During summer we offer farm field trips for community groups of 10 to 25, age 4th grade to adult. Field trips will tour the farm site and complete a related farm work project. The field trip educational focus can be tailored to participant interest and includes water systems, water conservation, salmon-friendly/pesticide-free gardening, rain-gardens, and composting (and more!). For field trips that include a treatment plant tour or take place during the school year, see our educational programs page.
Find out more about our education programs.
Equity and social justice
We are working to cultivate food gardeners and to increase outreach and services for our neighboring communities. The food grown at CitySoil is accessible to everyone: volunteers and students can harvest the food as they learn or tend to the farm, but most of the food is donated to the White Center Food bank for those in need.
Get involved
CitySoil Farm often needs volunteers for the growing season, from March to October. Here are ways you can get involved:
Contact us
For questions about CitySoil Farm education programs and volunteering opportunities contact Charity Villines at cvillines@kingcounty.gov
Driving directions
Please read directions carefully and call Charity Villines at 253-355-0853 if you get lost.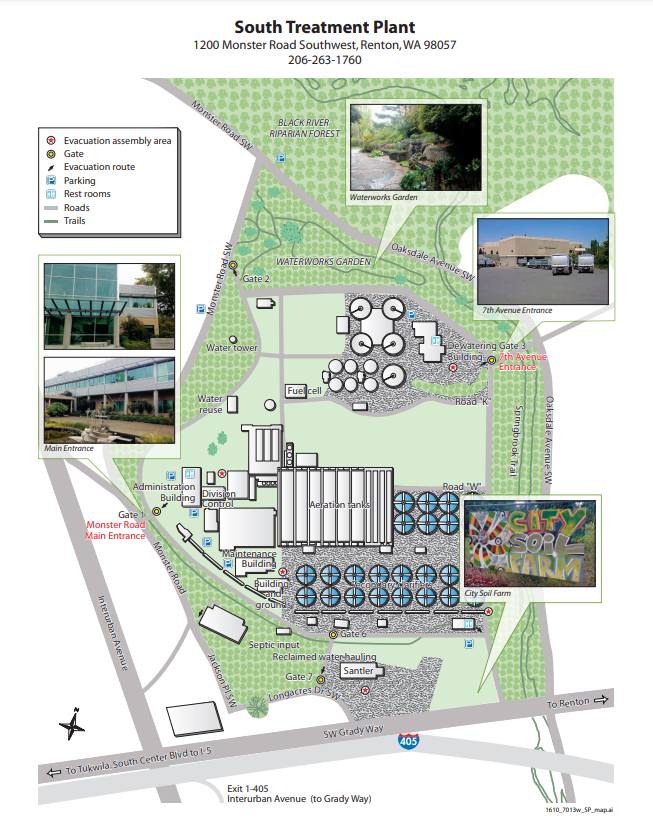 CitySoil Farm is located in the southeast corner of the King County South Treatment Plant.
Entrance to CitySoil Farm
1300 Southwest Grady Way, Renton
Our entrance is 100ft West of Oaksdale Ave SW on the North side of Grady Way. We are located at the end of a fire lane. You will be directed where to park once you enter the site.
Download directions to South Treatment Plant.