Seawall reinforcement work completed in March 2023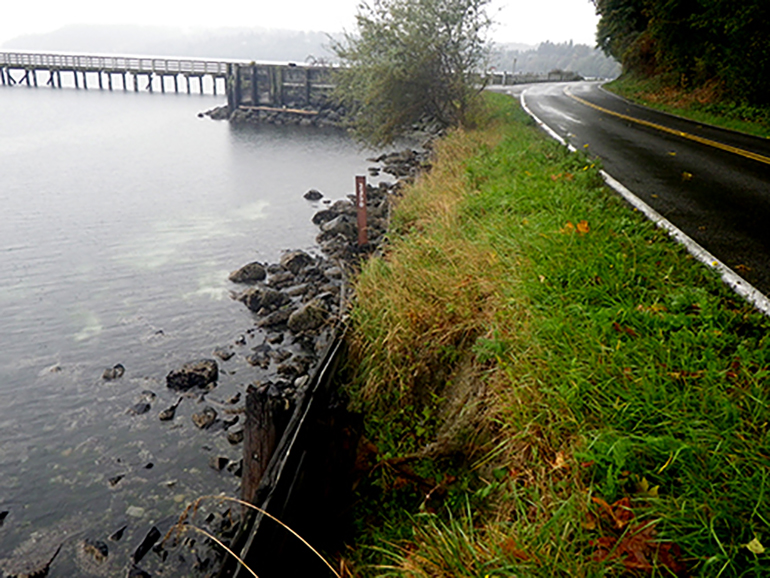 Status update
March 6, 2023
Crews will repair a section of the Dockton seawall that was damaged in January 2023 during a king tide. The work is scheduled to start on Thursday, March 9 at 7:00 a.m. and end Saturday, March 11 at 4:00 p.m. Dockton Road will be reduced to one lane of alternating traffic at the repair site, around the clock. In addition, Highland Road SW will be fully closed between Tramp Harbor Road SW and Dockton Road SW to help provide a safe work area for our crews by preventing traffic from entering the work zone. Local access, emergency vehicles and buses will be allowed through. There is no posted detour. A suggested alternate route is Tramp Harbor Road SW to/from Dockton Road SW.
Check My Commute for the most up-to-date information.
About the repairs
The bottom section of a part of the wooden wall just north of Highland Avenue SW will be patched with new wood. We also will reinforce this section with concrete blocks to help prevent further damage.
Next steps
King County will continue to monitor the entire length of the Dockton seawall. We will return as needed to make any additional repairs.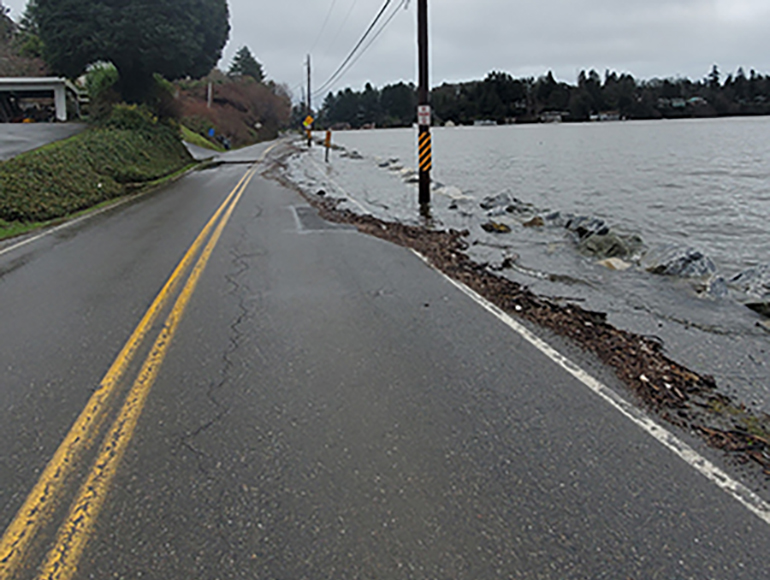 A king tide causes water to flow over the roadway on SW Quartermaster Drive. The king tide shown above also damaged a section of the Dockton seawall just north of Highland Avenue SW in January 2023.
Background
During a 2019 annual seawall inspection, King County inspectors identified several damaged areas along the 103-year-old Dockton Seawall located on Dockton Road SW on Vashon Island. The county launched a two-phase repair plan to address the damaged areas found near Tramp Harbor Road SW, just north of the Tramp Harbor public dock. Phase one was completed in December 2019. Phase two was completed in summer 2020.
During phase one, King County repaired 90 feet of failed timber wall and backfilled 23 small sinkholes adjacent to the seawall and two 13-foot-diameter sinkholes near the parking lot. Phase two included the repair of an additional 100 feet of seawall and another nine sinkholes. The county split the repairs into two phases to address the most urgent repairs as soon as possible and to work around weather and budget constraints.
Previous updates
September 29, 2020
King County has completed all seawall reinforcement work on Dockton Road SW near Tramp Harbor Road SW. This wraps up nearly two years of seawall repairs to protect the road that connects Vashon and Maury Islands.


September 15, 2020
King County is extending the road closure through 4 p.m. Tuesday, September 22. The extension is needed to allow enough time to complete the final paving work on the project.


August 17, 2020
King County Road Services Division will complete the second phase of the Dockton seawall repairs from August 31 through September 17. 2020.

The work requires a full closure of Dockton Road SW at Tramp Harbor Road SW and extending southward for about 1,000 feet. A posted detour JPG 169KB will direct drivers coming from either direction to Monument Road SW. Work is expected to begin at 7 a.m. Monday, August 31 and continue through 4 p.m. Thursday, September 17.

Crews will work from the early morning until the evening Monday through Friday, although tides will affect specific start and stop times.

The county will repair sinkholes and damaged areas of the seawall located along Dockton Road SW. This works follows the first phase of repairs that crews completed in late 2019.

As a reminder to residents, the pier owned by the Vashon Park District that's located near to the work area is closed.


December 18, 2019
Road Services initially repaired three sections of the seawall along Dockton Road SW in November – and wrapped up the work a few days ahead of schedule, in time for the Thanksgiving holiday. Just last week, crews were onsite again for an urgent repair at the Dockton pier parking lot.

Every year, Road Services inspects the 103-year-old seawall and identifies areas that need repair. The first project from the most recent inspection focused on a part of the seawall that runs from Tramp Harbor Road SW to about 1,000 feet south, just north of the Tramp Harbor public dock. This work required a full 24/7 closure of Dockton Road SW. The road was scheduled to reopen on Wednesday, November 27, but crews completed the work and reopened the road on Friday, November 22.

The urgent repair during the second week of December at the Dockton pier parking lot included repairing a failed timber wall, adding concrete blocks behind the wall to provide extra support, and backfilling two voids that had formed and were undermining the parking lot.

The County plans to make more repairs in a second phase as early as spring or summer 2020.