About Harborview
Harborview Medical Center (Harborview or HMC) is owned by King County and operated by University of Washington (UW) Medicine. It is a comprehensive 413-bed regional health care facility located in Seattle's First Hill neighborhood dedicated to providing specialized care for a broad spectrum of patients, the control of illness, and the promotion and restoration of health. The hospital is the only Level 1 trauma center in the state of Washington, and serves trauma patients from Alaska, Idaho, and Montana. Harborview, in cooperation with UW Medicine, plans and coordinates with Public Health - Seattle & King County, other county agencies, community providers and are hospitals, to provide programs and services.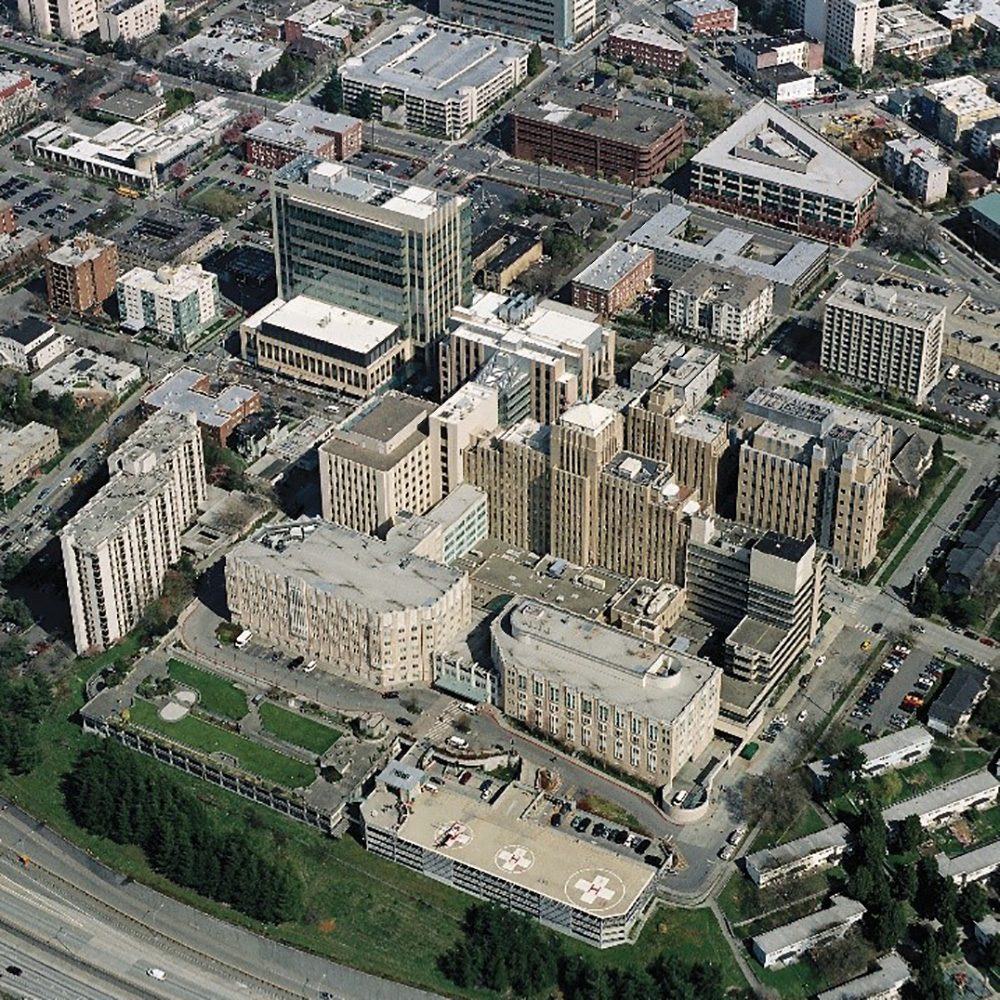 Over time, Harborview's facilities have expanded and changed to meet the demands of a growing and diverse population, as well as advancements in the fields of patient care, research, medicine, and technology. The voters of King County support the capital infrastructure needs of the hospital through approval of bond funding measures, providing for these improvements and expansions through voter-approved financing, generally occurring every 15 to 20 years.
The medical center's facilities are aging and outdated in terms of modern medical best practice standards for infection control and privacy. Even before the COVID-19 pandemic, the hospital operated at almost 100 percent capacity on a daily basis. Facility configuration and capacity constraints significantly impact hospital operations, resulting in virtually no vital surge capacity (ability to house more patients in the event of an emergency), no capacity for growth, and limited flexibility for hospital operations. The older structures on the campus require seismic upgrades to address life-safety risks during a major earthquake.
Planned Bond Funded Improvements
In November 2020, King County voters approved issuing up to $1.74 billion in phased general obligation bond funding over 20 years for health and safety improvements at King County's Harborview Medical Center campus, including a clinic in the Pioneer Square neighborhood. Bond-funded facility improvements may include:
Construction of a new tower on the campus that increases single patient bed capacity, meets modern infection control and privacy standards, and expands and updates the emergency department;
Construction of a new behavioral health services building to co-locate new, expanded, and existing services, including the recently launched Behavioral Health Institute, serving growing need for behavioral health services, and creating therapeutic environments;
Seismic upgrades and renovations for the historic Center Tower and Harborview Hall that preserve iconic structures and ensure the life-safety of patients, employees, and visitors to the campus;
Expansion of King County Involuntary Treatment Court and Public Health spaces to meet growing demands;
Space for up to 150 respite beds for individuals who are homeless, enabling discharge from hospital to lower-acuity recuperative care, supporting better health outcomes and more efficient use of hospital beds, and
Seismic upgrades and renovation for the Pioneer Square Clinic that enable the provision of care to extremely vulnerable populations in a more efficient and therapeutic space.
Bond Project Updates
The Bond Program is implemented by the King County Facilities Management Division's Harborview Bond Program Office.
Starting in December 2020, the first 18 to 24 months of bond work sees the Bond Program Office focusing on establishing the foundational program elements to support the multiple phases of design and construction. This includes conducting procurement processes for consultants and a project management firm, along with hiring of facility planning staff at King County and Harborview Medical Center.
Twice annually, in June and December, the Executive provides a written report to the King County Council on the status of the Harborview Bond program. The transmitted reports are available here: