Resources and program history
Below are a number of reports, studies, maps, and other resources related to the Regional Infiltration and Inflow Control program.
Resources for local sewer agencies
Side Sewer Maintenance Mailer (2022)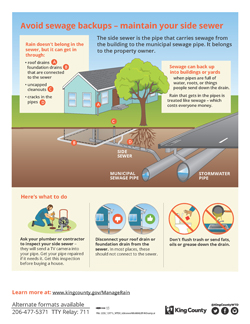 The Side Sewer Maintenance Mailer was developed by King County for MWPAAC agencies to distribute to their residents. The educational mailer describes components of a side sewer, private property source disconnection, and side sewer maintenance best practices. The mailer is available in English, as well as:
Side Sewer Best Management Practices (BMP) Toolkit (2021)
The Side Sewer BMP Toolkit was developed for MWPAAC agencies and includes a description, instructions to local sewer agencies, example website landing page content, and example content (that can be branded by local sewer agencies) for four BMPs:
Unauthorized connection prohibition
Courtesy notice to property owner/occupant regarding roots in side sewer connections
Side sewer maintenance guidance document
Private property I/I source disconnection/redirection public education materials
Note: This toolkit is Appendix A from the Final Regional Best Management Practices Development, December 2021, under Reports / Evaluation of I/I Reduction Concepts to Improve the Regional I/I Program (2017-2021).
Financial Assistance Resources
As part of the Evaluation of I/I Reduction Concepts effort, a list of Existing Financial Assistance Programs for private side sewer inspection or repair was developed that could be accessed by MWPAAC agencies. The programs include both no or low interest loans and grants offered by different sewer agencies and municipalities. Eligibility varies depending on the program.
Program history
To explore the feasibility of regional I/I control, the King County Regional Infiltration and Inflow (I/I) Control Program was created in 1999.
| | |
| --- | --- |
| 1999 | Program created as part of the Regional Wastewater Services Plan (RWSP). |
| 2000 | Comprehensive 6-year, $41 million I/I control study began, led by WTD staff working in a consensus-based approach with local sewer agencies. |
| 2001–2002 | Current levels of I/I defined for each local agency tributary to the regional system through extensive flow monitoring and modeling programs. |
| 2003–2004 | 10 pilot projects in 12 local agency jurisdictions selected and constructed to demonstrate the effectiveness of collection system rehabilitation projects, test technologies, and gain cost information. |
| 2004 | Final draft model standards, procedures, policies, and guidelines developed for use by local agencies to reduce I/I in their systems. |
| 2005 | Thorough benefit-cost analysis completed to determine the cost-effectiveness of I/I reduction and Executive recommends a regional I/I control program. |
| 2006 | Long-term regional I/I control plan developed and then approved by the King County Council. |
| 2007–2009 | WTD and local sewer agencies conducted an I/I reduction feasibility analysis and selected three initial I/I reduction project areas. |
| 2011–2012 | Initial I/I reduction project in the Skyway Water & Sewer District service area (unincorporated King County) constructed. I/I reduction projects in Bellevue and Issaquah were cancelled in early 2010 due to County budget limitations. |
| 2014 | Findings on the initial project published, which will be used to develop recommendations to the King County Council regarding long-term I/I reduction controls. |
| 2015 – 2018 | Conducting regional planning work to evaluate programmatic concepts to reduce I/I particularly in private side sewers. This planning effort is in progress, and has resulted in several technical memoranda. |
| 2019-2021 | Phase 1, Exploring Concepts of the regional planning effort, formally concluded in 2019. Phase 2, Define Programs, concluded in late 2021 and produced several technical memoranda, and made recommendations on selected programmatic concepts to MWPAAC. |
Nicole Smith
Capital Project Manager