Rider safety
At Metro safety is our top priority, and we are committed to providing a secure and reliable transportation experience for everyone who rides with us. On this page, you will find information about the various safety measures we have in place, as well as tips and guidelines for staying safe while using our services. Whether you are a daily commuter, a visitor to our city, or a first-time rider, we encourage you to read through the information provided here to help you make the most of your transit experience while keeping safety at the forefront.
Safety tips when riding Metro
Never run after a bus, or alongside a bus. They may not be able to see you, and you could be putting yourself and others at serious risk by distracting the driver.
Look up for safety. Be aware of what's going on around you, especially when you are crossing the street. Make sure drivers see you. Electronic devices can make you a greater target for theft or assault, so be watchful.
Do not cross in front of a Metro bus at a bus stop. Wait until the bus leaves the stop, and then cross carefully.
Please allow passengers to exit the bus before you board.
If you are standing in the bus, hang onto the handrails provided in the event the bus makes a quick stop.
On crowded buses, please move to the back of the bus to make room for others.
Stand behind the yellow line on the floor next to the driver's station. This helps give drivers as much visibility as possible.
Stay clear of the doors.
Avoid standing in the stairwells.
Keep the aisles clear.
Keep your head, arms and all objects inside bus windows.
Signal the bus driver at least one block before your stop so they have sufficient time to stop smoothly.
Hold onto the railing when exiting the bus. Bus steps and sidewalks can become slippery from rain.
As you leave the bus, watch for cars.
Anti-harassment
It's OK to say, "That's not OK!" All harassment – physical, verbal, intimidation – is wrong.
Code of conduct
To help ensure the safety and security of all those who use our services.
All Metro buses are equipped with lifts or ramps at the front door.
Each bus stop is clearly identified as to its accessibility.
Alert the driver to deploy the lift or ramp.
Wheelchair and scooter users have designated areas reserved at the front of the bus.
Please allow the driver to secure wheelchairs.
Metro's Customer Information Office can help you determine the level of accessibility at a specific stop.
Metro's Online Trip Planner lets you plan trips requiring accessible stops.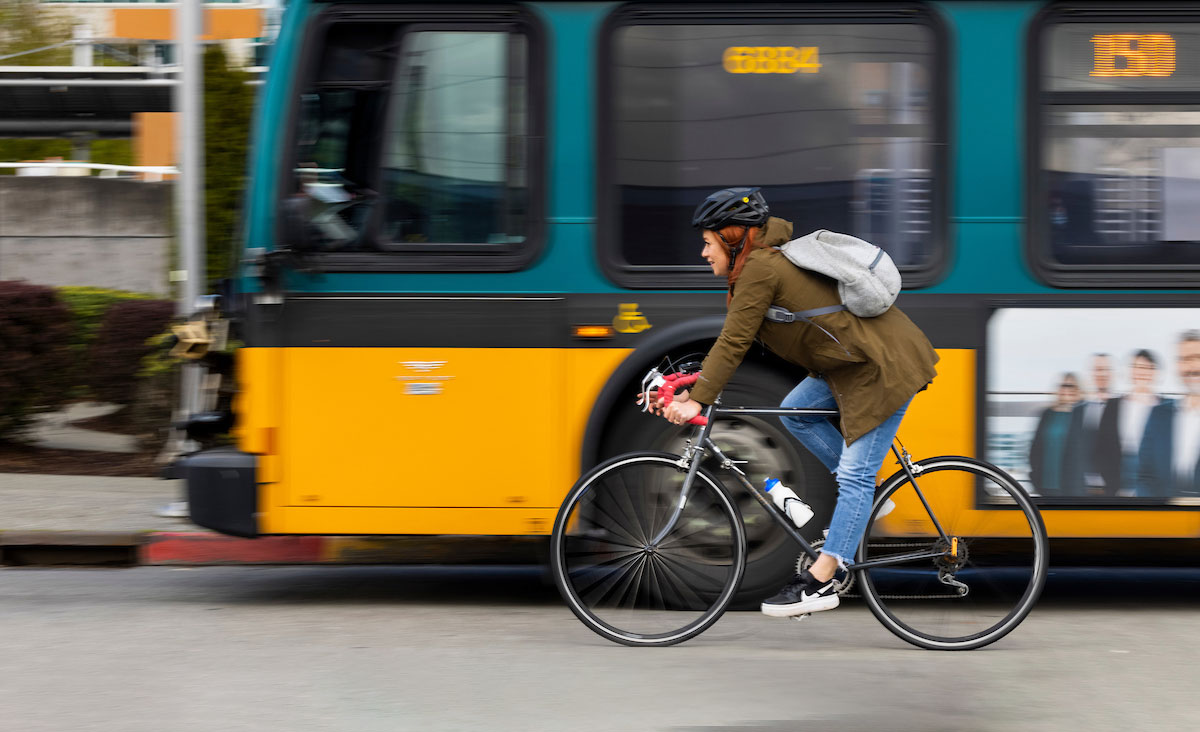 Be predictable: Cyclists should try to stay in a consistent position visible to drivers. If you can't see the bus mirrors, then the bus driver can't see you.
Passing: Pass a bus only on the left. Bus drivers are trained to share the road with bicyclists and other traffic, but they're paying attention to many things at once.
Intersections: Never posi­tion yourself to the right of a bus at an intersection. Sometimes it may look as though a bus is going straight when it's setting up for a right turn.