Wildlife in Urban and Urbanizing Areas
If you could step back in time about 170 years or so, almost all of the developed areas in King County were covered with either forest or wetland. Much of downtown Seattle was a big estuary. In other words, everything was wildlife habitat. Nowadays, wildlife habitat is fragmented - with more in the eastern part of the county, not so much in the western part of the county, and a big matrix of both animal and human habitat in the middle. The middle ground is the area we refer to as urbanizing - it isn't urban, but it's on its way.
Species you may encounter - and not necessarily want to
These days it is not unusual to find wildlife in urban and urbanizing areas. We created a webpage to address that topic specifically.

You may encounter all sorts of wildlife in your neighborhood that you were not necessarily expecting or don't know how to handle. WDFW's Living with Wildlife web site offers information on just about any species you are likely to need information on.
Coyotes
Coyotes are in the local news more frequently than ever it seems. They are being seen and reported with greater regularity in not just Seattle's suburbs and rural areas, but even in Seattle city limits. WDFW says, "Some of the most Frequently Asked Questions (FAQs) about urban/suburban wildlife fielded by Washington Department of Fish and Wildlife (WDFW) biologists are about coyotes." To answer questions, WDFW put together information on coyotes in their Coyote page for Living with Wildlife.
Here are several recent news articles and blogs about coyote encounters in the greater Seattle area:
So how can you deal with them? You can find some suggestions on WDFW's Living with Wildlife series, Coyote page. Scroll down to "Solutions to Problems"
You can see where coyotes in the Seattle/King County area have been reported, or report your own sightings on this NWCoyoteTracker: Urban and Suburban Coyote Sightings page.
The photo below shows a coyote who wandered into an open back door of a house north of Novelty Hill Road. Perhaps the same coyote later caught on video during King County Road's Department monitoring?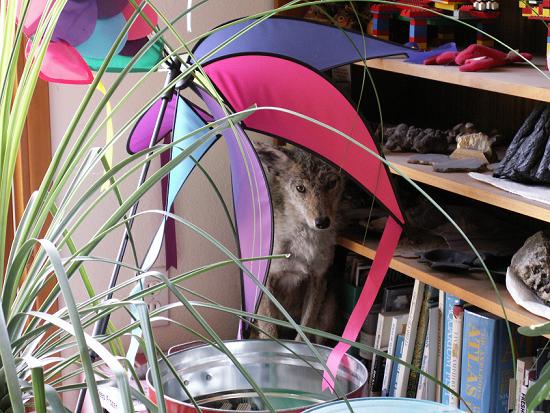 Beavers

Beavers are incredibly industrious creatures that live in streams and wetlands even in our urban areas. They are a natural part of these aquatic ecosystems, but they become problems when flooding occurs. However, more often than not, beaver dams and not causing problem. Our
Beaver Website
includes excellent information on beavers, beaver problems, and beaver solutions.
Your House Cat and Wildlife
One of the biggest threats that birds in our urban and urbanizing areas face is our pet cats. Yet most cat owners have no idea how much damage their pets do to wildlife. Some estimates are 4 million birds killed by cats each year. According to Washington Department of Fish and Wildlife, almost one-fifth of all injured wildlife brought to Washington's wildlife rehabilitators across the state was harmed by cats.
The American Bird Conservancy launched a Keep Cats Indoors campaign in 1997, and their web site includes valuable information for cat owners and wildlife conservationists. All cat owners should educate themselves about the impacts their pet may be having on the native biodiversity outside their doors.
Your Yard may provide valuable Wildlife Habitat
Believe it or not, animals use your yard. You can make the most of your little patch of potential habitat by learning about gardening for wildlife and possibly even getting your yard certified as wildlife habitat.
Related Information
Related Agencies