Board Members
The King County Noxious Weed Control Board consists of five volunteers, each representing a particular area of the county, and a non-voting advisory representative from WSU Extension. Board members are appointed by King County Council to carry out the mandates of the Washington Noxious Weed Control Law, Chapter 17.10 RCW. They all reside in King County and share an interest in and knowledge about agriculture and/or the natural resources of the county.
District 1: Alaine Sommargren
District 2: Becky Chaney
District 3: John Browne
District 4: Grace Stiller
District 5: Eldon Murray
WSU Extension: Jennifer Andreas
Staff Members
The decisions of the Weed Board are carried out by the staff of the King County Noxious Weed Control Program under the direction of the program manager. Contact information for all program staff is available in the Staff Directory.
Steven J. Burke, Program Manager
Denise Liguori, Administrative Coordinator
Sasha Shaw, Education and Outreach Lead
Marta Olson, Education Specialist and Multilingual Outreach Lead
Noxious Weed Specialists

Roy Brunskill, County Lands Specialist and Supervisor
Trish MacLaren, State Lands Specialist
Ben Peterson, Aquatic Lands Specialist
Regional Noxious Weed Specialists (see map below for region boundaries)

Karen Peterson, Region 1
Mattia Boscolo, Region 2
Patrick Sowers, Region 3
Maria Winkler, Region 4
Ashley Shattuck, Region 5
Minwook Park, Region 6
Tom Erler, Region 7
Ashlie Arthur, Region 8

Dan Sorensen, Healthy Lands Project Manager and Supervisor

Justin Brooks, Snoqualmie River Lead, WRIA 7
Sara Price, Skykomish River Lead, WRIA 7
Sayward Glise, Cedar River Lead, WRIA 8
Erin Haley, Green-Duwamish River Lead, WRIA 9
Margaret Wagner, Lower Green River Lead, WRIA 9
Noxious Weed Program Staff Areas of Responsibility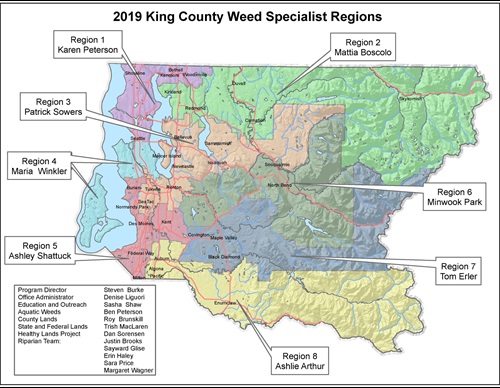 Maps of specific noxious weed specialist regions
The regional noxious weed specialists each cover a particular area of King County and take on special projects as needed. These staff members have daily contact with landowners, providing information and technical assistance in plant identification and control options. Click on the region number to download a map showing the approximate region boundaries (note: these regions have been adjusted since these detail maps were created, contact us with questions about specific locations).
Learn about what we do and get answers to frequently asked questions.
Program offices are located at 201 S. Jackson St., Suite 600, Seattle, WA 98104. To contact staff, see the Noxious Weed Control Program Directory, send an email, or call 206-477-WEED (206-477-9333).