Common tansy identification and control
Tanacetum vulgare
Common tansy is a Non-Regulated Class C noxious weed and control is not required in King County. It is often mistaken for
tansy ragwort
, which is regulated in King County. For more information on noxious weed regulations and definitions, see
Noxious weed lists and laws
.
Although common tansy is somewhat toxic, animals do not ingest it due to its strong odor, unlike tansy ragwort which is sometimes consumed by animals, especially when it is young, mixed in with hay, or after it has been cut.
Common tansy flowers are yellow just like tansy ragwort, but they look like buttons instead of daisies and do not have any ray petals. In contrast, tansy ragwort flowers are like yellow daisies with 13 ray petals and yellow centers. If you need assistance distinguishing these two plants, contact us and we can help you.
Additional information on common tansy
What to do if you find this plant in King County, Washington
Because common tansy is so widespread, property owners in King County are not required to control it and we are not generally tracking infestations. We can provide advice on how to control common tansy, but there is generally no legal requirement to do so.
Common tansy photos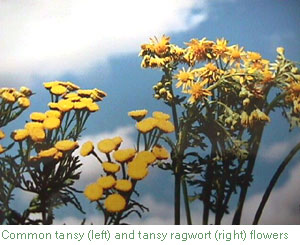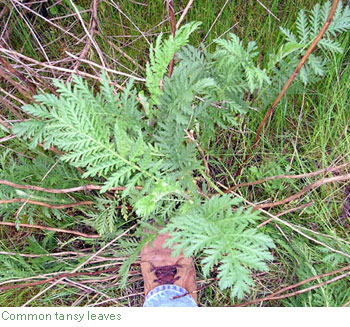 Related information
Related agencies
---
Program offices are located at 201 S. Jackson St., Suite 600, Seattle, WA 98104. To contact staff, see the Noxious Weed Control Program Directory, send an email, or call 206-477-WEED (206-477-9333).