Invasive knotweed control videos
Learn how to identify invasive knotweed, understand how it damages native plant communities and streambanks, and find out how to control it using manual methods and injecting or spraying chemical herbicides.
Introduction to knotweed
About the plant, how to identify it, and how it damages river banks.
Resources:
---
How to control knotweed without chemicals
Learn about digging out this invasive weed, cutting and starving roots, and cutting, covering and shading roots as control methods.
Resources:
---
How to control knotweed by using herbicide injection
Learn how to inject chemical herbicide into knotweed stems using a stem injector. View the herbicide injection album on Vimeo. Injectors are available at a variety of sites online.
Update: Injector loan out program will be paused until our office at King Street Center reopens to the public. We are truly sorry for the inconvenience. Please contact Sayward Glise if you would like to discuss alternative knotweed control methods Sayward.Glise@kingcounty.gov.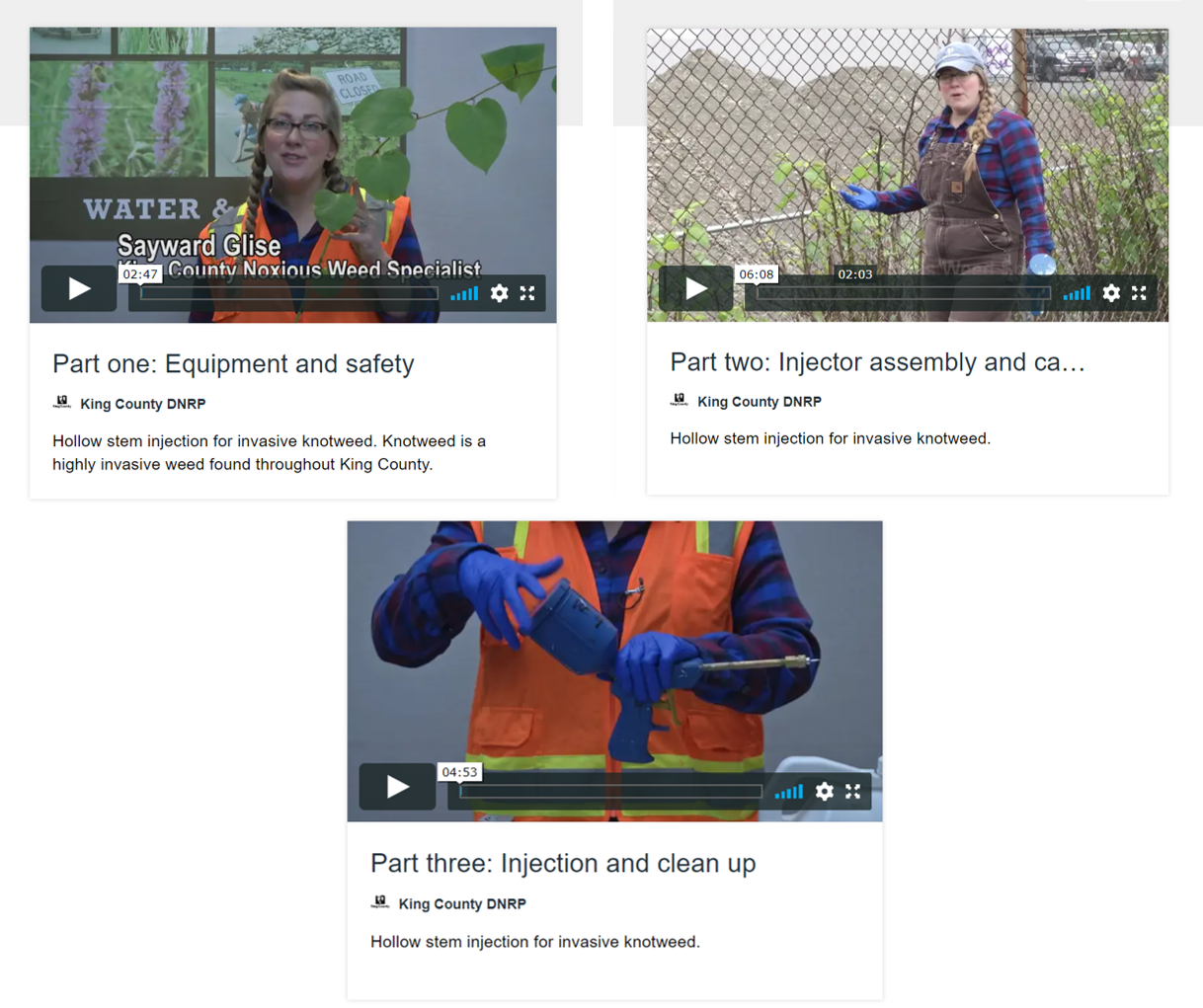 Resources:
---
How to control knotweed using herbicide spray
Learn how to apply chemical herbicide on knotweed using a backpack sprayer.
Resources:
Get more information on using herbicides to control knotweed
Learn about choosing and calibrating a backpack sprayer (external link)
Find out about pesticide license requirements in Washington State (external link)
Apply for a permit to apply aquatic herbicides in Washington State (external link)
Related information
Water and Land Resources Division multimedia
Related agencies
---
Program offices are located at 201 S. Jackson St., Suite 600, Seattle, WA 98104. To contact a staff member at the King County Noxious Weed Control Program, please call 206-477-9333 or by reach them by email.