Want to help salmon? Here are some ways...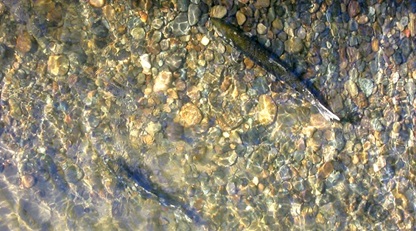 What can you do to help salmon?
Educate yourself about Stormwater - which is not treated and flows directly to our streams, lakes, and marine waters.

Use a car wash, not your driveway. Your car's oil, grime, and soap suds flow from the driveway to the street to the streams, lakes, and Puget Sound -- not good for fish.
Charity car washes can be huge sources of pollution. If you want to raise money by helping people get their cars clean, read this: the most fish friendly car wash fundraiser.
What if you see poaching or code violations?
In King County, report code violation for clearing or grading too close to the stream. These King County Dept. of Development and Environmental Services pages have information on

what is a violation

and how to report them.
See someone fishing for salmon in a creek during the fall spawning season? This page from Washington Dept. of Fish and Wildlife has information on who to contact. In short, if you are seeing it happen, call 911. If it already happened, go to their web site to find out about how to report it.
This program is conducted in cooperation with the King County Water and Land Resources Division, Bellevue Stream Team, Redmond Stream Team, and the cities of Seattle, Bothell, Issaquah, Kirkland, Renton, Woodinville, and the Vashon-Maury Island Land Trust, with financial support from the King County Flood Control District Cooperative Watershed Management Grant.