Protecting King County from toxic forever chemicals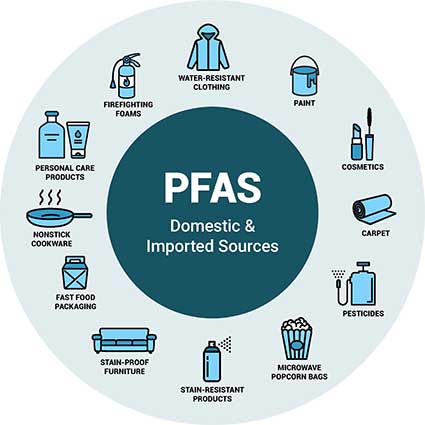 We're taking action to protect the people, fish, and wildlife of King County from PFAS, a class of toxic chemicals used in a wide range of consumer goods that include food packaging, cosmetics, cookware, upholstery cleaners, carpets, rain-resistant clothing, firefighting foam, and more.
Researchers have found that these "forever chemicals" can harm human health and the natural environment. Because PFAS – short for perfluoroalkyl and polyfluoroalkyl substances – are intentionally designed not to break down naturally, exposure could continue for hundreds and possibly thousands of years.
Action we are taking
Here at King County, a team of experts representing multiple disciplines – public health, water quality, hazardous waste, and solid waste – are working together to identify local sources of PFAS so we can reduce community exposure as quickly as possible. We are also studying how these chemicals in local waters are impacting fish, which can impact public health.
We are mobilizing government agencies, public health experts, business leaders, community partners and environmental advocates to prevent these harmful chemicals from entering our communities and help consumers make informed decisions.
Actions you can take
Here are a few actions you can take now to reduce the amount of PFAS in your home and community today:
Avoid products marketed as stain- and water-resistant.
Avoid nonstick cookware, even if it says PFOA free because it can still contain other PFAS chemicals that can cause harmful fumes cooking at high temperatures.
Bring your own containers – glass is best – for food takeout orders or leftovers.
If you fish locally, avoid consuming northern pikeminnow, bass, and carp. The Department of Health has more information about safer alternatives. Fish consumption advisory issued for several King County lakes | Washington State Department of Health .
Vacuum and dust your home frequently to prevent PFAS from gathering in dust and soft materials such as carpet.
Purchase PFAS-free products available now.
Learn about PFAS in Washington state and for more actions you can take to protect yourself and your family.
Updates
Washington state to ban PFAS chemical in food packaging
Governor Inslee signs PFAS bill into law
Contact
Hannah Scholes , Policy Analyst, Solid Waste Division
Tristen Gardner , Policy Analyst, Hazardous Waste Management Program