Native plant resources for the Pacific Northwest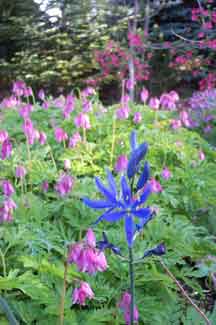 The following resources are provided by the Water and Land Resources Division of King County, Washington as an aid to learning about northwest native plants.
It is updated periodically. If you have any questions, or know of a resource that you think should be included in the list, please contact Greg Rabourn.
Native plant guide
This interactive guide features a native plant selector, images of native plants, sample landscape plans, and printable plant lists. Check it out... Native Plant Guide.
"Going Native" brochure

You can now download this award-winning guide to creating your own native plant landscape. The 10-page brochure contains information about preparing your planting site, choosing the right plants, proper planting techniques and maintenance tips. It also includes sample planting plans, a native plant list and resources for more information.
Download the Going Native Brochure (Acrobat, 2.9MB)
Native plants in public gardens:
Bellevue Botanical Garden
53 acres featuring a wide diversity of horticultural species including native plants. 12001 Main Street, Bellevue; 425-452-2750.
Bloedel Reserve
The region's largest Northwest forest garden. Bainbridge Island, WA. Reservations and directions 360-842-7631.
Carl S. English Botanical Garden
Natives and exotics. Ballard Locks, 3015 NW 54th Street, Seattle.
Covington Water District
Learn the 7-steps to a low-water-use landscape at this demonstration garden. A section of native plants exhibits species that are drought tolerant. 18631 SE 300th Place, Covington, WA www.covingtonwater.com.
Daybreak Ethnobotanical Garden
NW species considered useful by Native Americans of the Pacific NW. Contact the gallery at Discovery Park in Seattle; 206-285-4425.
E. B. Dunn Historic Garden Trust
P.O. Box 77126, Seattle, WA. Tours arranged April-September 206-362-0933.
www.dunngardens.org
Eastpointe Native Plant Demonstration Garden
Volunteer effort to educate the public about native plants and their environmental benefits. 3600 - 136th Pl. SE, Bellevue.
Erna Gunther Ethnobotanical Garden
Established in 1984 with support of the Seattle Garden Club. Corner of 17th Avenue NE and NE 45th, Seattle.
Highline Community College
Highline Community College campus in Des Moines has a Washington native plant habitat garden. Divided into four regions, eastern Wash, coastal, NW forest, and subalpine, they have about 100 representative species. South 240th Street & Pacific Highway South, Des Moines, WA 98198; 206-878-3710
Kruckeberg Botanic Garden
The four-acre plant collection has been amassed over many years and contains native plants of the Pacific Northwest.
20312 15th Ave NW, Shoreline, WA
Lake Hills Greenbelt Ranger Station Backyard Habitat Demonstration
A model creating your own backyard habitat with native plants. 15416 SE 16th, Bellevue.
Lakewold Gardens
This small arboretum is in a lovely setting in the Lakewood area. 12317 Gravelly Lake Drive SW, Tacoma. To reserve a guided tour, call 253-584-4106. Otherwise, walk-ins are welcome.
Olympic Sculpture Park
A wide variety of native plants are dispersed around interesting sculpture at this Seattle waterfront park.
Point Defiance Park
The Tacoma Garden Club currently maintains the Northwest Native Plant Garden that offers visitors the chance to see native plants in cultivation. There are rarities that the general public rarely sees. Included are a gazebo, waterfall, pond, trails and meadow.
Rhododendron Species Garden
Located next to Weyerhaeuser in Federal Way. Limited schedule.
UW Botanic Gardens
The north end of the arboretum features representative native trees and shrubs and a nature walk. Seattle.
Botanic Gardens
Woodinville Water District
A low-water-use demonstration garden including a section with native plants. 17328 Woodinville - Duvall Rd, Woodinville.
Books and publications
Clark, Lewis J. Wild Flowers of the Pacific Northwest. Sidney, B.C.: Gray's Publishing, 1976.
Cox, Jeff. Landscaping with Nature. Pennsylvania: Rodale Press: 1991.
Flaherty, David C. and Sue Ellen Harvey. Fruits and Berries of the Pacific Northwest. Edmonds: Alaska Northwest Publishing Company, 1988.
Environmental Review (published monthly), 6920 Roosevelt Way NE, #307, Seattle, WA 98115 (800-526-2501)
Franklin, J. and C.T. Dyrness. Natural Vegetation of Oregon and Washington. Corvallis, OR: Oregon State University Press, 1988.
Grant, John A. and Carol L. Grant. Trees and Shrubs for Pacific Northwest Gardens. 2nd ed. Portland: Timber Press, 1990.
Hamilton, Clement W. and Arthur R. Kruckeberg. Woody Northwestern Native Plants for Urban Landscapes: Ornament and Restoration in the Native Idiom. Seattle: Center for Urban Horticulture, 1994.
Hortus Northwest (published twice annually), P.O. Box 955, Canby, OR 97013. Lists commercial sources of native plants. Also available at Miller Library, Center for Urban Horticulture, University of Washington.
Jacobson, Arthur Lee. Wild Plants of Greater Seattle 2001
Kozloff, Eugene N. Plants and Animals of the Pacific Northwest. 5th ed. Seattle: University of Washington Press, 1988.
Kozloff, Eugene N. Plants of Western Oregon, Washington and British Columbia. Timber Press 2005
Kruckeberg, Arthur. Gardening with Native Plants of the Pacific Northwest; an Illustrated Guide. Seattle: University of Washington Press, 1982.
Link, Russell. Landscaping for Wildlife in the Pacific Northwest. University of Washington Press, 1999.
Pojar, Jim and Mackinnon, Andy. Plants of the Pacific Northwest Coast: Washington, Oregon, British Columbia and Alaska. Vancouver: Lone Pine Publishing, 1994.
Robinson, Peggy. Profiles of Northwest Plants: Food Uses, Medicinal Uses and Legends. Portland: Far West Book Service, 1979.
Schofield, Janice. Discovering Wild Plants: Alaska, Western Canada, the Northwest. Anchorage: Alaska Northwest Books, 1989.
Thompson, Peter. Creative Propagation: A Grower's Guide. Timber Press, 1992.
Turner, Mark and Gustafson, Phyllis. Wildflowers of the Pacific Northwest Timber Press, 2006
Weinmann, F., et al. Wetland Plants of the Pacific Northwest. Seattle: U.S. Army Corps of Engineers, 1984.
Whitney, Stephen. The Sierra Club Naturalist's Guide to the Pacific Northwest. San Francisco: Sierra Club Books, 1989.
Wittlesey, Rhoda. Familiar Friends: Northwest Plants. Portland: Rose Press, 1985.
Vitt, Dale H., Janet E. Marsh and Robin B. Bovey. Mosses, Lichens and Ferns of Northwest North America. Seattle: University of Washington Press, 1988
External websites
Miscellaneous native plant resources
Department of Fish and Wildlife, Backyard Sanctuary Program. Contact Chris Anderson at 425-775-1311, ext. 111 Christopher.Anderson@dfw.wa.gov for information about planting natives in your yard to attract wildlife.
Adopt-a-Stream Foundation. Call

425-316-8592

for publications, training and technical assistance for stream and watershed restoration.
WSU/King County Cooperative Extension. Call 206-205-3100 for publications and training in land and water stewardship.
King Conservation District. Call 425-282-1900 for technical assistance, information and some funding for soil and water conservation projects, especially fencing to limit livestock access to rural streams. Annual native plant sale.
Washington Native Plant Society. Native plant identification video and newsletter, Douglasia. Write to Washington Native Plant Society
6310 NE 74th Street, Suite 215E, Seattle, WA 98115 206-527-3210
www.wnps.org
Native plant sales in King County
Washington Native Plant Society
Spring and fall plant and seed sales
For questions about Native Plant Resources for the Pacific Northwest, please contact Greg Rabourn, Water and Land Resources Division.
Related information
Related agencies