Yard Talk
Dirt simple tips for natural yard care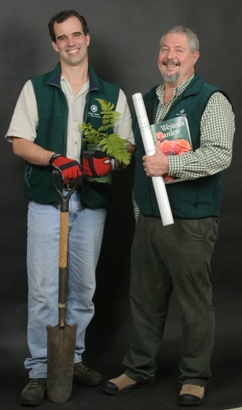 Yard Talk, now airing on King County Television (KCTV), is the natural gardening show that demonstrates how to easily care for yards and gardens in a way that's good for people, pets and the environment.
Yard Talk episodes
Episode 16: "Rural stewardship"
Rural landowners enjoy many rewards, but with those rewards come many challenges. Living with nature, managing forest acreage, caring for livestock and finding community support are all challenges that people may find overwhelming in rural King County.
Episode 15 "Local Food "
Curious about the growing demand for organic food? Join us as the Yard Talk duo explains the downsides of traditional agriculture and serves up some fresh alternatives. Learn how you can enjoy better nutrition and flavor while protecting our beautiful Pacific Northwest environment.
Episode 14 "Yard care, salmon and Puget Sound"
What do pesticides, car-wash soaps, and doggie doo have in common? They can all impact our local water quality. Discover the connection between your back yard and the storm drain nearest you.
Episode 13 "Good Bugs vs. Bad Bugs"
Although they may give you the creeps, most species of insects are beneficial to your garden. Learn how to encourage the good ones and control the bad ones without the use of harmful insecticides.
Episode 12 "Green Roofs and Rain Gardens"
See how these beautiful and functional features can make your home look fantastic. Learn how you can make a difference in the health of Puget Sound by having a smaller impact.
Episode 11: "Healthy Home Companion"
Chemicals used in your yard and on your lawn often end up in your home. Learn ways to prevent and eliminate tracking toxins into your house for a safer, healthier home.
Episode 10: "Waterwise Gardening"
Make the most of every drop of water in your yard. Covers drought tolerant landscaping, using cisterns and rain barrels and Smart Watering techniques.
Episode 9: "Backyard Wildlife"
Get great ideas for how to attract more wildlife to your backyard on this tour of an amazing Vashon garden.
Episode 8: "Trees"
Learn how to choose and plant trees and how to best manage them when they're both up and downed.
Episode 7: "Compost"
How to make and use compost to create a beautiful and healthy yard.
Episode 6: "Native Plants"
An episode devoted to native plants with visits to plant sales, salvage events and beautiful gardens around the county.
Episode 5: "Weeds"
The best tips for how to rid your yard of weeds and how to safely manage noxious weeds. And don't miss weed-eating goats for hire!
Episode 4: "Using Manure in the Garden"
Hear from leading experts on how to use manure in the garden.
Episode 3: "Lawn Rejuvenation The Natural Way"
How to overhaul a lawn and get free plants through propagation.
Episode 2: "It's All About Dirt"
Learn about soil and planting techniques.
Episode 1: "A Back Yard Makeover in Ravenna"
Doug and Greg makeover a small yard.
Northwest native plant landscaping guide

Using native plants is a great way to create a healthier, low-maintenance yard. Use this new, award-winning "gardening tool" to search for native plants based on their characteristics, availability, ease of use and ideal growing conditions. Create a customized plant list, for shopping or planning, that you can save, print or email! Go to guide...
For more information on natural yard & garden care, please visit
naturalyardcare.info
.
KCTV wins Telly Award for Yard Talk

King County Television won five programming awards in the 28th International Telly Award Competition, which recognizes excellence in television programming. Yard Talk was among the winning shows.
Related information
Related agencies