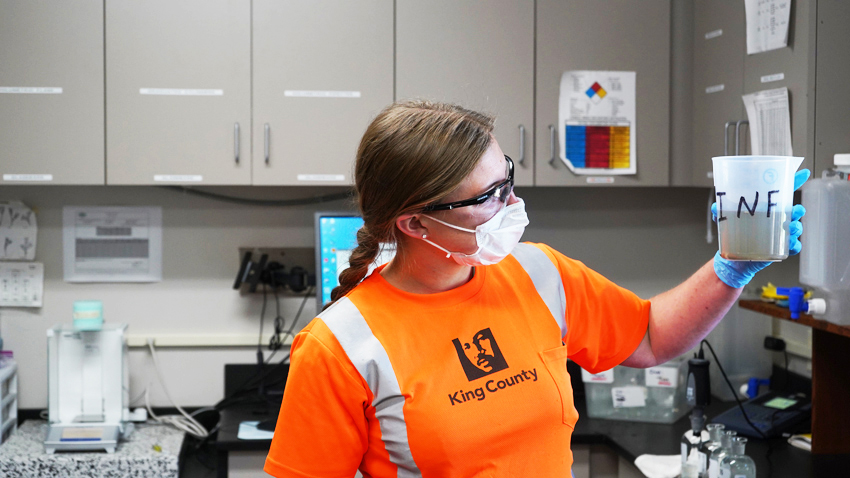 We rigorously test biosolids' physical, chemical, and microbial properties at our treatment plants to ensure they meet regulatory requirements and remain high quality. Our monitoring program goes beyond federal, state, and local regulations and is checked for safety and effectiveness by the United States Environmental Protection Agency and Washington State Department of Ecology.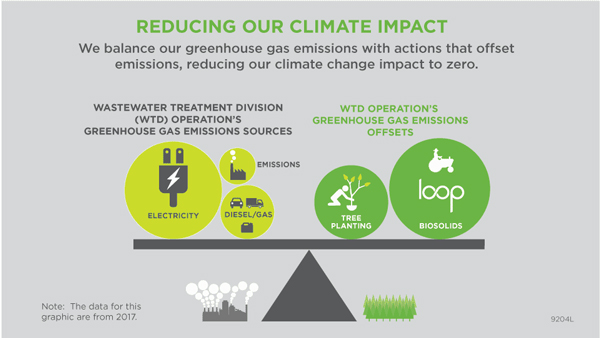 Loop® biosolids is a natural soil amendment produced by extracting carbon and nutrients from King County's wastewater. Better for the environment than conventional fertilizers, Loop returns essential nutrients to the soil where it's applied. Loop also reduces runoff and erosion with its proven ability to hold rainwater like a sponge.
University scientists found applying Loop to soil stores carbon and reduces greenhouse gas emissions. These carbon offsets outweigh the emissions associated with the transportation of Loop and help offset the energy consumption associated with treating wastewater.
Our Research Partners
Our long-standing research partnerships ensure effective third-party review and oversight. Researchers and scientists conduct studies that allow us to track the benefits of biosolids and provide quality assurance to our customers and regional landowners. These partners play a crucial role in exploring beneficial uses of biosolids and support our new product development efforts.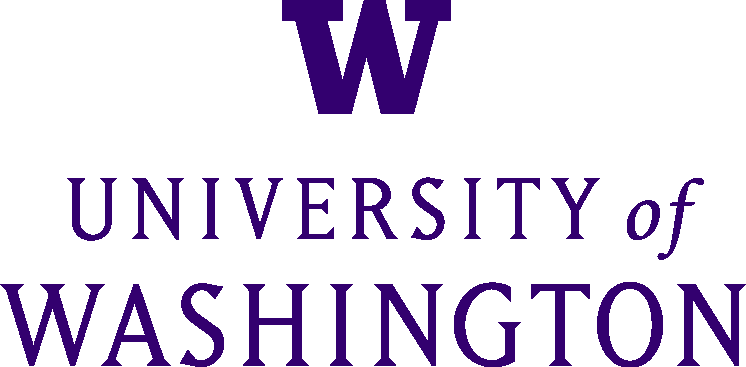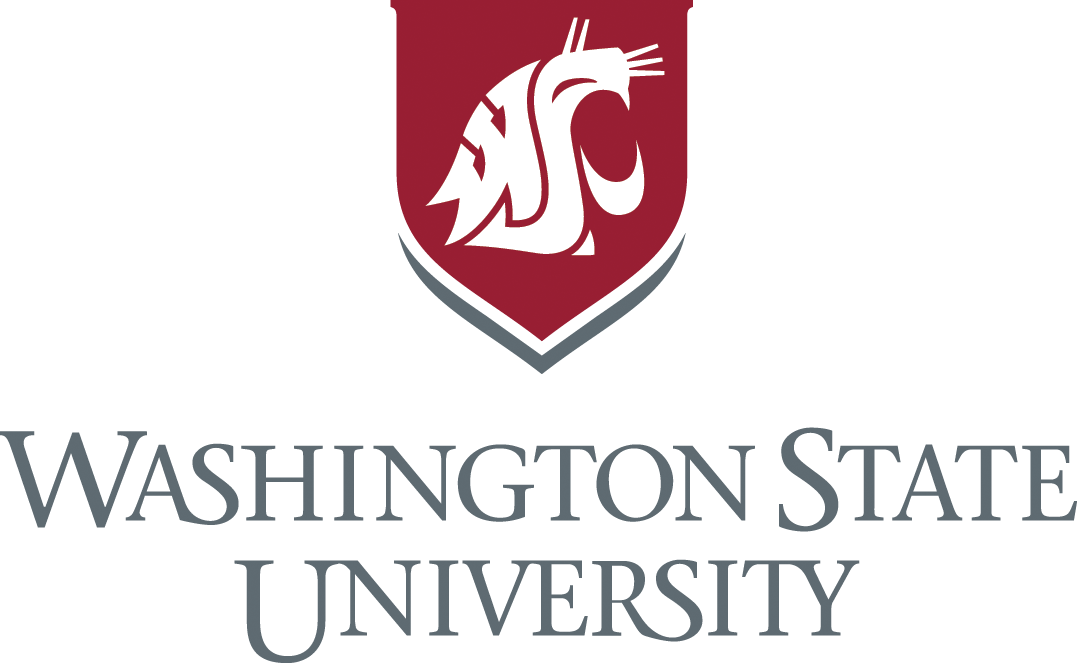 University of Washington (UW) conducted the first trials of biosolids in the woods of Western Washington in the late 1980s, which resulted in 5% to 35% bigger trees. We have been applying Loop in the woods ever since.
Together with researchers at Washington State University (WSU), we have been studying the impact of biosolids on crop production for over 30 years. WSU soil scientists have confirmed that fields amended with biosolids produce crop yields equal to or better than those treated with synthetic fertilizer.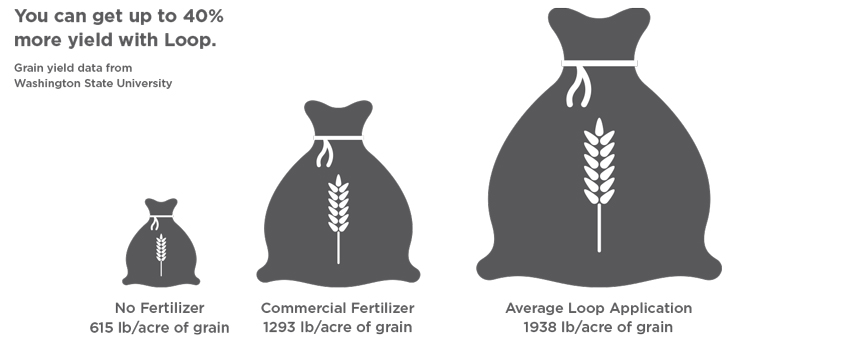 Washington State University (WSU) soil scientists are conducting farmland research at our project site in Eastern Washington evaluating, the soil health benefits of biosolids and cover cropping, including studying any impacts of cattle grazing. More about WSU research .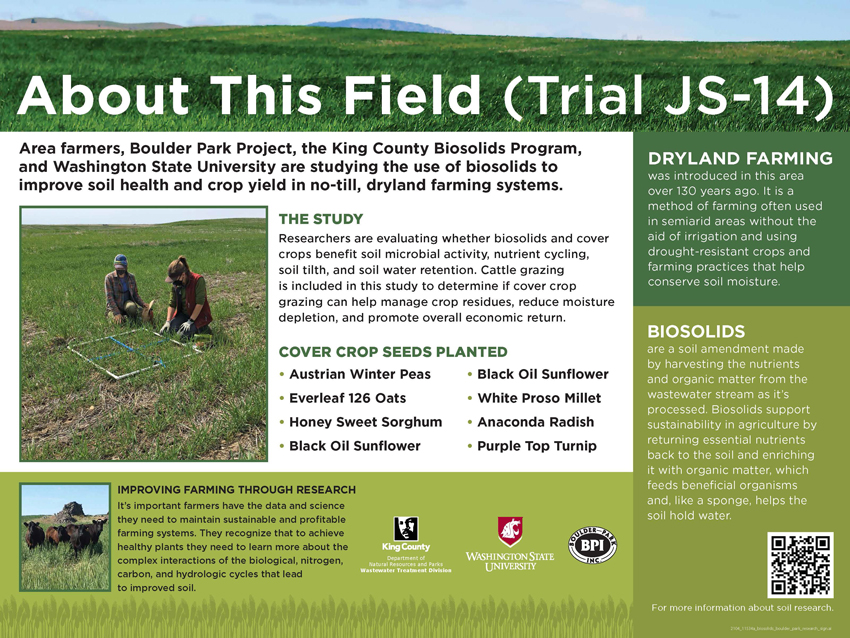 Chemicals are everywhere in our environment. From the medication we take and the products we put on our skin to the material in our homes. As a result, trace amounts of chemicals from pharmaceuticals and personal care products end up at our treatment plants and eventually in our biosolids.
These chemicals are present in such tiny amounts that it would take hundreds, even thousands, of years working directly with biosolids products to match what we are exposed to every day in most household products.
Less than 3 percent of the flow into our treatment plants is from industrial sources. To protect Loop's quality, we also work with local businesses to make sure metals and chemicals stay out of the sewer. As a result, Loop contains minimal metals—far less than the regulatory standards and similar to other soil products on the market.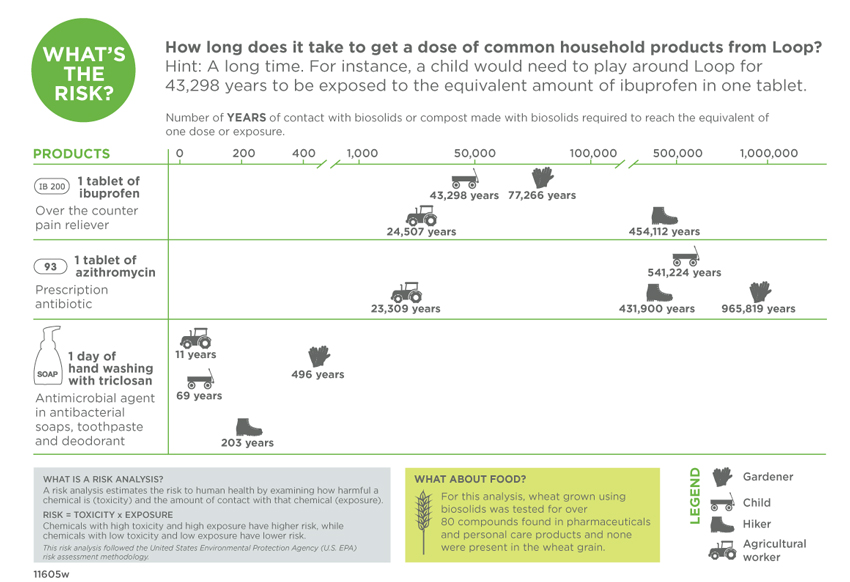 Annual Loop Quality Data
To ensure the safety and efficacy of Loop, we routinely monitor its physical, chemical, and microbial characteristics.
This is our annual summary .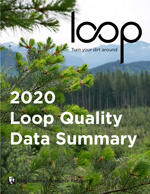 For more information about Loop biosolids, please contact us at:
201 S. Jackson Street, KSC-NR-5512, Seattle, WA 98104
206-477-5557