Governance - King County Flood Control District
Governance
King County Flood Control District
The King County Council governs the King County Flood Control District (District) as the District Board of Supervisors.
The advisory committee advises the board of supervisors of the District on regional flood protection issues by providing recommendations to the board of supervisors on the district's work program and budget, including capital improvement program projects.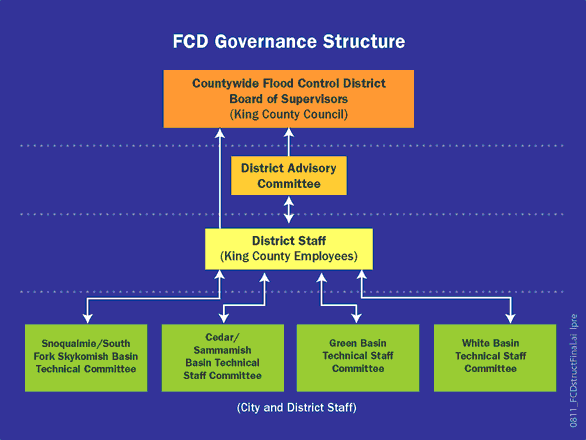 The purpose of the basin technical committees is to ensure that basin-scale issues and technical information are factored into countywide district decision-making processes. Basin technical committees are comprised of city staff from jurisdictions within each basin, as well as King County staff to accomplish the following objectives:
Provide input to FCD staff regarding annual and longer term capital improvement project priorities;
Share relevant information across areas of the FCD that would influence implementation of the district's work program;
Review and help guide project implementation, as appropriate;
Develop policies and issues papers as required; and
Coordinate jointly with state and federal partners on relevant issues.
Basin technical committees have been formed within the watershed of the following major river basins:
Snoqualmie/South Fork Skykomish Rivers
Cedar and Sammamish Rivers
Green/Duwamish River
White River
Joint basin technical committee meetings are also held.

King County staff are responsible for implementing flood hazard management programs and projects, staffing the advisory and basin technical committees, providing technical and engineering assistance to cities, and reporting progress back to the District's Board of Supervisors, advisory committees, and basin technical committees.
(For help using Acrobat, please visit the Acrobat Help page .)
Related information
King County Flood Control District (County Council)
Related agencies