King County Adult Drug Diversion Court
King County Drug Court seeks to ensure community safety and empower participants to rebuild their lives by combining the resources of the criminal justice system, substance use treatment and other community service providers.
Program Description
KCDDC program was implemented in August 1994, the twelfth drug court in the country. KCDDC is a pre-adjudication program that provides eligible defendants the opportunity to receive drug treatment in lieu of incarceration. Eligible defendants can elect to participate in the program or proceed with traditional court processing. After choosing to participate in the KCDDC program, defendants come under the court's supervision and are required to attend treatment sessions, undergo random urinalysis, and appear before the KCDDC judge on a regular basis.
If defendants meet the requirements of each of the four phases of the KCDDC program they graduate from the program and the charges are dismissed. If defendants fail to make progress they are terminated from the program and sentenced on their original charge. While KCDDC is a minimum 12 month program, the average graduate requires 18 months to complete. KCDDC provides treatment to an estimated 320 individuals at any one time.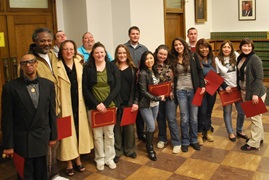 Contact Us:
KC Adult Drug Diversion Court
516 3rd Avenue, Room E-917
Seattle, WA 98104
206-477-0788
From KCDDC's inception in 1994, through to August 2016, 2,256 people have successfully completed the requirements and graduated from the program. In recent years, the KCDDC program has significantly expanded the availability and range of treatment and ancillary services.