King County Adult Drug Diversion Court
King County Drug Court seeks to ensure community safety and empower participants to rebuild their lives by combining the resources of the criminal justice system, substance use treatment and other community service providers.
Program Description
The King County Drug Diversion Court (KCDDC) Program was started in August 1994, by the late Norm Maleng and then King County Superior Court Judge Ricardo Martinez. (Currently a U.S. District Court judge). At the time of its founding, KCDDC was the twelfth drug court in the country. Currently, there are drug courts in every state and 3,130 nationwide.
The KCDDC provides eligible defendants charged with felony drug and property crimes, the opportunity for substance use disorder and mental health treatment and access to other ancillary services such as housing, transportation and job skills training. Eligible defendants can elect to participate in the program or proceed with traditional court processing. After choosing to participate in the program, participants come under the court's supervision and are required to attend treatment sessions, undergo random urinalysis, and appear before the DDC judge on a regular basis.
If participants meet the requirements of each of the five phases of the KCDDC program, they graduate from the program and the charges are dismissed. If participants fail to make progress, they are terminated from the program and sentenced on their original charge. While KCDDC is a minimum 10-month program, the average graduate requires 18 months to complete. KCDDC provides treatment to an estimated 350 individuals at any one time.
Successful completion of the KCDDC results in dismissal of felony(s). Since the program's inception through 2019, there have been 2,589 graduates, representing more than 3,229 dismissed felonies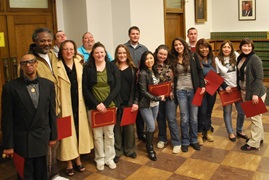 Contact Us:
KC Adult Drug Diversion Court
516 3rd Avenue, Room E-917
Seattle, WA 98104
206-477-0788
KCTV Video:
The 5 Phases of Drug Court