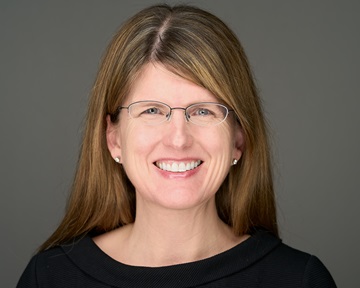 Mailing Address:
c/o King County Superior Court
Clark Children & Family Justice Center
1211 East Alder Street
Seattle, WA 98122
Courtroom Number: 4B
Phone: (206) 477-1336
Email: ballinger.court@kingcounty.gov
Bailiff: Cassie Fontenot
Department: 2
Assignment: Juvenile Dependency & Offender Trial
For the fastest response, please contact the bailiff through email. Please comply with the court's email policy when contacting the court. Among other provisions, it states that the only address to be used by attorneys, pro se litigants, or others who need to communicate with court staff about a case is the courtroom e-mail address. The judge's individual e-mail address is not to be used absent express invitation by the judge.
Judge Ballinger and Bailiff Fontenot Biographical Information
COVID-19 Procedures
Anyone may attend court in person.

Government mandates (e.g., mandatory masking) will be enforced.

Anyone may attend court virtually.
Hearings/Trial via Zoom
Meeting ID: [To be provided]
Passcode: [To be provided]
Join by video: [To be provided] (spectators should turn video off)
Join by phone: [To be provided]
Join by SIP: [To be provided]
Court Procedures:

King County Superior Court's

main webpage

has links to current emergency orders.

Trial Exhibits:

The Trial Preparation guidelines (link below under Additional Links) as to exhibits are amended as stated here.All exhibits for civil trials must be provided electronically unless doing so is impossible because of the nature of the exhibit

. Instructions on uploading electronic exhibits to the clerk's ShareFile folder, including the naming convention rules, is here:

Electronic Exhibits - King County

. Please submit exhibits no later than five (5) court dates before the scheduled trial date.

Deposition Materials Used at Trial

: (1) do not mark deposition transcripts as exhibits; (2) designate deposition transcripts as outlined below (see section titled Deposition Designations), but instead of emailing them to the bailiff, upload electronic copies to the ShareFile folder as described in the preceding Trial Exhibits section; (3) deliver sealed original deposition transcripts to the judges' mailroom, C-203, with Judge Ballinger's name clearly marked; and (4) mark as trial exhibits any deposition exhibits that will be utilized at trial. Further information regarding designated deposition testimony is provided below.
Prior to Appearing in Judge Ballinger's Court for Hearings or Trial
Please review the Rules for Conduct prior to appearing in Judge Ballinger's courtroom.
Additional Links
Court Involvement in Discovery
Early judicial involvement in discovery can often avoid disputes and expedite resolution of disputes when they arise. Judge Ballinger encourages the parties to request a pretrial conference under CR 16 or CR 26(f) to consider matters such as (1) the scope and timing of discovery; (2) limitations of discovery requests and depositions; (3) procedures and protocols for electronic discovery; (4) expert witness disclosures and discovery; and (5) anything else that would promote the efficient resolution of the case. In complex cases or when it appears the parties are not working well in discovery on their own, the Court may order the parties to participate in a pretrial conference.

In all discovery matters lawyers should abide by their obligations to reasonably cooperate with one another, as expressed in the Rules of Professional Conduct. They should follow a Golden Rule of discovery: Seek discovery only of what you would consider reasonable if you were on the other side, and answer discovery as reasonably as you would expect it to be answered if you had promulgated it. Discovery should be reasonable, cooperative, and reciprocal; it should not resemble battle in any respect. Zealous advocacy should make use of the fruits of discovery; it should not be employed to seek unreasonable discovery or to avoid reasonable discovery.

If a discovery dispute arises, Judge Ballinger encourages the parties to seek her assistance in resolving it efficiently. Many disputes can be resolved promptly in a telephone conference without the necessity of a formal motion. Please email ballinger.court@kingcounty.gov to arrange a telephonic conference. The email should—as succinctly and non-argumentatively as possible—describe the nature of the dispute. (You must copy all parties on any email to the court.) If multiple or complex discovery disputes arise, Judge Ballinger may ask the parties to appear for a discovery conference in court. Telephonic and in-person conferences promote thoughtful, timely, and inexpensive resolution of disputes, and help the parties get back on track working well together in discovery.
Court Transcripts
For cases with an assigned court reporter:

If prior to the hearing or trial you know that you will want a copy of the transcript, please contact the

court reporter

.
For digitally recorded courtrooms:

If prior to the hearing or trial you know that you will want a copy of the CD, notify the courtroom clerk, who will be able to provide the information needed at the end of the hearing. After the hearing or trial, if you determine you need a copy of the CD, it may be obtained directly from the Clerk's Office copy center. You will need to submit a completed

CD Request Form

.
Digitally Recorded Courtroom
The court proceedings in Department 2 are recorded by FTR Gold equipment, which digitally records all proceedings. To request a copy of a recording, submit a completed CD Request Form to the Clerk's Office. If a party has need for a court reporter for a hearing or trial, please notify the bailiff as soon as possible.
Deposition Designations
Please follow these guidelines when designating deposition testimony for use at trial. The parties must cooperate to provide one set of deposition designations. It is generally easiest to make the designations and objections electronically on a PDF.
Moving Party marks their designations with brackets / highlights in a particular color (e.g., yellow).

Opposing Party notes their objections in text of a particular color (e.g., blue) on the page next to the highlighted portion to which they are objecting, referencing a rule or using a code for which a coding convention is provided.

Opposing Party marks their counter-designations with brackets / highlights in a different color from that used by the moving party (e.g., green).

Moving Party notes their objections in text of a different color (e.g., black) on the page next to the highlighted portion of the counter-designation to which they are objecting, referencing a rule or using a code for which a coding convention is provided.
Provide the marked depositions via email as PDFs to the bailiff as early as possible (preferably at least three days before trial begins), and well in advance of intended use.
Weddings
Congratulations! Judge Ballinger is available to perform weddings at the Children and Family Justice Center in Seattle Mon-Fri at 4:30 PM, weekends, and outside of court by appointment. Please email her bailiff at Ballinger.Court@kingcounty.gov to schedule an appointment.