Parent Seminar: What about the Children?
Until further notice, the Parent Seminar is converting to Zoom.
REGISTRATION
Register at Eventbrite: https://kcscparentseminar.eventbrite.com/.
Click on the picture to access important information and available dates.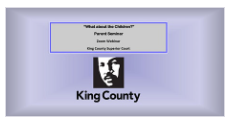 Once inside, click on the red box to select a date. Scroll down for all available dates.
INTERPRETERS
Please note, interpreters are available with two weeks' notice. If "Interpreter Request" says "Sales ended," please select a later date.
FEE WAIVER
If you need a fee waiver, email us at parentseminar@kingcounty.gov before you register.
CONTACT INFORMATION FOR ZOOM INVITES
You will be asked for contact information when you register. Please make sure your email information is correct as you will receive the Zoom invite two days prior to your scheduled seminar and materials will be sent to your email on the date of the seminar. An incorrect email could cause you to miss the seminar.
CREDIT AND CERTIFICATES
You must stay for the entire Zoom webinar to receive credit. A short poll will be asked at the end to verify attendance. Failure to complete the poll will result in having to register for another seminar.
Once you complete the poll questions, you will be issued a certificate of completion within one week. A copy will be emailed to you for your personal records. The original certificate will be filed with King County Superior Court. If you do not have a case number yet or your case is not in King County, you will be responsible for completing and filing your certificate in the appropriate court.
QUESTIONS?
If you have questions or concerns, please email them to parentseminar@kingcounty.gov