Step-Up: Program Overview
Building Respectful Family Relationships
What is the Step-Up Intervention?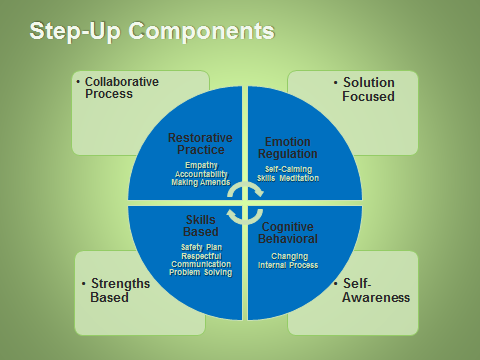 Step-Up is a unique 20-session cognitive behavioral, skills based and restorative practice curriculum used in a group setting with youth and parents/caregivers. (See Step-Up Curriculum) Teens and parents both come to group once a week for 90 minutes. Teens work in a youth group to learn skills to prevent the use of violent and abusive behavior and gain understanding about violence, abuse and power vs. respect, trust and safety in family relationships. Parents attend a parent group where they learn safety planning and parenting skills to support their youth in using nonviolent behavior. In a parent/teen group, families learn a respectful family model for addressing conflict. Together, parents and teens learn and practice skills for respectful communication and problem solving.
A Restorative Practice Model
A restorative practice approach is used with teens and parents together to address violent incidents that have occurred. A restorative inquiry process is used to help youth take responsibility for their behavior, cultivate empathy and make amends for hurtful behavior. The restorative process is enhanced by taking place in a community of other families where they support and learn from each other as they go through the restorative steps to facilitate change.
Safety is a Priority
Family safety is a priority of the intervention with development of a 'Safety Plan' followed by weekly check-ins within the family group to assess the youth's progress in staying non-violent and safe with family members. Weekly goals related to non-violence and respect are set by the youth with progress reported each week in group, fostering accountability for behavior and keeping a focus on using the skills they have learned at home.
Evidence based and best practice strategies used
The curriculum employs practices that have been researched and are considered best practices for behavioral change. These include cognitive behavioral learning, skill development, solution focused and motivational interviewing techniques to help youth move from external to internal incentive to change.
Since its development in 1998, Step Up has been evaluated in five separate outcome evaluations (Northwest Resources Associates, 2001, process evaluation; Organizational Research Associates, 2005, study of short term outcomes and recidivism; Ryan, Helton, & Chiu, 2013, DuPage County Step-Up, study of recidivism; Correl, 2014, qualitative study with interviews of parents post program 1-8 years.) The fifth evaluation was recently completed by the Washington Center for Courts and the University of Washington with outcomes soon to be published.
Why a Group Work Model?
There are many benefits to group:
Collaboration between families who are all facing similar challenges promotes engagement by everyone
Youth are more willing to engage when they see their peers engaging
Youth feel accountable to the group about making progress with behavior changes.
Youth and parents learn from each other by listening, observing and giving feedback
Learning is reinforced by watching other youth and parents practice skills
Ongoing group provides opportunity for older members to model behaviors for new members
Observing youth in group succeed provides motivation to others
Each week youth face a group people who are interested in how they are doing - asking questions, giving ideas and support, and clapping about success
How Can I Attend Step-Up?
Call Step-Up at 206-477-2071 to make an appointment for an intake interview. Your family history and background is important so we understand your specific family needs. We also want to make sure the program is right for you.
What is the Safety Plan?
A 'Safety Plan' is a step-by-step plan that is made about what to do to stay safe when emotions are escalating to prevent violence or abuse. In Step-Up, youth make their own personal Safety Plan about what they will do when they start to feel angry or upset and might become verbally or physically hurtful to a family member. It includes what they will say, where they will go to be alone, and what they will do to calm themselves down. The last step is going back to the person to make a plan about what to do next. Parents and youth work together to develop safety plans and make agreements to respect one another's space when a safety plan is used. Taking a break from heated arguments is one of the best ways to prevent hurtful behavior. It is a lifelong skill to be used in many situations to prevent saying or doing things one might regret.