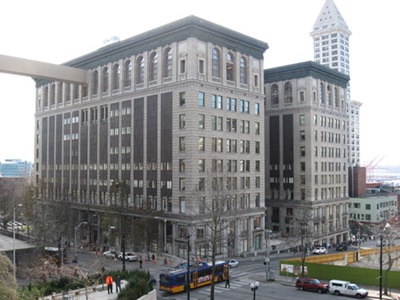 The King County Courthouse is a full-service court facility serving north and east King County. It is located on Third Avenue in downtown Seattle between James and Yesler.
Street Address:
516 Third Avenue
Seattle, WA 98104

Mailing Address:
King County Superior Court
516 Third Avenue, Room C-203
Seattle, WA 98104

Days and Hours of Operation:
Monday-Friday, 8:30am-4:30pm
How to Get There: MAP
This brochure describes where to go for specific court services in the King County Courthouse.
Accommodations for People with Disabilities
Request an accommodation online or visit our website for more information.
Limited disability parking is available in the Goat Hill Parking Garage (415 6th Avenue). ADA stalls are available on all levels of the garage except 4 and 9. Please call 206-477-5694 for additional information about parking.
Most people with disabilities have someone drop them off using the facility's 4th Avenue entrance.
From I-5, take the James Street exit and travel west (toward the water).
Turn left on 5th Avenue.

Turn right on Jefferson Street.

Jefferson ends just as you cross Fourth Avenue and it turns into a loading dock road located directly behind the courthouse.

Park on the loading dock road and use this as a wheelchair pathway to the sidewalks that runs parallel Fourth Avenue and to the courthouse entrances.
Security Screening
Every court facility has security screening. These items are prohibited from King County court facilities. Watch a video describing security screening at courthouse entryways.
Childcare
Childcare is not available at the King County Courthouse.
Learn more about the History of the King County Courthouse.