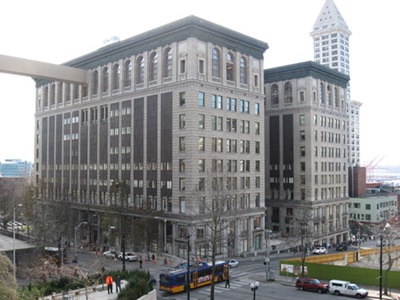 The King County Courthouse is a full-service court facility serving north and east King County. It is located on Third Avenue in downtown Seattle near Pioneer Square and Smith Tower.
Street Address:
516 Third Avenue
Seattle, WA 98104

Mailing Address:
King County Superior Court
516 Third Avenue, Room C-203
Seattle, WA 98104

Days and Hours of Operation:
Monday-Friday, 8:30am-4:30pm
How to Get There: MAP
Download a Brochure describing where to go for specific court services in the King County Courthouse.
Accommodations for People with Disabilities
If you have a disability, you may request an accommodation by completing a Request for Reasonable Accommodation form. Instructions are included with the form.
Due to the steepness of the streets around the courthouse and the dearth of on-street parking, most people with disabilities who visit the courthouse have someone drop them off at the facility's Third Avenue entrance. Limited disability parking is available in the Goat Hill Parking Garage, which is located at 415 6th Avenue. ADA stalls are available on all levels of the garage except 4 and 9. From there, you will exit onto 5th Avenue, cross 5th, and proceed to the 500 block where you can enter the King County Administration Building. Take the elevator to the lowest level (marked as "T" in the elevator) and use the tunnel under 4th Avenue to enter the courthouse. One final option is to use public transit (e.g., an accessible bus) to come to the courthouse.
Security Screening
You will pass through a security screening station as you enter the courthouse. Please take a moment to learn about the items prohibited from King County court facilities. Watch a video describing security screening at courthouse entryways.
Childcare
Childcare is not available at the King County Courthouse.
Food
There is a snack shop on the first floor of the courthouse, and vending machines are available in the jury assembly room on the first floor. Many restaurants are close by.
Learn more about the History of the King County Courthouse.