DCHS Data Insights
Department of Community and Human Services
King County's Department of Community and Human Services (DCHS) commits to using data to inform investment and program decisions. Our mission is to provide equitable opportunities for people to be happy, healthy, and connected to community.
We Welcome Questions and Comments
Over five years, we worked with County partners to make critical investments like:
Modernizing our data systems
Collecting more robust client-level outcome data
Building a secure data infrastructure to support new workflows
Combining data across siloed service systems
These efforts show positive results by making data accessible to the public and decision-makers. It creates more meaningful cross-system analytics.
DCHS Data Insights
We are excited to launch a new series called DCHS Data Insights! It highlights how our data impacts programs, client outcomes, and the core issues of some of our regions most pressing problems. Look out for periodic briefs on various topics.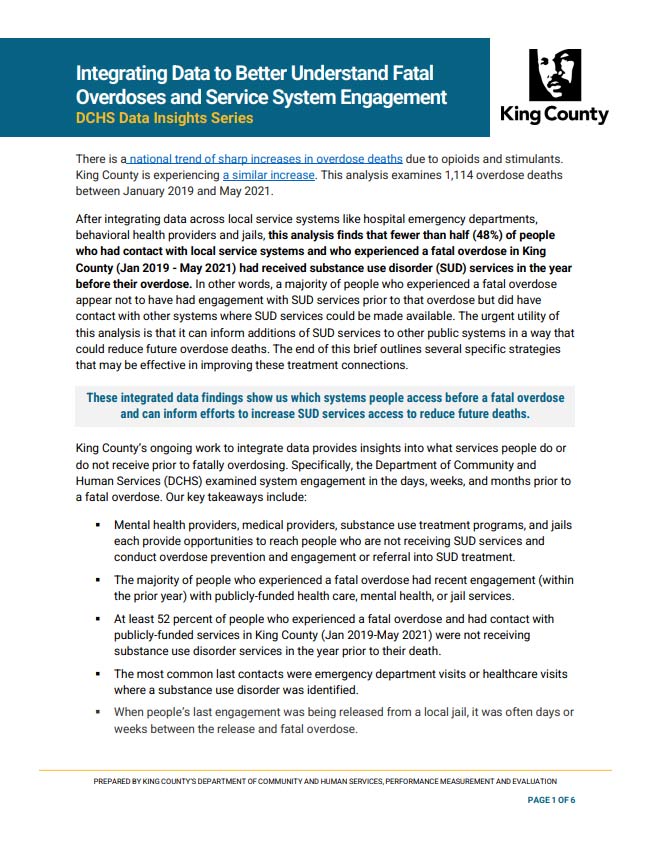 April 2022:
New Analysis of Integrated Data on Substance Use Disorder System Access
Prepared by King County Department of Community and Human Services, Performance Measurement and Evaluation
Carolina Johnson, Ph.D.