Secure your load for safer roads!
Unsecured loads arriving at County transfer facilities or the landfill will be charged a $25 fee – strictly enforced.
In accordance with state law, since 1994 the Solid Waste Division has assessed a fee to the drivers of vehicles with unsecured loads arriving at its transfer facilities or landfill. Vehicle-related road debris causes about 400 crashes and twelve million pounds of litter on Washington roads each year. Secured loads improve road safety and cleanliness.
Every state has laws external link Download PDF that make it illegal for items to fall from a vehicle while on the road. In Washington State, the fine for transporting an unsecured load is $228. If an item falls off a vehicle and causes bodily harm, the driver faces gross misdemeanor charges and penalties of up to $5,000 and/or up to a year in prison. King County's unsecured load fee charged at solid waste facilities is in addition to any penalties or fines by law enforcement officers.
What is an unsecured load?
An unsecured load has not been fastened in or attached to the vehicle with tarps, rope, straps, netting, or chains, so as to prevent any part of the load or the covering from becoming loose, detached, or leaving the vehicle while the vehicle is moving
"But I'm just going a short way and I won't be driving fast."
Even if you are driving slowly for just a couple of blocks you are still required to secure your load. The law is clear – every vehicle that travels on every publicly maintained road must have a secured load.
"But what I'm hauling is so heavy it couldn't possibly fall out."
Just because you can't imagine it happening doesn't mean it hasn't happened. Each year, heavy items such as large truck tires, spools of wire, and large pieces of wood fall from vehicles and end up on our roadways creating hazards for motorists. Take the time to always secure your load.
"But my load is below the top of the truck bed."
Even with a small load, items can shift and become loose or airborne. Don't risk it – secure your load.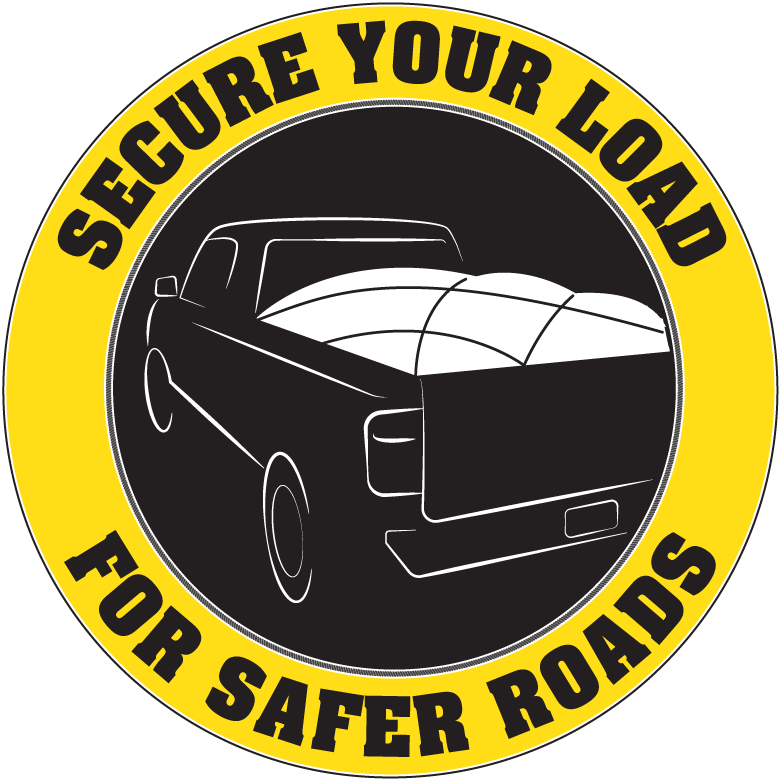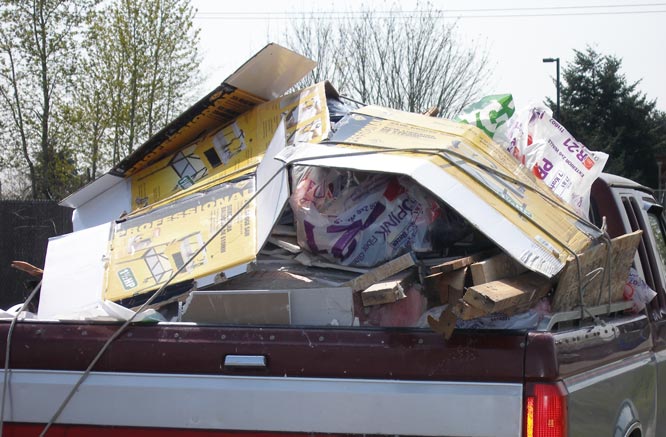 What is a secured load?
A load is secure when nothing can slide, shift, fall, or sift onto the roadway, or become airborne.
To secure your load:
Tie down using rope, netting, straps, or chains. Securely fasten large items directly to your vehicle. Make sure that any covering is securely tied down.
Put lighter items lower and place heavier items on top to help keep them in place and secure the heavy items directly to your vehicle.
Cover your load with a tarp. Covering your load with a tarp and then securely fastening the tarp to the vehicle is good way to ensure that your load is secure.
Don't overload your vehicle.
Double-check that your load is secure.
View practical tips for securing loads in this video from the Washington State Department of Ecology

Youtube

.
Here are some questions to ask yourself:
Is there any chance of debris or cargo falling or blowing out of my vehicle?
Is my load secured at the back, sides, and top?
What would happen to my load if I had to brake suddenly or if I hit a bump or if another vehicle hit mine?
Would I want my loaded vehicle driving through my neighborhood?
Would I feel safe if I were driving behind my vehicle?
Secure your load as if everyone you loved were in a car behind you.
Why should you secure your load?
It prevents injuries and saves lives
It prevents litter
It will cost you money if you don't
It is the law
Unsecured load facts
According to a recently published report by the Automobile Association of America (AAA) Foundation for Traffic Safety external link Download PDF
About 50,000 crashes a year involve road debris on U.S. roadways
Road debris has resulted in nearly 10,000 injuries and 125 deaths each year
Nearly 37 percent of all deaths in road debris crashes resulted from the driver swerving to avoid hitting an object.
About two-thirds of debris-related crashes are the result of items falling from a vehicle due to unsecured loads and improper maintenance.
According to the Washington State Department of Ecology:
Every year, road debris causes about 400 accidents on Washington State highways.
More than 12 million pounds of litter comes from vehicles each year in Washington State.
Unsecured loads have caused serious injury and death
Reporting a lost or unsecured load
Visit the Department of Ecology's Secure Your Load website external link for brochures, videos, and more information.
For more information about King County's Secured Load education program, contact the program manager online.
Maria's Law
House Bill 1478, known as "Maria's Law," was signed into law in 2005 and makes failing to properly secure a load a crime in Washington State.
A person who causes an injury or death by failing to secure a load properly can be charged with a gross misdemeanor and can face a maximum penalty of one year in jail and a $5,000 fine. A driver whose unsecured items cause property damage can be charged with a misdemeanor.
A second law made victims of such crimes eligible for money from the state's Crime Victims Compensation program.