King County is home to some of the best recyclers in the nation and that includes composting. King County residents continue to help both the environment and the economy by composting their food scraps and yard waste. As important as it is to compost, it's more important to compost right.
Food in, plastic out
The best way to compost right is to put food and food-soiled paper in the compost bin and keep plastic out. Plastic bags, containers and packaging should never be put in the compost because they do not break down and can contaminate compost that people use on their lawns and gardens.
What to do with food containers
Scrape food out of containers and packaging and into the compost bin.
Containers must be clean and dry before going in the recycling bin.
Clean and dry plastic bags can only be recycled if you take them to a takeback location

external link

, otherwise put them in the garbage. If you can't empty and clean a container, then the whole thing goes in the garbage to avoid contaminating the compost and recycling bins.
What to compost
No matter if it's scraps or ends, moldy or rotten, food can always be composted. Food-soiled paper like pizza boxes can be composted, but cardboard boxes like those that come from a package delivery company should be recycled – just make sure you recycle right. Common compostable items include:
Meat, fish, poultry, bones
Dairy products (yogurt, cottage cheese, etc.)
Vegetable and fruit trimmings
Egg shells, bread, pasta and coffee grounds
Paper towels and napkins
Paper coffee filters
Food-soiled cardboard like pizza boxes
Non-shiny/uncoated food-soiled paper like napkins, paper towels, brown paper bags and paper plates
How to Compost Right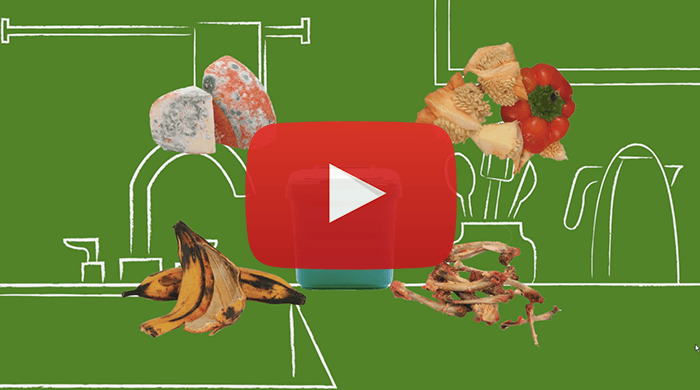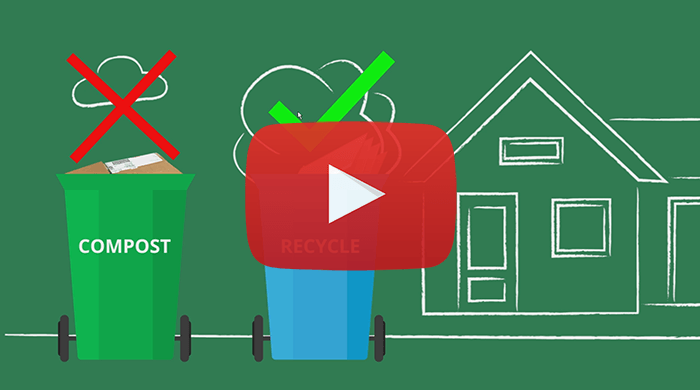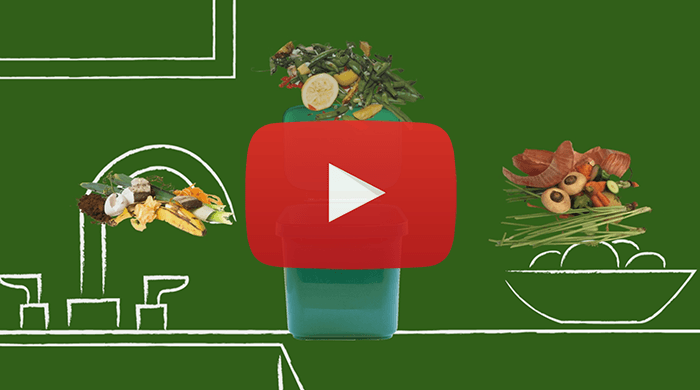 When in doubt, find out
When in doubt, find out so you only compost what is accepted by compost collection company. Check your local compost guidelines to ensure you're putting the right materials in your compost bin. If you're still unsure if something can be composted, put it in the garbage to avoid contamination. You can learn more about composting in your area by checking with your city, or find your garbage, recycling and compost collection company by using the following drop-down:
How to collect your food scraps using a compost collection container
Using a compost collection container is a great way to collect your food scraps and allows you to compost as you prep, cook and cleanup. Containers like old coffee cans, ice cream tubs, and plastic pitchers are great for collecting food scraps until you're ready to put them in your compost bin. You can also purchase containers made from plastic, stainless steel or ceramic to collect your scraps. Store your container wherever is most convenient for you: on a countertop or even in the refrigerator or freezer. Lids help keep odors contained and pests away, and compostable bags make composting even easier. Check your city or garbage, recycling and compost collection company guidelines to see which bags are approved for composting in your area external link .
Why compost?
More than 30 percent of what gets thrown away every day is food waste that could have been composted. When you compost, you keep valuable resources out of the landfill and avoid methane emissions that contribute to climate change. When compost is returned to the soil, it adds nutrients, retains water, increases yields when growing food and stores carbon. Using compost on lawns and gardens also reduces pesticide use, reduces stormwater runoff and returns important nutrients to the soil so more fruits, vegetables, trees, grasses and other plants can thrive.
Food waste prevention
With just a few easy steps, you can dramatically reduce food waste. These include shopping smart by making and sticking to a list when you go food shopping; storing smart so food stays fresher longer, and prepping smart so food gets eaten instead of wasted.
Partner resources