Success story: Cedar River Middle School
School District: Tahoma
School Location: Maple Valley
Began participating in the Green Schools Program: October 2007
Level One of the Green Schools Program: Achieved in November 2009
Level Two of the Green Schools Program: Achieved in June 2010
Level Three of the Green Schools Program: Achieved in April 2012
2014-15 Sustaining Green School: Achieved in May 2015
2015-16 Sustaining Green School: Achieved in May 2016
Sustaining green school – 2015-16
Cedar River Middle School sustained its Level One waste reduction and recycling practices, Level Two energy conservation practices, and Level Three water conservation strategies.
Posters were hung up around the school to remind students and staff members about Waste Free Wednesdays.
The school continued to participate in the People, Power, Planet Program offered by McKinstry, a resource conservation management company that works for Tahoma School District. The school achieved 100 percent power points and collected 556 energy conservation pledges.
To earn power points, the school conducted energy audits in classrooms, created educational posters about energy conservation, had students sign pledges to reduce energy use, and displayed quotes about energy conservation around the school.
Cedar River Middle School conducted a Building Operator Tour with its maintenance team to learn about the heating, cooling and lighting systems and what students and staff members can do to make the school more energy efficient.
Green Team students used kilowatt meters to measure the energy use of various items in the school.
Cedar River Middle School sent an old, tattered American Flag and Washington State Flag to American Flag Disposal to be recycled.
The Green Team made t-shirts by using fabric paint and sponges collected from families that no longer wanted them.
Sustaining green school – 2014-15
The school sustained its Level One waste reduction and recycling practices, Level Two energy conservation practices, and Level Three water conservation strategies.
In 2013-14 the school participated in McKinstry's People, Power, Planet Program (PPPP). Students completed conservation pledges in which they each committed to one action to conserve energy and reduce waste.
As part of the PPPP program, the school posted an energy savings checklist in each classroom and office, and displayed a power savings board to publicly share the school's successes.
The school's energy conservation results were posted to the PPPP website and shared through school announcements and newsletters.
Waste reduction and recycling (level one)
Cedar River Middle School maintained a 74 percent recycling rate.
After starting to use online resources for project work, the school canceled its subscriptions to 500 newspapers. Before this change, many of the newspapers were tossed into recycling bins without being opened.
The school collected lunchroom food scraps and sent them to Cedar Grove Composting for recycling. As a result, lunchroom garbage volume was reduced from eight to two garbage containers per day.
In the fall of 2011, the school added a share table to the lunchroom where students can put unwanted, unopened food to share with others to encourage a no-waste environment.
On the first day of school, each classroom walked through the lunchroom to receive visual instructions and to discuss expectations of the recycling and composting program.
The school set up a battery recycling program and also signed up with TerraCycle, a company that uses various materials to make new products. Capri Sun juice pouches and Scotch tape dispensers and cores were among the materials collected and sent to TerraCycle.
The school created a student Green Team with 40 regular members. Students created the Green Team motto, "Don't be mean, Go Green!"
The Green Team held a school-wide logo contest in which the top three entries were recognized with prizes. All artwork was displayed on video and in the main hallway.
Classroom presentations included a "test your knowledge" activity worksheet about recycling and composting.
Cedar River Middle School promoted its first waste-free lunch Earth Week in 2012. Students who brought a waste-free lunch were entered into a drawing for prizes.
Green Team students presented recycling and composting information at a staff meeting, and initiated a staff room recycling program.
Energy conservation (level two)
Thanks for energy conservation practices, the school's energy bills dropped by approximately $5,000 over a two-year period between 2008 and 2010.
All staff members were asked to restrict the use of personal heaters, refrigerators, and other appliances in offices and classrooms.
Students focused on energy conservation for Earth Week awareness activities.
Students regularly monitored classrooms for energy use practices and created a classroom energy conservation pledge to raise awareness and decrease energy use.
Signs were posted on light switches to encourage staff and students to turn off lights in unoccupied spaces.
Water conservation (level three)
Tips about recycling, water conservation and pollution prevention we re shared in the afternoon announcements.
In the fall of 2011, the school installed a rain garden with drought-tolerant native plants to collect and filter runoff. Students monitored the garden to collect data on water use. The local newspaper featured a front page story about the students and the garden .
A rain barrel was installed in November 2011 to capture water for the school's garden.
Signs were posted next to bathroom, classroom, and kitchen sinks to remind staff and students to turn off the water when not in use.
During the spring, seventh grade students visited the wastewater management plant in Renton and participated in the Healthy Forests, Healthy Waters field experience program.
In 2013, the school installed a water bottle refilling station to reduce waste and conserve water.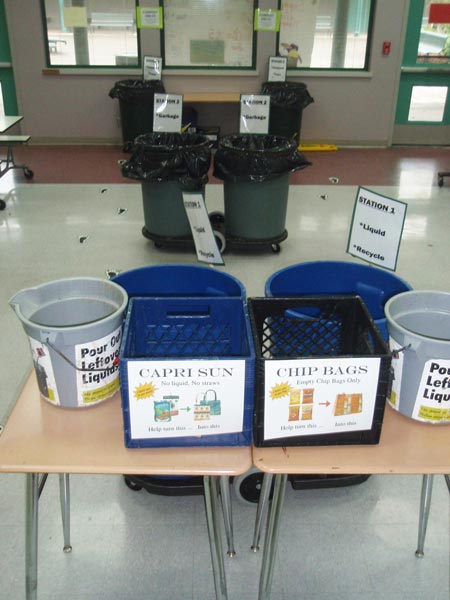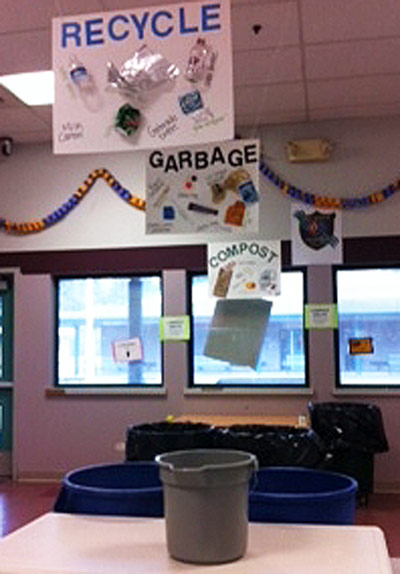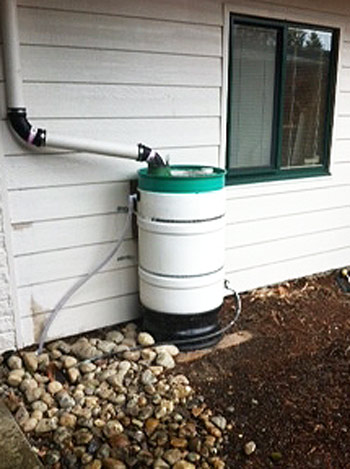 Environmental education
Environmental topics we re integrated into the curriculum school-wide.
Sixth grade students engaged in a sustainability curriculum that explored the connection between energy use choices and natural resource depletion, and were asked to develop energy improvements strategies for the school.
Seventh grade students explored world water issues in the context of sustainability and their personal water use footprints.
Students used the school grounds as a learning tool. Seventh grade science classes engaged in campus transect mapping activities and sixth grade students used the weather station at school to learn about climate and weather patterns.
Award
The Cedar River Middle School Green Team received a King County Earth Heroes at School award in April 2010.
For more information about this school's conservation achievements and participation in the Green Schools Program, contact:
Meghann Galland-John, teacher
mgalland@tahomasd.us