Success story: Federal Way School District
Number of schools in the district: 36
Participated in the King County Green Schools Program: 2004–2006
Waste reduction and recycling
The district expanded and improved recycling in each of its 36 schools.
Every school now has recycling containers and recycling signs provided by King County and the City of Federal Way for each classroom and central area, including lunchrooms.
In addition to recycling paper, bottles and cans, the district set up recycling for printer cartridges, fluorescent bulbs and computer equipment.
The district educated staff and students about ways to decrease garbage volume and increase recycling.
The result is a district-wide waste management system that will generate ongoing disposal savings for years to come. Some district schools were able to reduce garbage disposal costs by as much as $5,000 per school year.
Energy conservation
With support from Puget Sound Energy, the district installed:
High-efficiency lighting systems
Vending misers on 161 vending machines (and removed their lights and ballasts)
Programmable thermostats in all 103 portables.
The district also provided custodian training that emphasized:
Regular monitoring of boiler efficiency,
Turning off unneeded equipment during holiday breaks and non-school hours.
Energy reduction cost savings: more than $75,000 annually.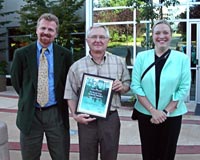 Environmental purchasing
All the district's purchasing contracts now include a phrase stating a preference for products that are "environmentally friendly" – non-toxic, made from recyclable materials, or energy efficient.
Awards
King County Green Globe Sustainable School award, April 2007
King County Earth Heroes at School award to the following:
Paul Iacobazzi, custodian, Sacajawea Middle School (2004)
Maggie Palm, teacher, Illahee Junior High (2006)
(read the success story

Download PDF

84 K for this school)
King County Green Schools Program Certificate of Recognition to: Ed Novak, resource conservation manager
Comments
"The Green Schools Program representative quickly assessed the status of the various needs at our 36 school sites and at the organizational level, then made program suggestions very effectively and unobtrusively."
– Ed Novak, resource conservation manager
For more information about this district's participation in the King County Green Schools Program, contact:
Ed Novak, Resource Conservation Manager
Telephone: 253-945-5937
E-mail: enovak@fwps.org