King County 洪水危害管理計劃
打造一個耐澇防洪的未來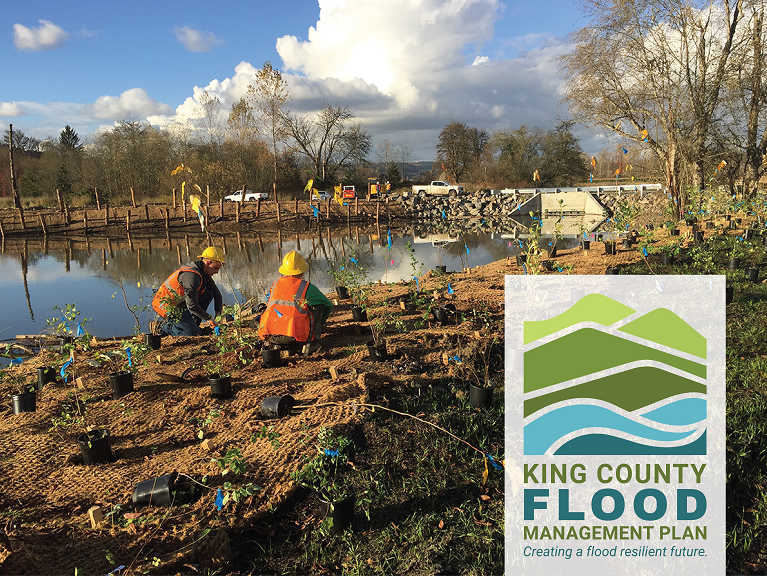 在接下來兩年期間,King County 政府將會更新其洪水危害管理計劃。防洪計劃是我們控制河川、溪流及海岸沿岸之洪水風險的指引。減少洪水風險對野生動物賴以生存及支持農業發展的河川有何影響? 如何確保道路安全和基礎設施的可靠性? 我們如何利用現有的資源來解決可能發生較大規模的洪水問題? 什麼事對您而言是最重要的?
為了擬定下一期的計劃,King County 政府目前正在瞭解最容易受到洪水侵襲之社區民眾所重視的事項和目標。瞭解這些資訊可協助我們以公平的方式擬定我們未來幾年的計劃、政策和基礎設施。
計劃相關資訊
洪水是我們最常見的自然災害,也是 King County 日常生活的一部分。防洪計劃將會為 King County 非建制地區的洪氾區制定管理政策,且將可為市政府、King County 防洪區監事會 (King County Flood Control District) 及其他洪氾區合作夥伴提供資訊,讓其瞭解該採取哪些洪水災害管理行動。
為何 King County 政府要更新防洪計劃?
河川與溪流是活動的,它們會隨時間變化。King County 政府上次更新防洪計劃是在 2013 年。自此之後,將近 10 個洪水季已改變了我們河川的樣貌和功用。我們的人口成長了,且我們在土地上新建了更多住宅和商店。我們開發土地、處理廢棄物、建設交通設施、種植農作物和從事休閒娛樂活動的方式都會影響我們的河川和海岸地區。
這次的防洪計劃會有哪些不同之處?
若要打造一個耐澇防洪的未來,計劃必須要能代表我們社區民眾多元化的觀點。由於長久以來的社會不公義,有些族群遭遇洪水的風險較大。有些人則比較沒有能力為洪水災害做準備或從洪水災害中恢復。瞭解所有族群的需求以及其所提議的解決方案,是 King County 政府的首要任務。
King County 政府將會在 2022 年和 2023 年直接與社區民眾合作擬定防洪計劃。參與機會包括與社區組織合作、參加顧問團體以及接受線上問卷調查。King County 政府也會舉辦說明會和網路會議。工作人員也可參加由社區民眾所舉辦的會議並分享資訊。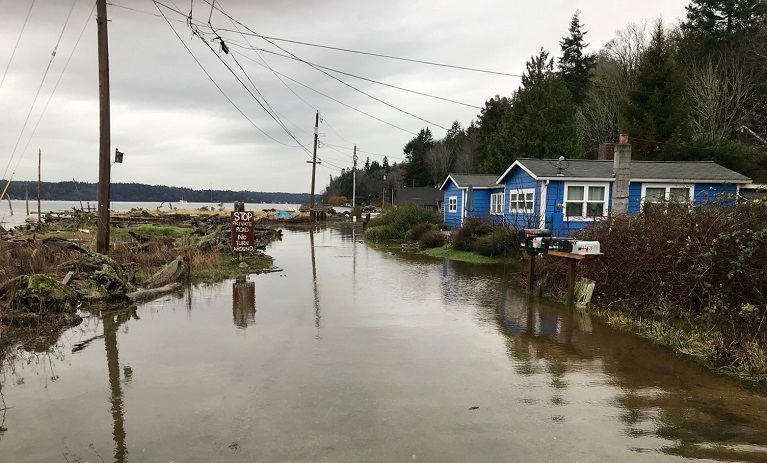 過去的防洪計劃均著重於防治 King County 主要河川沿岸地區的洪水。這次的防洪計劃則會涵蓋會對民眾造成影響且更大範圍的洪水危害。這次的計劃將會包含沿岸地區的洪水危害和海平面上升問題、小溪流氾濫以及都市地區的洪水問題。
更新的防洪計劃將會尋找能夠降低洪水風險同時能為社區民眾帶來其他益處的防洪方法。我們的工程和計劃可如何支持農業發展或創造就業機會? 改善鮭魚棲息地並提供休閒娛樂區? 對您而言最重要的事情是什麼以及您的社區有哪些需求?
Get involved
Sign up to receive flood plan updates and learn about ways to be involved in creating a flood resilient future. You can unsubscribe at any time.
Sign up for flood plan updates
Our core values in developing the flood plan are:
To stay community-centered.
Embrace transparency and openness.
Work with local partners.
Strive for full accessibility.
Have communities that are often left out of flood risk reduction conversations at the table.
過去的防洪計劃
最近一期的防洪計劃是在 2006 年完成,並於 2007 年一月由 King County 地方議會所採用。該防洪計劃最後一次是在 2013 年更新,並在第 2013-0419 號條例通過之後由 King County 地方議會所採用。
下載 2006 年防洪計劃及 2013 年防洪計劃的更新資訊。這些報告是以英文版及 Adobe Acrobat .pdf 格式提供。
Auburn Library
Bellevue Regional Library
Bothell Regional Library
Carnation Library
Duvall Library
Fairwood Library
Fall City Library
Issaquah Library
Kent Library
Maple Valley Library
Muckleshoot Library
North Bend Library
Redmond Regional Library
Skykomish Library
Snoqualmie Library
Tukwila Library