Stormwater retrofit monitoring in Federal Way
Stormwater Treatment Effectiveness Study
The challenge of managing stormwater runoff has increased the need to retrofit stormwater facilities and has spurred innovative design in stormwater best management practices (BMPs).
Increasingly, bioretention facilities are being incorporated in stormwater management designs because of their demonstrated effectiveness in controlling flows and reducing contaminant loadings to receiving waters. However, recent studies in Western Washington have demonstrated that there are still significant uncertainties regarding the effectiveness of bioretention facilities and how they compare to other BMPs.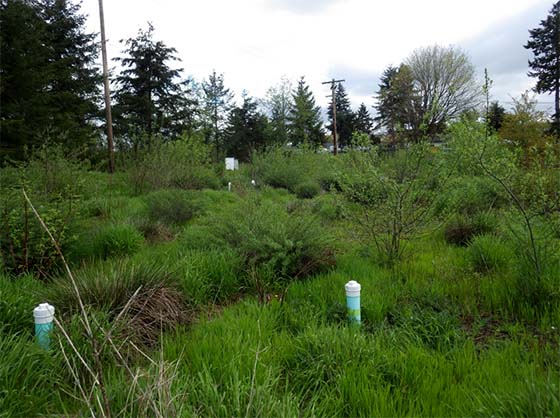 About this project
The Effectiveness Monitoring of the South 356th Street Retrofit and Expansion Project evaluated the effectiveness of two bioretention facilities and a wetland pond complex that were incorporated in a retrofit project to treat stormwater runoff from a heavily-urbanized drainage in Federal Way, WA.
The expanded and retrofitted regional detention facility (RDF), known as the South 356th Street Project, provided an excellent opportunity to assess performance of regionally representative stormwater BMPs. The bioretention facilities were designed to treat previously untreated runoff from a 23-acre commercial drainage basin, and were engineered to enable deployment of flow meters and auto-samplers at both the inlet and outlet of each bioretention facility. This design allowed the project team to measure changes in stormwater flow dynamics (e.g., peak flows), water quality and toxicity as runoff flows through each independent bioretention facility.
In addition to evaluating the effectiveness of the individual bioretention facilities, the study evaluated the effectiveness of an expanded wetland pond complex (consisting of one combined detention and stormwater treatment wetland built in 1997 and a new one completed in 2014) that treats stormwater from a 189-acre basin.
An evaluation of water quality in the creek downstream, as well as the inflow and outflow of the bioretention facilities and the wetland pond complex, provides a comprehensive assessment of the effectiveness of two types of stormwater BMPs to alter flow, quality, and toxicity of stormwater runoff from a heavily-urbanized drainage. The results of this effort will help inform how BMPs in commercial basins can remove a variety of pollutants, and how collective installations may help protect receiving waters.
Background
The Effectiveness Monitoring of the South 356th Street Retrofit and Expansion Project was designed to address data gaps identified by the Washington State Stormwater Work Group in the effectiveness of stormwater treatment technologies used in the Puget Sound Region. The work group represents local, state, and federal government agencies, economic stakeholders, and researchers. It was formed under the leadership of the Puget Sound Partnership and Washington State Department of Ecology in 2008 to develop a Stormwater Monitoring and Assessment Strategy for the Puget Sound Region. Stormwater Action Monitoring (formerly Regional Stormwater Monitoring Program), was created out of this process and coordinates the funding for this and several other effectiveness studies.
Project objectives
The Effectiveness Monitoring of the South 356th Street Retrofit and Expansion Project evaluated the effectiveness of stormwater treatment facilities incorporated into the retrofit of the South 356th Street regional detention facility in Federal Way. The overall goal was to evaluate the effectiveness of two bioretention facilities, the wetland complex, and the system as a whole, to improve the water quality of stormwater runoff and reduce peak flows. Specific goals include:
Objective 1: Evaluate the relative effectiveness of individual bioretention facilities and a retrofitted wetland complex to attenuate stormwater flow and reduce turbidity, nutrients, bacteria, metals, select organic contaminants and toxicity in stormwater runoff.
Objective 2: Evaluate effectiveness of the entire, expanded regional detention facility, to attenuate stormwater flow and improve water quality.
Objective 3: Use pre- and post-retrofit turbidity and temperature data to determine if expansion and retrofit of the regional detention facility have improved its effectiveness.
Objective 4: Determine if any observed changes in macroinvertebrate community health and water temperature in the receiving waters are correlated with the regional detention facility retrofit and expansion.
Objective 5: Present these site-specific effectiveness data in a context that is useful to others in the region. Reporting and communication about the project results will include a description of lessons learned when bioretention facilities are incorporated in retrofits for stormwater management in Western Washington.
Team members
King County Water and Land Resources Division team members include scientists from the Science and Technical Services Section and the King County Environmental Laboratory. The team also includes personnel from the City of Federal Way, as well as a Stormwater Action Monitoring coordinator from Ecology. Pacific Rim Laboratories was contracted to analyze samples for polychlorinated biphenyl (PCB) congeners, and Laboratory Data Consultants will provide PCB data validation services.
Partners
Washington State Department of Ecology
Stormwater Work Group (SWG)
SWG Subgroup: Selection of Effectiveness Studies
Project schedule
Sampling Project Plan: June 2015
Field Investigation: Winter 2016 through spring 2017
Final Report: January 2019
Project documents
For more information about Stormwater Retrofit Monitoring in Federal Way, please contact Kate Macneale, Environmental Scientist, Science and Technical Support Section.