Lakeland Hills Pump Station Replacement
Project overview
King County owns and operates the Lakeland Hills Pump Station. King County will replace the aging Lakeland Hills Pump Station and build a new facility in Auburn to upgrade sewer services in south King County. The Lakeland Hills Pump Station is an important part of King County's connected systems of pipes and pumps. The pump station moves sewage from homes, schools, and businesses in the Auburn area to South Treatment Plant in Renton to be treated, eventually sending it off safely into the Puget Sound. Replacing the pump station will prevent sewage overflows and help serve the growing population of Auburn for many years.
Project vision
To build a new pump station to better serve the Auburn community for decades.
Project need
The existing Lakeland Hills Pump Station was constructed by the City of Auburn in 1981 in Roegner Park. King County began operating the pump station from the City of Auburn in 1997. The existing raw sewage pumps, as well as other major equipment at the Pump Station are nearing the end of their useful life. King County will also need to increase the sewage capacity to meet the needs for the growing local population.
The existing Pump Station has a pump room and sewage storage tank below ground. Crews can only access these spaces with a machine lift or ladder (pictured below). The limited access for maintenance crews is a safety concern that needs to be addressed in the pump station replacement.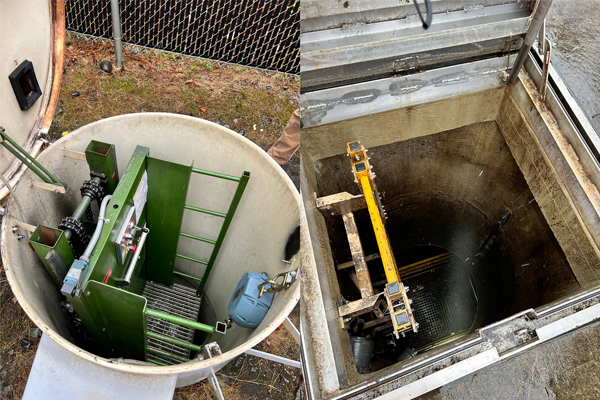 As a short-term solution, the Pump Station is being upgraded to include both an improved elevator lift for the safety of maintenance crews and a backup generator system that will be located in the existing above ground building. Construction activity is anticipated to start in 2023.
King County is committed to building a new pump station that can fully meet wastewater treatment needs of the community it serves. Part of that work will be to fully consider how the project can advance equity in the community through the pump station's design, location and construction. King County looks forward to working with the community to build a sustainable facility that meets the needs of the community and reflects its values.
Project benefits
Protecting community health and environment
Improving water quality
Increasing sewage capacity for the growing Auburn region
Preventing overflows into nearby bodies of water
Providing safe access for maintenance employees
Business opportunities for local contractors and vendors
Schedule
This project will have multiple phases:
Spring 2022 – Winter 2023: Facility planning
Select a consultant
Identify potential sites for the new pump station in project area
Work with key interested groups and community members to identify the project's equity opportunities and barriers for the surrounding community
Spring 2023-2024: Facility siting
Evaluate potential locations for the future pump station
Engage with key interested parties on community priorities
Compare 2-4 potential site locations and select a site
2024-2025: Facility design
Determine what permits are needed
Identify potential design elements to increase access to the County's determinants of equity
Consult with key interested parties on potential project impacts and opportunities
Report back to the community on key project milestones
2025-2027: Complete facility design
Finalize design plans and drawings
Obtain permits
Build construction schedule
Hire a construction contractor
Communicate plans with neighbors and the surrounding community
2027-2030: Build the facility
Prepare the site for construction
Provide advanced notice to the public about closures, detours, or access impacts
Update neighbors and the surrounding community on project progress
Restore streets, sidewalks, and vegetation affected by the project
Key considerations in early planning phase for the facility location
Technical design
Cost
Permitting requirements
Environmental impacts
Climate change impacts
Community values and opportunities to advance equity through the facility construction
How King County works with the community
King County will work with community groups and interested parties to provide project information, identify issues and solutions, list potential impacts, and feedback. We will work with interested community members to understand what concerns the community has regarding Roegner Park and the current pump station location. We will review what input has already been given, and seek feedback from community members.
King County works hard to ensure community members are not surprised by the project or its impact. You can stay informed, stay involved (translations will be available) throughout the project's life in several formats including:
Individual meetings with community groups, organizations, and leaders
Briefings to local community groups, agencies, and jurisdictions
Community workshops and meetings
Site walks
Digital engagement
Project newsletters and fliers
Project web page
News releases
Questionnaires

Contact us
Contact Eunice Lee at:
elee@kingcounty.gov
206-263-1614
If you'd like to receive email or text updates on the Lakeland Hills Pump Station Replacement:
Project location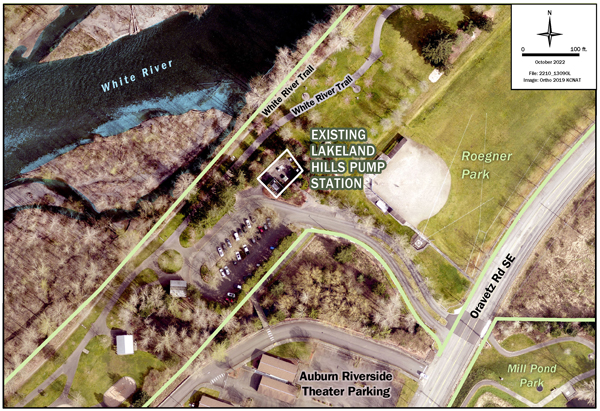 Click for larger view .
Facility address: 601 Oravertz Rd. SE, Auburn
Back to the capital projects overview map .