2017-2018 Proposed Budget
---
The King County Council adopted the 2017-2018 Budget on Nov. 14, 2016. Read more.
---
King County provides critical local and regional services to millions of people, with a two-year budget of $11.3 billion, 14,000 employees and nearly 60 lines of business.
The 2017-2018 Proposed Budget invests in Metro Transit, human services and other important services that reflect the values of King County residents.
The budget also makes significant reductions in the King County General Fund, which primarily supports criminal justice and public safety.
---

Proposed Budget Highlights
The 2017-2018 Proposed Budget addresses a number of strategic priorities and issues facing King County:
2017-2018 King County


Budget in Brief
Resources
2018 Quarterly Budget Reports
2017 Quarterly Budget Reports
The King County General Fund will have significant reductions, especially in criminal justice and public safety.
The General Fund supports the traditional functions of a county government, most of which are required by state law. About three-quarters of the General Fund is spent on criminal justice and public safety.
King County's General Fund has faced chronic imbalances between revenue and expenditure growth for 15 years due to revenue limitations under state law. State law puts an arbitrary 1 percent cap on the revenue increases counties can receive from property taxes, the largest source of revenue for the General Fund. Even as King County has increased efficiencies and reduced cost growth, these limitations mean that revenue can't keep up with inflation and the increase in demand for services as the population grows.
Over the last few months, Executive Constantine worked with the Office of Performance, Strategy and Budget, departments and elected officials to balance the General Fund budget. Through a mix of revenue changes, efficiencies, cost shifts to other funds and spending reductions, much of the two-year shortfall was filled. However, a budget gap of about $22 million remained. This was resolved by programs cuts and services reductions, including:
Reducing staff in the Prosecuting Attorney's Office.

Eliminating the King County Sheriff's Office Air Support Unit, which provides important regional search and rescue services, as of Jan. 1, 2018.

Eliminating the King County Sheriff's Office Marine Unit, which provides emergency response throughout the region's waterways, as of Jan. 1, 2018.

Closing the Work Release and Electronic Home Detention programs, which provide alternatives to incarceration, by Jan. 1, 2018.

Eliminating inmate booking at the Maleng Regional Justice Center in south King County, which will decrease the amount of time local law enforcement spends in the community, as of Jan. 1, 2018.
King County General Fund Gap Explained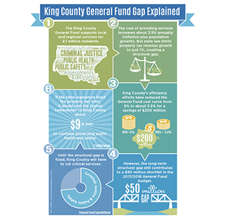 Watch: Dwight Dively, Director of Performance, Strategy and Budget, explains
how King County's revenue falls behind even as property taxes go up.