Criminal Division Overview
Adult felony criminal jury trials have resumed, however, ramp up is slow. If you have received a subpoena, please contact the attorney or paralegal who issued the subpoena before coming to court.
If you have a fever (over 100.4), cough, sore throat, new loss of taste or smell, head or muscle aches, nausea, diarrhea, vomiting, or shortness of breath or if someone in your household has had close, unprotected contact with a suspected or known COVID-19 patient within the last 14 days, do not come to court. Contact the attorney or paralegal who issued your subpoena immediately.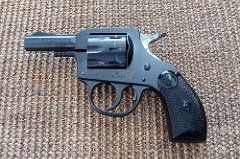 The Criminal Division is the largest of four divisions in the King County Prosecutor's Office and is organized into several different units and sections. The Criminal Division represents the state and the county in criminal matters in the King County District and Superior courts, the state and federal courts of appeal, and the Washington and U.S. Supreme Courts.
Photos courtesy of Creative Commons
"Car Accident," by Rian Castillo
"My Toys," (fingerprint analysis) by Carl Wycoff
"H & R .22 Revolver," by James Case
"Crime Scene," by Alan Cleaver