Criminal Division Overview
If you received a subpoena to appear as a witness in a trial before April 24, 2020, do not come to court on the date listed on the subpoena. Please contact the attorney or paralegal who issued the subpoena to receive an update on the case. Thank you.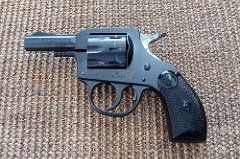 The Criminal Division is the largest of four divisions in the King County Prosecutor's Office and is organized into several different units and sections. The Criminal Division represents the state and the county in criminal matters in the King County District and Superior courts, the state and federal courts of appeal, and the Washington and U.S. Supreme Courts.
Photos courtesy of Creative Commons
"Car Accident," by Rian Castillo
"My Toys," (fingerprint analysis) by Carl Wycoff
"H & R .22 Revolver," by James Case
"Crime Scene," by Alan Cleaver