Data Dashboard
Updated monthly
The King County Prosecuting Attorney's Office (KCPAO) created this dashboard in 2020 to help better inform the public, government decision makers, and criminal justice system partners about the trajectory of felony criminal justice cases in King County. The KCPAO handles the vast majority of felonies in King County and some misdemeanors. Misdemeanor crimes are low-level offenses punishable by up to 364 days in jail. Felony crimes are more serious offenses and may result in a prison sentence of more than one year. This dashboard only provides data on felony referrals and cases filed into King County Superior Court; it does not contain any data on cases in King County District Court or the various Municipal Courts. The data that populates this dashboard comes from the KCPAO and, where noted, the King County Department of Judicial Administration about cases filed or intended to be filed in King County Superior Court.
To explore the dashboard, click on the tabs below. Use the check boxes and buttons on the right-hand side of the dashboard to choose specific data points for particular dates and crimes. Hovering your cursor over the graphs or icons will cause pop-ups with additional information to appear. A glossary of terms is provided below the graphs.
We strive to provide the most accurate and complete information possible; it is being regularly reviewed and updated. You can help improve the dashboard by sending your suggestions and feedback to PAODataDashboard@kingcounty.gov. As a result, this data may be updated at any time. We look forward to adding greater functionality and new ways to look at criminal justice data in the future.
The current dashboard is designed to provide users with understanding and insight into how the felony criminal justice system functions and the numbers of cases and people involved. This project is guided by the following foundational principles, which outline what the PAO hopes to achieve by sharing this dashboard with the King County community:
Transparency. The criminal justice system is complex—and we can't expect it to improve unless people have a working understanding of where we are at today. By publicly sharing felony criminal justice data, we are acting on our commitment to share our power and our challenges with the broader community and increase public awareness so we can move to action.


Accountability. We aim for a process of continuous improvement where feedback from the community helps shape the dashboard, the work of the PAO, and our collective understanding of what it means to "do justice." Through partnerships with organizations like the Urban Indian Health Institute, we are also working to advance Equity and Social Justice principles by improving how King County's diverse communities are represented in our data collection and analysis.


Effectiveness. The criminal justice system in King County has been significantly impacted by the ongoing COVID-19 pandemic. Since March of 2020, King County Superior Court has been operating at a reduced capacity and continued restrictions are necessary due to limit the number of trials and hearings that can take place. In addition, the King County Executive has outlined guidelines to reduce the daily inmate population at the King County Jail in order to allow for increased social distancing for the health and safety of staff and inmates. At the same time, both national and local violent crime rates have continued to rise, with homicides and domestic violence crimes reaching historic levels. In light of these stark realities, the KCPAO is prioritizing its limited resources to address the more serious cases in the system. This includes crimes against persons, repeat property offenders, domestic violence, sexual assault, acts of violence, weapons cases, crimes against children and homicides.


Reform. Reducing mass incarceration, increasing diversions, and increasing community-based health infrastructure for people with behavioral health issues are key to our work in reforming the criminal justice system. While this dashboard is a work in progress, it offers insight into how we are making progress in our criminal justice reform efforts.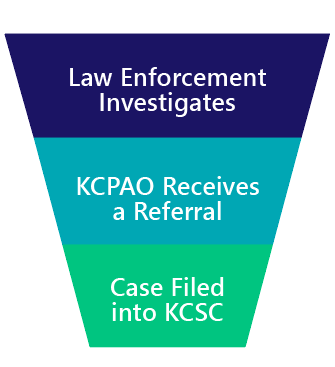 Law Enforcement submits the case to the KCPAO if they believe they have sufficient evidence that a crime has been committed or they are required to (see Referrals for details).
The KCPAO reviews the case to determine if it will be filed into KCSC, diverted, or declined (see Units, Declines, and Filings for details).
The case is Open and legal proceedings continue until the case is resolved or disposed (see Open Cases and Dispositions for details).
Glossary of Terms and Clarifying Information