Part-time bus driver recruitment is now open.
Do you have what it takes to become a King County Transit Operator (Bus Driver)?
Good pay. Good perks. Good hours.
If you've got a passion for people, we've got the perfect job for you! Metro is currently hiring part-time employees to operate the transit buses and interact with the public.
Start at $26.05 per hour!
Medical, dental, vision and more!
No experience or Commercial Driver License (CDL) required.
Variable schedules based on seniority.
It's a great job and has good benefits. It pays good and you should try it.
Interested in full-time employment driving for Metro?
If you have a commercial driver's license (CDL), you've come to the right place. To be considered, in addition to already having a CDL, you must submit an online application when a full-time operator recruitment comes available. Don't want to miss out on this opportunity? You can subscribe to receive a job alert by visiting the King County Careers page. Once subscribed, for 12 months you will receive an email notification each time a position opens with King County whose category matches one of the categories you've chosen.
As a new Part-time Operator, you'll have subsidized premiums for: medical, dental, vision. And you'll receive paid vacation and sick leave and start at $26.05 an hour. King County offers great additional benefits and resources to its employees—check out the full list at our employees page.
No commercial driving experience required—we offer PAID training ($19.49/hour, 33 consecutive days).
Folks who do well in this job have a strong customer service background, love people, and have a general aversion to cubicles.
Pay and benefits
Pay: $26.05 per hour upon completion of paid training.
Medical, dental, and vision benefits, with the option of family and domestic partner coverage.
Paid vacation.
Sick leave.
Retirement and deferred compensation plans.
Membership in Amalgamated Transit Union Local 587.
Variable scheduling based on seniority.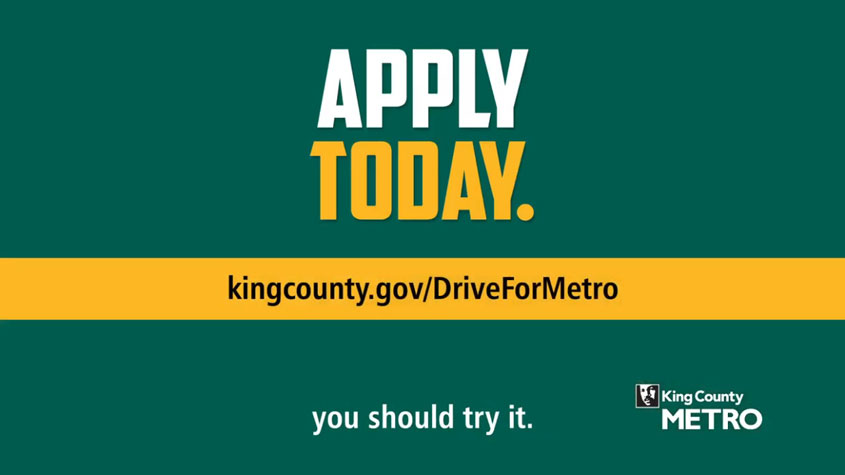 Here are the steps and timeline to become a Metro Transit Operator—please note it can take up to 16 weeks between the day you apply and completing our 33 day paid training program.
Submit your application: 2-3 weeks for review
*Note: no resume or cover letter accepted, all information must be included in the application.
Testing and interview: 2 weeks for testing and interview
If your application is found to be competitive, you will be invited to participate in an online assessment survey evaluating your match for the Transit Operator position. Candidates passing the survey assessment will then be invited to an interview.
Conditional offer: 4-6 weeks to complete pre-employment
Based on the results of your interview, you may receive a "conditional" job offer to start in a training class. You will receive a formal offer when passing the following steps:
Obtain a Commercial Learners Permit, this requires passing written exams for the General Knowledge, Air Brakes and Passenger endorsements at a Department of Licensing office.
Department of Transportation (DOT) physical exam—paid for by Metro Transit
5-Year driving record review
Drug screening (this includes marijuana)
Criminal background check
Employment verification
Paid Part-time Transit Operator training: 33 days to complete
Once all pre-employment steps are completed you will start our 33-day paid Transit Operator training program at $19.49/hr. Classes meet 33 days straight on weekdays and weekends, and attendance is required every day of class. You will be offered a choice of a weekday morning or afternoon class to accommodate your schedule (both options include full-day weekend training days.)
Both in training and once graduated, being at your assigned location, ready to work and on time is required.
Training is a mix of classroom and driving with our experienced training staff. After passing the CDL test in class, you will pick your first Metro driving assignment and spend the rest of training practicing out of your assigned base.
Start your career with Metro!
Congratulations! After graduating training you will convert from a trainee to a Part-Time Transit Operator for King County Metro, holding a Class B CDL with Passenger endorsement. Your career with Metro is underway!
Frequently asked questions
Each job announcement should include information on who to contact for more information. If you have questions that were not answered in the job announcement description, please contact Employee Services at 206-477-6000 or send an email to DriveforMetro@kingcounty.gov.