Night Owl bus service
12 Metro routes awake between midnight and 5 am
Metro's Night Owl service runs between midnight and 5 am every day and gives you the choices and peace of mind you need to travel to more places, more often, when you need to.
Developed in partnership with the City of Seattle, Metro Night Owl service is available on a variety of bus routes that serve downtown Seattle and many of its neighborhoods. There's service to Sea-Tac Airport, too, and Auburn, Burien, Federal Way, Kent, Tukwila and Shoreline.
So, whether you're out late at night, or early to rise, chances are there will be a Metro Night Owl route that can take you where you need to go. For the city that doesn't go to sleep, Metro is wide awake and ready to serve!
Metro's Night Owl network
The Night Owl network is made up of some of Metro's most popular routes. In addition to serving neighborhoods, communities, and the main downtown Seattle area, Night Owls connect with Sea-Tac Airport, park & ride lots, transit centers and Link stations, too. Expanded service on Seattle routes is funded by the City of Seattle. Seattle's investments will establish new late-night connections throughout the city and provide cross-town Night Owl transit options for the first time.
Route list
Turn late nights into great nights
Going out for a night on the town? Headed to a late night sporting event? How about a concert? You can do it all with Metro's Night Owl service, and have the assurance that you can get back home after the festivities are done. Read More All Metro Night Owl schedules are in Metro's Puget Sound Trip Planner app, and also shown on all of Metro's printed timetables. Plan your trips with Trip Planner. On the desktop version, click on the "Landmarks" tab for trip planning shortcuts to all the areas popular destinations. On the mobile app, you can load favorite locations from your mobile phone's contact list. On both, you can track the next departures of your bus in real time by just entering your bus stop number. Discover your night. You'll see that Metro's Night Owl Service is up as late as you are! Read Less
Your ride to home, sweet home
All Metro buses are accessible, equipped with accessible boarding ramps, and bicycle racks, too. Once you're on board, enjoy a well-lit experience that takes the stress out of your trip. Read More The next stops are shown on an overhead electronic display and are also audibly announced. You know where you're at and where you're going at all times. And, you're being driven by some of the best bus drivers in the country. Relax. Home sweet home is on the way! Read Less
Metro Night Owls offer "Night Stop" Service, too. You choose your stop!
For added convenience, and because we want you to feel secure traveling at night, Metro offers special "Night Stop" service between 8 p.m. and 5 a.m. Read More

Night Stop allows you to ask your driver to let you off at any point along your bus route, even though it may not be a Metro bus stop.

Just come to the front of the bus at least a block ahead of where you want to get off and request your stop. The driver will decide whether the stop you asked for can be made safely. Drivers can pick you up only at regular Metro bus stops.

Night Stop is not available in downtown Seattle between Battery Street and South Jackson Street, and the waterfront and Interstate 5.

For safety reasons, the wheel-chair lift will be deployed only at lift-approved bus stops along the route. Read Less
Your ride for the early shift
Metro's Night Owl service is the way to go when you need to get to your job during late shifts, graveyard shifts and early shifts. It runs when others don't, helping you get to work easily and affordably. No more worrying about driving in, parking in the dark, and dealing with your car. Many employers offer transit subsidies for their employees, and now you have a great way to take advantage of those benefits, too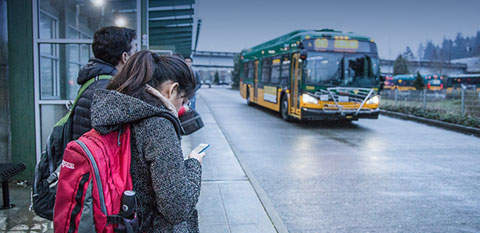 Expanded Night Owl service in Seattle is provided thanks to Seattle voters.