The Justice Bobbe J. Bridge Resource Center
The Bobbe J. Bridge Resource Center helps ensure youth and families have access to information, programs, and opportunities that support their needs and goals.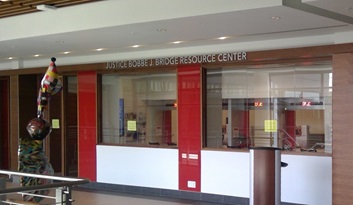 Meaningful, community-centered connections for young people are critical to their success. The Justice Bobbe J. Resource Center partners with non-profit organizations and community members to provide help to youth and families in one central location at the Children and Family Justice Center.
Youth resources
We have a webpage devoted to resources that may be filtered by type of service, age, and desired travel distance.
Search for specific resources on our Youth Support Resources website.
If you would like to add or update information to this resource database please e-mail scresourcecenter@kingcounty.gov.
Parent Peer Support Group
If you are a parent, please join our online support group
When
Every third Tuesday of each month, 6:30 pm to 8 pm
Where
Join via Zoom
Passcode: 936711
Visiting the Resource Center
The Clothing Shop
The Resource Center also runs the Clothing Shop. The clothing boutique serves youth and their families involved with the juvenile justice system, as well as any youth in need.
Find out more about the Clothing Shop by checking out our video below or on Vimeo.
Cost
The Shop accepts donations of new and nearly new clothing, shoes, toiletries, and other essential items. The donations are then available at no cost to Juvenile Court clients and their families.
Youth can take one outfit per visit and must complete Clothing Shop inventory form upon leaving.
Location
If you are a visitor of the court and would like to access the Youth and Family Clothing Shop, please ask your juvenile probation counselor, Resource Center Staff, or another Juvenile Court contact to schedule a visit.
Hours
Monday; noon to 4:30 pm
Tuesday through Friday; 8:30 a.m. to 4:30 pm.
How to donate
Please call 206-263-8634 or email scresourcecenter@kingcounty.gov if you are interested in donating. Donations are tax deductible. Please make sure used items have been laundered or cleaned before drop-off, as the Clothing Shop has limited facilities. We appreciate your generosity and support!
Current wish list
We are currently looking for donations of these needed items in new or like new condition for our families and youth
Clothes for all ages

Sweatpants, jeans, slacks and dress pants
Sweatshirts and sweaters
Jackets, coats, sport coats and blazers
Dress shoes and boots
Socks (new only)
Under Garments (new only)
Ties, belts and suits (men's and women's)
Dresses and skirts

Baby clothes and needs

Shirts, T-shirts, and undershirts
Sleepers and pajamas
Pants and tights
Skirts and dresses
Coats, jackets and sweaters
Socks and shoes
Blankets

Miscellaneous