Adult Drug Diversion Court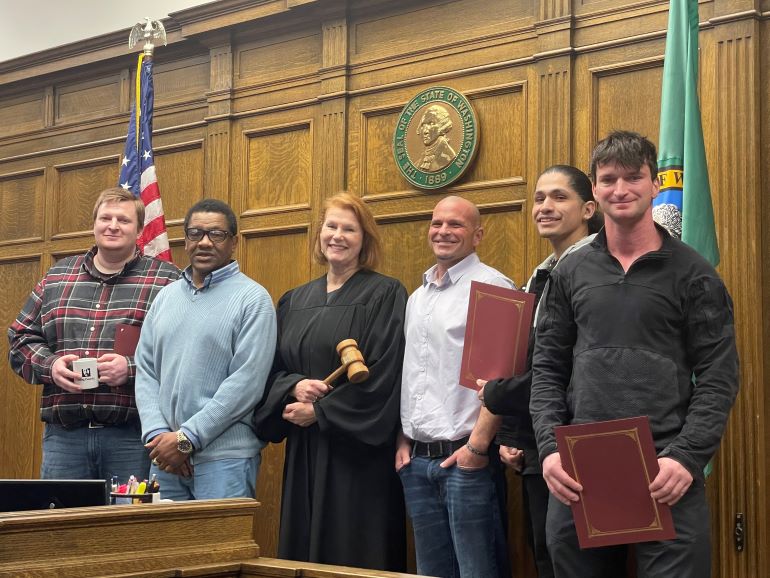 King County Drug Diversion Court (KCDDC) is a voluntary program for adults who are charged with felony property and other drug-related crimes in King County.
KCDDC promotes community safety and empowers participants to rebuild their lives by addressing the root causes of criminal behavior.
KCDDC provides a daily structure and expectations that support recovery. Participants earn rewards to encourage positive life skills and are held accountable to program requirements through a range of court-ordered sanctions. KCDDC recognizes that recovery is a process and employs best practices and a dedicated, multidisciplinary team to support participants along the journey. Participants are required to attend treatment, provide frequent random urinalysis drug tests, and attend regular court hearings. Participants receive comprehensive support and resources to help them succeed – inpatient and outpatient treatment, medications, housing, transportation, peer support, vocational support, and family counseling if needed. The court and case managers provide supervision and monitoring to ensure participants stay on track and to recognize their progress and achievements.
KCDDC is a minimum 10-month program and requires participants meet specific milestones prior to graduation, in order to impart the tools and stability needed to prevent a return to substance use and criminal activity. When participants successfully complete the program, they graduate, resulting in a dismissal of their felony charge(s).
KCDDC is a proven effective program with data continuing to show significant reductions in 36-month recidivism, decreased homelessness, reduced substance use, and increased employment for all program participants (not just graduates).
About Drug Court
DJA Drug Diversion Court Services: Case Managers, Housing Case Managers, Resource Specialist, Program Management and Administrative Staff.
Superior Court Judges
Public Defenders
Prosecutors
Peer Services (PEER Kent)
Law Enforcement
Treatment Providers
Housing Providers and Other Community Partners


Drug Court History
KCDDC began in 1994 as the 12th drug court in the nation and the first in Washington State. Today there are more than 3,800 drug courts and other therapeutic courts modeled on their success in the United States.
Oversight of Drug Diversion Court
King County Adult Drug Diversion Court's (KCDDC) is managed by the Department of Judicial Administration at the Superior Court.
The KCDDC Executive Committee provides oversight of the program and is responsible for setting major program policy. The Committee is comprised of representatives from King County, including Superior Court, Judicial Administration, Office of the Prosecuting Attorney, Public Defense, County Council, County Executive, Adult and Juvenile Detention, Community and Human Services, Sheriff's Office, Seattle Police Department, a treatment provider representative, and a peer services representative.
The public is invited to attend KCDDC graduation ceremonies which are held monthly in the Presiding Courtroom (E-942) of the King County Courthouse located at 516 3rd Ave. in Seattle. Graduations are typically held on the 2nd Wednesday of every month, except December (when no graduation occurs). Doors open at 8:30am. Ceremony begins at 9am.
Graduation ceremonies may also be observed on Zoom via this link:
https://kingcounty.zoom.us/j/86798535242
Meeting ID: 867 9853 5242
Phone: 253-205-0468
Contact the drug court office at 206-477-0788 for specific confirmation of the upcoming graduation ceremony schedule.
Or, watch a recording of a past graduation ceremony: