Momb Revetment Repair Project
This page has been translated into other languages
View this page in the following languages:
Project Overview
The Momb Revetment on Issaquah Creek helps reduce the risk of flood and erosion damage to Southeast 156th Street. The street provides sole access to approximately 30 homes. Flooding in February 2020 damaged the revetment creating a flood and safety risk to Southeast 156th Street, Cedar Grove Road Southeast, and public utilities. The damage includes loss of rock, exposed riverbank material, and two cottonwood trees at risk of falling into the creek.
King County, as the primary service provider to the King County Flood Control District, will repair the damage in the summer of 2024. The repair will reduce flood risk to people and property and will also benefit fish habitat in Issaquah Creek.
What is a revetment?
A revetment is a structure built along a riverbank to prevent erosion. Revetments are usually built with rocks, wood, and other materials. Native plants are added to the riverbank to improve stability and provide habitat for fish and wildlife.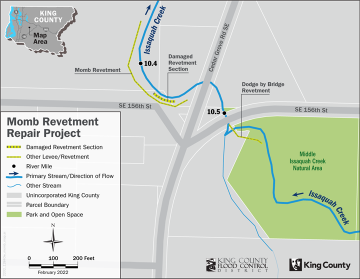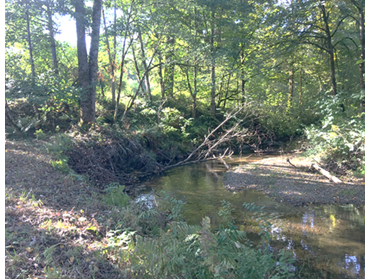 Project goals
Repair damage and improve stability of the revetment to reduce flood risks.
Conduct repair in a timely manner to prevent more expensive emergency repairs and long-term maintenance needs.
Maintain or improve habitat for salmon and other fish.
Project schedule
| Activity | Date |
| --- | --- |
| Design and permitting | 2021 to 2022 |
| Construction | Summer 2024 |
| Site monitoring and project closing | 2024 to 2025 |
Construction impacts
Construction will repair approximately 100 feet of damage to the revetment. King County expects few temporary traffic impacts to the residents who use Southeast 156th Street or Southeast Cedar Grove Road. Construction is planned for summer 2024. We will post signs and flyers near the project site and notify local residents and businesses with construction updates. To receive updates, please sign up for the project email list.