Plan implementation
How King County is implementing its Sediment Management Plan (SMP) to address historical sediment contamination near County combined sewer overflow (CSO) outfalls.
Combined sewer overflows (CSOs) are relief points in sewer systems that carry sewage and stormwater in the same pipe. When heavy rains fill the pipes, CSOs release sewage and stormwater into local water bodies to prevent sewage backups into homes and businesses. King County is committed to CSO control: meeting the state standard of reducing the number of overflows at each of our CSOs to no more than one per year over a long-term average. Our investments in CSO control, industrial waste permitting, and source control to date have resulted in improvements in sediment quality near most CSO outfalls.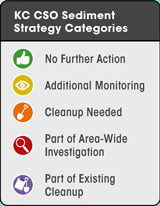 The Sediment Management Plan looked at sediment quality at all of King County's CSOs and identified strategies to address those where persistent contaminants continue to pose a potential risk to aquatic life, wildlife, or human health. The data summarized in the Sediment Management Plan suggests that controlled King County CSOs will not contribute to pollution problems in Puget Sound or local waters. In addition, sediment near some uncontrolled CSOs already meets Sediment Management Standards set by the Washington State Department of Ecology and do not need further cleanup.

Assessment of sediment quality at King County CSOs
We are continuing to investigate conditions at several CSO outfalls with known sediment quality issues, as shown on the map below. We need to further investigate some CSO locations to confirm whether they are or are not causing sediment pollution.