Road Services' Business Plan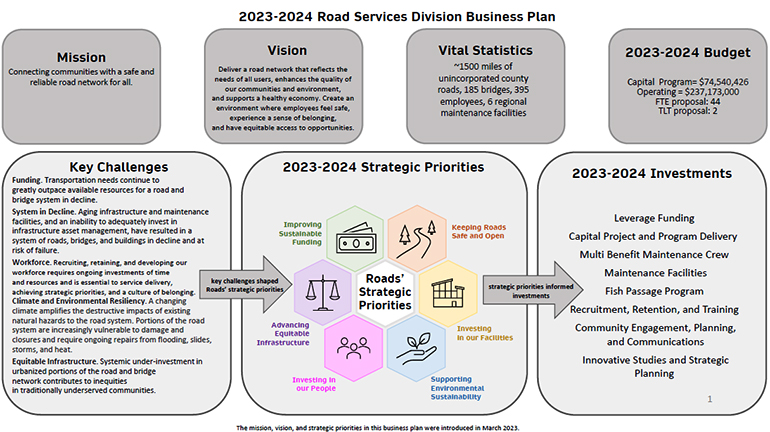 Road Services Division 2023-2024 Line of Business Plan (1MB PDF)
Road Services Division 2023-2024 Business Plan
Business plans are used by King County agencies to establish alignment with enterprise priorities, develop and understand proposed budgets, and monitor operational performance. Strategic plans, such as the Strategic Plan for Road Services (2014) Update, are implemented operationally through each agency's biennium business plan.
Roads' mission is connecting communities with a safe and reliable road network for all. However, transportation needs continue to greatly outpace available resources for a road and bridge system in decline. An aging infrastructure and maintenance facilities, and an inability to adequately invest in infrastructure asset management, have resulted in a system of roads, bridges, and buildings in decline and at risk of failure. Additionally, systemic under-investment in urbanized portions of the road and bridge network contributes to inequities in traditionally underserved communities.
These and other key challenges shaped our strategic priorities. Our strategic priorities, in turn, informed our 2023-2024 investments.
Top "products" we deliver, like roadways, bridges, drainage, traffic control and roadside features, are maintained or improved to meet roads user expectations, like a smooth road surface, open lanes, no standing water, and vegetation that doesn't interfere with use. The 2023-2024 Roads Business Plan identifies the cost of delivering a road network that reflects the needs of all users, enhances the quality of our communities and environment, and supports a healthy economy.