King County's regional wastewater conveyance and treatment system
King County protects water quality and public health in the central Puget Sound region by providing high quality and effective treatment to wastewater collected from our local sewer agencies.
The county's Wastewater Treatment Division (WTD) serves about 1.9 million people within a 424-square-mile service area, which includes most urban areas of King County and parts of south Snohomish County and northeast Pierce County.
King County's wastewater system includes:
three large regional wastewater treatment plants (the West Point plant in the City of Seattle, the South plant in the City of Renton, and the Brightwater plant near Woodinville),
two small wastewater treatment plants (one on Vashon Island and one in the City of Carnation),
one community septic system (Beulah Park and Cove on Vashon Island),
five combined sewer overflow (CSO) treatment facilities (Alki, Carkeek, Mercer/Elliott West, Georgetown and Henderson/Norfolk—all in the City of Seattle),
about 383 miles sewer lines (and 15 miles reclaimed water lines),
25 regulator stations,
48 pump stations, and
39 CSO outfalls.
View more facts about our system.
Service area and treatment plants
View map as PDF.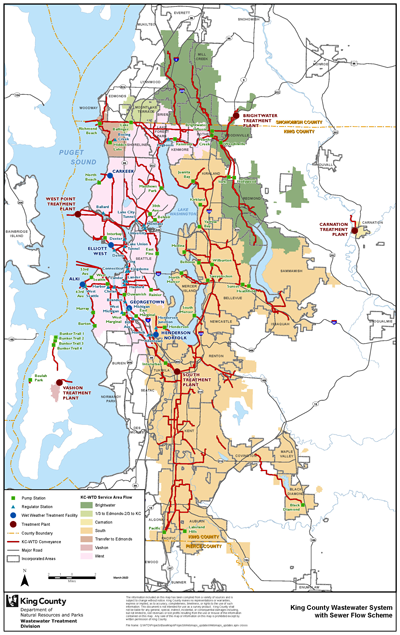 View service area maps at
King County GIS Center
. Select "
+
" next to "
King County Wastewater Treatment Service Area Maps
" to view and download maps.